Campaigns & Elections
Grove renews push for large-scale election law changes
The House GOP elections leader said continuing issues necessitate reforms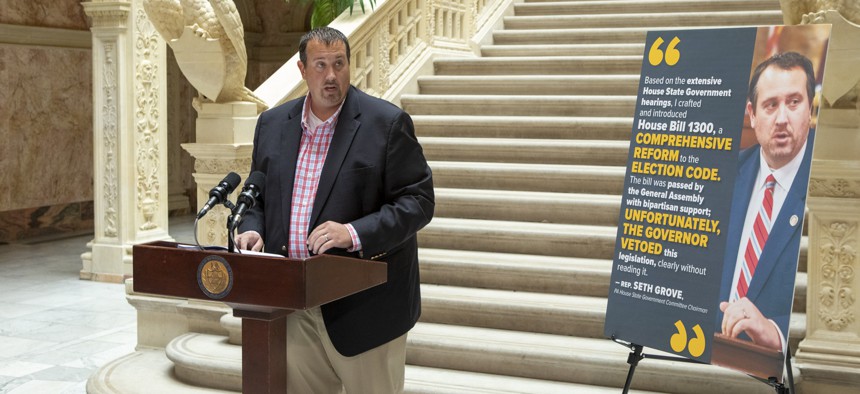 With the state's midterm elections just a few months away, a top state lawmaker in charge of overseeing elections is calling for robust changes to the state's election laws to prevent illegal voting and election-related hiccups in the future.
State Rep. Seth Grove, who leads the House State Government Committee, released a 167-page report on Tuesday outlining various election issues experienced across the state since 2021, from long lines at polling places to counties running out of ballots, and general confusion and votes cast illegally in certain locations, such as Lehigh County.
"To date, our elections have been anything but smooth," Grove said during a Capitol press conference. "These are real issues with real impacts, which have led to misinformation, disenfranchisement, mistrust, anger, confusion and lawsuits. We can't continue what has occurred in the commonwealth. Our voters are demanding change. Our election administrators are demanding change."
Grove laid much of the blame at the feet of Gov. Tom Wolf, who vetoed Grove's omnibus election reform bill last year. That legislation would have required universal voter ID, established a process for mandatory election audits, allowed for in-person early voting and given counties more time to process ballots. 
Wolf said in a veto message that the bill, House Bill 1300, was "riddled with unacceptable barriers to voting," citing the bill's voter ID provisions and language that would have established signature verification requirements.
"This bill is ultimately not about improving access to voting or election security, but about restricting the freedom to vote," Wolf said. 
But Grove on Tuesday continued to place the onus for election law reforms on Wolf, adding that if Wolf would have signed HB 1300, Pennsylvania would have had early voting, independent election audits and other provisions. 
"Instead of having nice things, we have chaos," Grove said. "It's really up to Gov. Wolf. If he wants a big deal, come and meet with us."
A spokesperson for the Wolf administration called Grove's press conference a "sideshow" and said it "demonstrates that Rep. Grove continues to peddle the 'Big Lie' with debunked claims and misinformation, and that he has no credibility on election issues."
Instead of having nice things, we have chaos.
State Rep. Seth Grove
"The governor has been clear that he supports voting reforms that remove barriers and increase access to voting, like early in-person voting, expanded use of ballot drop boxes, same-day registration, pre-canvassing, and more," said Wolf spokesperson Beth Rementer. "Unfortunately, as Rep. Grove admitted today, the House Republican caucus is unwilling to support even the simplest, most non-partisan agreed-upon measure – pre-canvassing – without tying it to efforts to make it more difficult for eligible people to vote. Pennsylvania voters deserve better."
Grove cast doubt on the possibility of election reform legislation becoming law before this year's general election. He also said it's unlikely that a measure expanding the amount of time counties have to pre-canvass mail and absentee ballots will pass without election security measures being included in the bill. 
Grove has introduced an updated election reform package in House Bill 1800, but the measure has not yet been voted on by the chamber. It includes many of the same provisions as the vetoed HB 1300, like universal voter ID, signature verification requirements and early voting.
While the bill hasn't seen any real movement in the General Assembly since last December, Grove, in the report, says he hopes the document serves as "a reminder and a wakeup call" to push the Wolf administration to review its stance on the legislation.
This story has been updated to include comment from Gov. Tom Wolf's administration.