Budget
The new state budget brings changes to Pennsylvania's election laws
For one thing, counties will no longer be able to accept third-party grants to fund elections.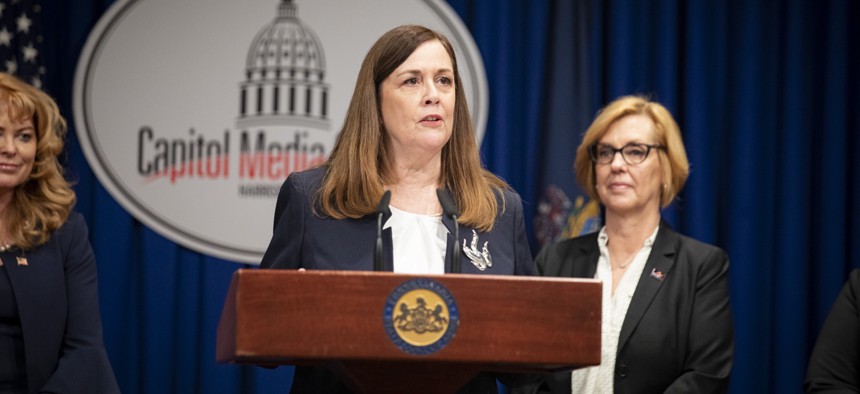 Changes to Pennsylvania's election laws are coming, but they might not be the changes you'd expect, at first glance. While lawmakers have spent much of the last two years calling for improvements to the state's Election Code in the form of voter ID, mandatory election audits, early voting and same-day registration, this year's state budget focuses on a different aspect of elections: funding. 
With the approval of this year's state budget package, Gov. Tom Wolf and state lawmakers agreed to ban private election funding, meaning state and local governments can no longer accept third-party grants to fund elections. Instead, the budget deal includes a new $45 million state grant program designed to help counties with election-related costs. 
Under the agreement, which was outlined in Senate Bill 982, counties will be able to apply for state grants distributed by the Department of Community and Economic Development for a range of uses, including:
Payment of staff to pre-canvass and canvass ballots
Security and transparency expenses related to pre-canvassing and canvassing ballots
Voter registration list maintenance
Ballot printing costs
Training costs for district election officials
Payment of staff at polling places
Costs related to storage, transportation and preparation of voting machines and other polling place materials
County voter registration costs
Republican lawmakers have sought to ban counties from accepting third-party grants after a range of counties accepted grant money from the Center for Tech and Civic Life in 2020 to help deal with coronavirus-related election costs. Those grants were made possible thanks to a donation from Facebook founder Mark Zuckerberg, prompting worries among Republicans that the money could influence how elections are administered.
Election officials have refuted such claims, arguing that the funding was critical to running safe and secure elections during a global pandemic. "It has no nefarious effect on the election," Philadelphia City Commissioner Lisa Deeley told City & State last year. "If anything, it had nothing but positive effects on the election because it enabled us to get done sooner and to provide additional access to voters."
Regardless, Republican lawmakers celebrated the new election law changes as a win for election security and a win for county election offices. House Majority Leader Kerry Benninghoff said the new law "provides landmark funding for our elections," while state Sen. Lisa Baker, the prime sponsor of SB 982, praised the move to ban private grants.
Baker said the new law provides "the resources to upgrade election security measures to help counties adopt new security and personnel requirements quickly. The program comes with accountability measures to ensure our elections process is above reproach."
The creation of a state-run election grant program also earned the approval of the County Commissioners Association of Pennsylvania. CCAP Executive Director Lisa Schaefer told City & State that the state grants will provide much-needed assistance that counties have been hoping for.
"Prior to this, counties funded the day-to-day on the ground operations. So everything we do in terms of verifying voter registrations, setting up the polls, handling the mail-in ballots and all those other things in between – providing campaign packets out to candidates and things like that – that's all funded by the county," Shaefer said. "Going from basically nothing to $45 million is a significant investment from the state."
Going from basically nothing to $45 million is a significant investment from the state.
Lisa Schaefer
Allegheny County Executive Rich Fitzgerald agreed. He told City & State that having the state provide grants, as opposed to outside organizations, could remove even the appearance of improper influence. 
"That'll certainly help. It's an improvement," he said of the funding and the impact it would have on election operations. 
However, the funding does come with conditions. Counties that apply for the grants must begin pre-canvassing ballots – the process of opening and counting mail and absentee ballots – at 7 a.m. on Election Day. Counties must also start canvassing ballots at 8 p.m. the same day and continue until all ballots have been counted. 
Schaefer said those requirements could prove difficult for small counties that lack staff, as well as more populous counties that have large quantities of ballots to count. Schaefer said that counties essentially have to run two sets of elections – one involving in-person voting and another involving mail and absentee ballots. Mandating new timeframes without giving counties more flexibility to process mail and absentee ballots ahead of Election Day could prove difficult, Schaefer said. 
That gets back to another election law reform that county officials have requested for years: more time to process and count mail-in ballots prior to Election Day. Lawmakers have floated expanding the amount of time counties have to pre-canvass ballots since the state's mail-in voting law was first implemented in 2019, but a clean pre-canvassing bill has never made it to the governor's desk.
That means counties can only begin pre-canvassing ballots the morning of Election Day, unlike other states such as Florida, where election offices can begin counting mail ballots weeks before in-person polls open.
"That additional time for pre-canvassing would help in being able to process ballots and get results – or at least more complete results on election night – more quickly," Schaefer said. "Ultimately, what counties are seeking is to not have to run two elections on Election Day so we could actually manage our workload a bit better there."
In Fitzgerald's view, not only would an extended window for pre-canvassing help counties manage their respective workloads better, it could improve confidence in the elections themselves.
"Give us a couple days and we can have results in a much more timely manner, which would give people a lot more confidence than no results on Tuesday night, maybe Wednesday, maybe Thursday," he said. "The more you delay, the more distrust there is in the system."