Elections (Archived)
GOP election reform bill would bring voter ID, early voting to Pa.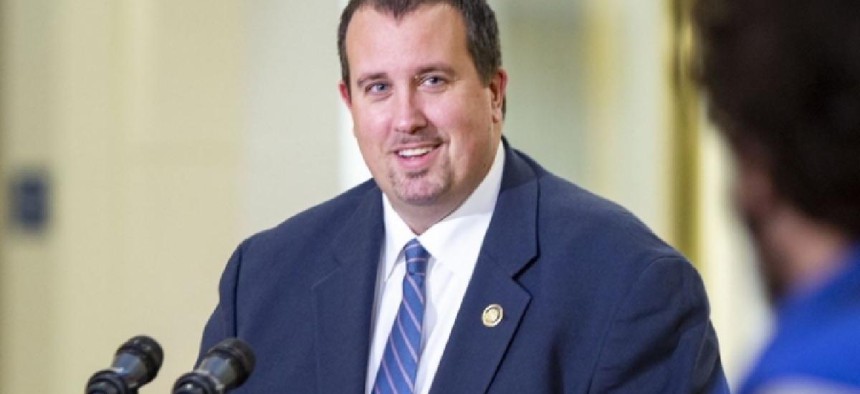 Harrisburg Republicans have unveiled a sweeping proposal to overhaul the state's election laws after fielding input from county officials, election administrators and voting reform advocates over the course of the year.

The result is a wide-ranging proposal that would require voters to present ID at the polls, establish in-person early voting starting in 2025, expand the time counties have to process mail-in ballots and allow curbside voting for disabled individuals.
The bill is authored by state Rep. Seth Grove, who chairs the House State Government Committee and spearheaded a series of informational hearings to receive feedback on how to update the state's chief election law. Grove told City & State that the proposal – contained in House Bill 1300 – would both increase access to the ballot and strengthen election security. 
Grove said: "It has a lot for everybody. It was a holistic look at the approach and said: 'What are the best practices? What do we have now? And how do we make it better?'" 
One of the more contentious pieces of the bill will likely be its voter ID requirements. Under the legislation, all voters, not just first-time voters, would be required to provide a form of ID at the polls. Acceptable forms of ID include a driver's license, a military ID, and a new, durable, scannable voter registration card created under the proposal, among other forms of identification. And if voters aren't able to provide ID at the polls, they can sign an affidavit affirming their identity, which would allow them to vote. 
Grove said that voters could also submit a provisional ballot if they don't want to sign the affidavit. "You cannot be turned away at the polling place," he stressed. "That is against the law."
Other changes outlined in HB 1300 include: 
The creation of a five-day window for county election workers to count and process mail and absentee ballots
The establishment of in-person early voting centers, allowing voters to cast their ballot before Election Day starting in 2025
The elimination of the permanent mail-in voter list
The requirement that counties use electronic poll books that have the capability to verify a voter's ID
The creation of a process for voters to "cure" or correct incomplete mail and absentee ballots prior to the close of polls on Election Day
The development of guidelines for how counties can use dropboxes to collect ballots
The creation of a voter's bill of rights, disabled voter's bill of rights and senior voter's bill of rights
The establishment of a Bureau of Election Audits with the state Auditor General's office
The doubling of penalties for any violations of the Election Code
Grove's legislation includes provisions that have traditionally been supported by Democrats, like early voting and the expansion of pre-canvassing time for county election officials. HB 1300 would permit the use of in-person early voting centers by counties, requiring counties to establish one earling voting center for every 100,000 residents. Counties must have a minimum of at least one early voting center and no more than 10. 
The legislation also allows disabled voters to make use of curbside voting – with a poll worker representing each of the state's two largest political parties required to be present. The "Disabled Voter's Bill of Rights" outlined in the legislation would also allow disabled voters to move to the front of the line at polling places, vote using an accessible machine and receive any assistance necessary to cast their ballot. 
"This is the largest reform in the country, currently. It's the largest reform in the state's history since the Pennsylvania [Election] Code of 1937, and it's the largest election code reform since Florida 2000," Grove said. "So this is a serious piece of work that really modernizes our election system."
But while Grove has championed the proposal as one that improves accessibility and security, the legislation has already given Gov. Tom Wolf pause.

Earlier this week, Wolf pledged to oppose any legislation that disenfranchises voters or limits access to the ballot. "I will not allow bad actors to put up barriers to voting in Pennsylvania. Not only will I veto any legislative efforts to roll back the freedoms Pennsylvanians right now have, I will continue to push for changes that expand our access to the polls," Wolf said at a press conference. "In Pennsylvania and around the nation, we need to expand the freedom to vote, because every citizen's voice needs to be heard, and the vote is how we make sure those voices are heard."
Wolf's press conference came before the rollout of Grove's proposal, so Wolf couldn't comment on the specifics of the Republican plan. However, he did express his opposition to voter ID proposals. "We don't need voter ID," the governor said. 
Lyndsay Kensinger, a spokesperson for Wolf, expanded upon HB 1300 on Friday, characterizing it as an "extremist proposal to try and undermine confidence in our election system."
"They don't like the outcome of the November election and now they are retaliating against the voters by pushing a proposal disguised as 'election integrity,'" Kensinger said of Republican lawmakers. "They want to create new barriers to voting and silence the voices of Pennsylvanians."
"It is appalling to try to pass laws to take away the freedom to vote for your own political gain. The governor will always defend our democracy and the right to vote for every Pennsylvanian, regardless of your political party," Kensinger added. "Our founding fathers created a democracy that has inspired billions of people around the world for generations and we will not allow access to voting to be warped into a political weapon."