Health Care
Pennsylvania is looking at a $250 million investment in long-term care
Long-term care advocates say the state budget is an 'historic moment' for long-term care.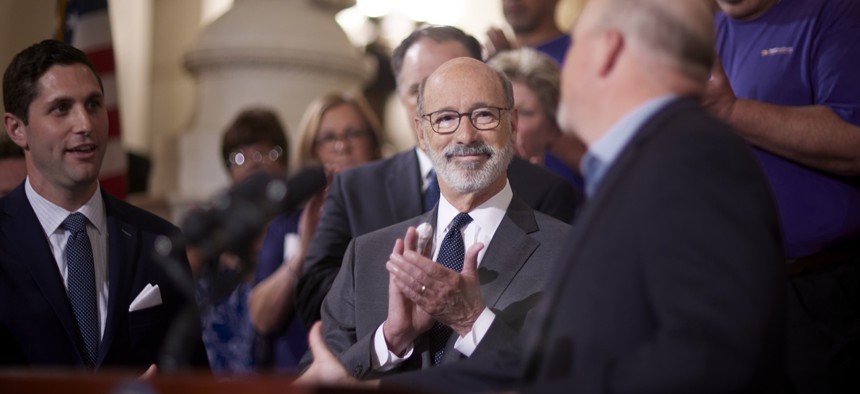 Gov. Tom Wolf and leaders from Pennsylvania's long-term care industry celebrated the new state budget's investments in nursing homes and health care at-large on Monday, calling the 2022-23 budget a "historic investment" in long-term care. 
The budget, which was approved by state lawmakers late last week, directs $250 million in federal COVID-19 funds for long-term living programs, and includes a 17.5% increase in the state's Medicaid reimbursement rate – a key source of funding for long-term care facilities. 
The budget package directs $131 million in American Rescue Plan funds to nursing homes, $26.7 million in American Rescue Plan funds to assisted living communities and personal care homes, and $33 million in Medicaid Day One Incentive payments to nursing homes serving high Medicaid populations. 
Zach Shamberg, president and CEO of the Pennsylvania Health Care Association, told City & State earlier this year that increasing the state's Medicaid reimbursement rate was a chief priority of the long-term care advocacy association, and said this year's increase, coupled with other investments across the sector, represent a major commitment to some of the state's most vulnerable residents.
"The members of Pennsylvania's General Assembly approved a state budget and a spending plan that makes a historic investment for the commonwealth's nursing homes, personal care homes and assisted living communities," Shamberg said at a Capitol press conference on Monday. "It is truly an investment that could save senior care in this state."
Shamberg credited other advocates for long-term care, including SEIU Healthcare Pennsylvania and LeadingAge PA, as well as Wolf and state lawmakers, for ensuring that the funds materialized in this year's state budget. Shamberg said Wolf "tasked us to work together. He told us that he would be a champion for our workers and our residents across the state, and I am proud to tell you that he kept his promise."
"This funding will help stabilize the direct care workforce and nursing facilities in Pennsylvania," Wolf said. "It will help ensure that our direct care workers have the support they need to keep providing high quality care for the presidents of those places."
Matt Yarnell, a former nursing home caregiver who now heads SEIU Healthcare Pennsylvania, said the investments in the long-term care industry will help develop safer staffing levels for direct care workers, and that the funding included in the state budget shows that industry stakeholders and lawmakers can form effective coalitions, even during times of political polarization.
"This one investment is a huge victory, and it's a huge step in the right direction," Yarnell said, noting that more improvements can be made to help long-term care workers and their patients. "There's so much more to do to get to the kind of care that Pennsylvanians deserve."