Budget
House lawmakers approve $45.2 billion state budget proposal
Still waiting on the Senate, but House leadership called the plan a responsible one that 'takes care of people.'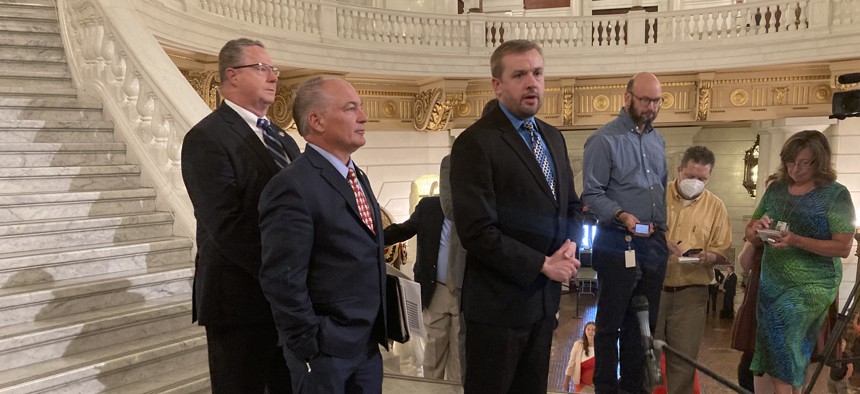 After weeks of backroom negotiations that stretched past the state's budget deadline, Republican lawmakers in Harrisburg unveiled a $45.2 billion budget agreement that increases funding for public education, reduces the state's corporate tax rate and bulks up the state's budgetary reserves with an extra $2 billion.
House Republican leaders said the budget proposal "responsibly invests money" and "responsibly saves money," while also putting money away for the future. 
The plan was released by House Republicans Thursday afternoon and appeared to be supported by Gov. Tom Wolf's administration, but it wasn't immediately clear whether the Senate Republican Caucus supported the plan. Earlier in the day, a Senate Republican spokesperson said budget negotiations with the Wolf administration were "deteriorating," setting the state for a budget impasse. 
"From a Senate perspective, we have made every attempt to work with the governor and his staff to come to terms on a budget that helps Pennsylvanians move beyond the financial strains we have all felt the last couple of years," said Erica Clayton Wright, a spokesperson for Senate Majority Leader Kim Ward. "While there are areas of consensus among the House, Senate and governor, we remain at an impasse on several sticking points, most notably education."
The proposal released by House lawmakers would represent a 2.9% increase in General Fund spending when factoring in federal funds and would increase basic education funding by $525 million. The budget plan also would allocate $225 million to the state's Level Up initiative and increase special education funding by $100 million.  
The proposed budget plan falls somewhat short of what Wolf asked for on education. Wolf has made education funding a hallmark of his time in office and proposed increasing basic education funding by $1.55 billion in his February budget address. The Democratic governor's proposal called for a $1.25 billion increase for the state's Fair Funding Formula, a $300 million increase in funding for the newly-created Level Up program, and a $200 million increase in special education funding. 
But Wolf spokesperson Elizabeth Rementer told City & State that the administration is "pleased" with the plan that was released by the state House on Thursday.
"We're pleased that the House has put forth this bipartisan plan, which includes the governor's call for historic increases to education and focuses on other key areas that the governor has prioritized in his own budget proposal," Rementer said in an email. "The governor urges the legislature to continue to move to get a budget to his desk."
House Republican leaders had nothing but positive comments about the budget deal, with House Speaker Bryan Cutler saying the budget package will help Pennsylvanians without the need to expand the reach of state government.
"It takes care of people and helps people – it does not grow government," Cutler said. House Appropriations Committee Chair Stan Saylor said the agreement would put the state on the best financial footing since former Gov. Tom Ridge was in office. "We finally are where we need to be in Pennsylvania," Saylor said.
"It puts Pennsylvania in a better fiscal situation, it contains historic tax cuts that make Pennsylvania more competitive in job creation, and provides relief to working families and seniors and makes targeted investments in the people of Pennsylvania," Saylor added. 
As written, the budget plan would direct $2.1 billion into the state's Rainy Day Fund, bringing the fund to $5 billion. The budget package would also set up major cuts to the state's corporate tax cut, a key priority of Wolf and Republicans alike.
Under the current language, the state's Corporate Net Income Tax rate would be lowered from 9.99% to 8.99% this year, with annual cuts of 0.5% until the rate reaches 4.99%.  The agreement would also establish a child care tax credit that would equal 30% of the existing federal credit, as well as a 70% enhancement of property tax and rent rebates for seniors – both components that Republicans said would help lower costs. 
The proposal would also invest in school safety and violence prevention efforts by allocating $100 million for a new mental health initiative and $135 million for local law enforcement support grants. The budget framework also sets aside $50 million for gun violence investigation and prosecution grants. 
The budget proposal overwhelmingly passed the House on Thursday, with Democrats joining Republicans to approve the package with a 180-20 vote. State Rep. Matt Bradford, the ranking Democrat on the House Appropriations Committee, praised the budget for its investments in child care and education, as well as its hefty deposit into the Rainy Day Fund.
"Once in a while – sometimes a week late – but once in a while, we're able to strike the right balance. This budget, in my opinion, is that balance," Bradford said. "This is a budget of compromise, but there is much here for which we should be proud and thankful."
The budget's future is less certain in the state Senate, where lawmakers appeared to have a more difficult time reaching an agreement with Wolf and House lawmakers. Clayton Wright said Thursday that, unlike the House, the Senate has not reached an agreement on the budget. 
"We are making progress and moving in the right direction, but we are not final on the deal," Clayton Wright said.