Criminal Justice
Wolf's Marijuana Pardon Project seeks to reduce recidivism, grant second chances
Clean Slate advocates and lawmakers are pushing for criminal justice reform, improving paths for re-entry after incarceration.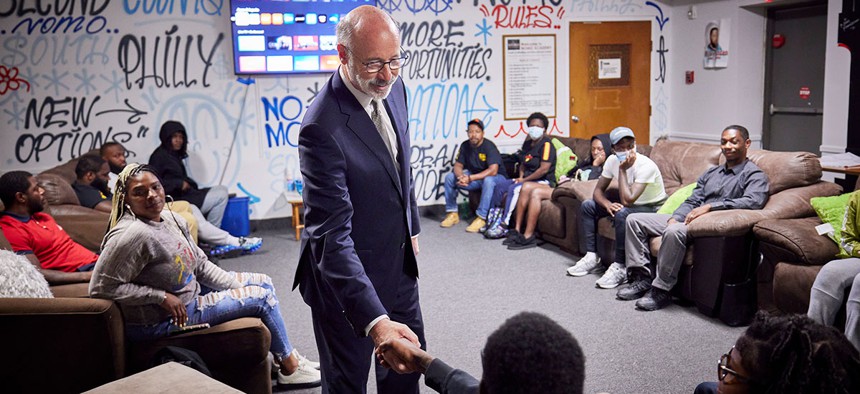 Tarik Ryant is just one of the 1.2 million Pennsylvanians who have benefited from the state's Clean Slate Law over the past four years. He told his story of clemency Thursday morning during a press conference in Philadelphia geared towards promoting criminal justice reform and the state's newest marijuana pardon project. 
"People don't understand some of the journeys and some of the struggles that you go through just trying to provide for your family," Ryant said. "There is some light at the end of the tunnel."
Ryant is executive chef and catering manager at Rhythm&Brunch, a restaurant in Southwest Philadelphia. He said he is a prime example of how a pardon can change a life. After being arrested at 18, Ryant got his culinary on-the-job training at State Correctional Institute Somerset. Now the owner of three restaurants, Ryant said his pardon and lawmakers' efforts to seal previous criminal records have opened new doors for him. 
Surrounded by state officials and people he's pardoned, Gov. Tom Wolf spoke about the importance of reducing recidivism and improving reentry programs for people returning home from incarceration. 
"Too many of you – when you come into contact with the criminal justice system, you're finding actually it isn't just, even for a minor offense," Wolf said. "A minor offense at 17 years old, 18 years, 20 years old, that could be a life sentence … The past offense can keep someone from getting the job, keep you from going to college, and from becoming engaged in your community."
"When you reduce the recidivism rate, you're actually saving hundreds of millions of dollars because you're not sending people back into our prison system."
- State Rep. Jordan Harris
Since taking office, Wolf has signed more than 2,000 pardons. The state's newly launched Marijuana Pardon Project, an initiative Wolf has taken up alongside Democratic candidate for U.S. Senate Lt. Gov. John Fetterman, seeks to expedite the pardon process for individuals with non-violent marijuana convictions. Wolf noted that through the first week of September, the Marijuana Pardon Project had already received more than 1,300 applications. 
Wolf and officials spoke Thursday at The NoMo Foundation in South Philadelphia. NoMo, which stands for "new options, more opportunities," is a restorative justice organization focused on providing youth and young adults with life skills and resources. 
Lawmakers listed legislative successes in the area of criminal justice reform, including the commonwealth's Clean Slate Law. The Clean Slate Law was bipartisan legislation passed in 2018 that allowed people to petition the courts for their criminal records to be sealed if they went 10 years without a criminal conviction. 
State Rep. Jordan Harris, the House Democratic Whip from Philadelphia, is one of the legislators who championed the Clean Slate Law. He dismissed concerns that pardons put public safety at risk, stating these criminal justice reform efforts benefit communities as a whole. 
"When you reduce the recidivism rate, you're actually saving hundreds of millions of dollars because you're not sending people back into our prison system," he said. "We can then take those dollars and reinvest (them) right into programs that we know work … You keep the community safe. You're giving folks a second chance, but you're also saving taxpayers' scarce resources and reinvesting those dollars in a way that we know benefits Pennsylvanians."
An update to the legislation, House Bill 1826, was introduced in May by Harris and state Rep. Sheryl Delozier, a Cumberland County Republican – it seeks to expand Clean Slate to include lower-level, non-violent drug felonies. 
Delozier and Harris noted HB 1826 is supported by bipartisan groups including the District Attorney's Association, the Pennsylvania Chamber of Business and Industry, Americans for Prosperity-Pennsylvania and Community Legal Services of Philadelphia. 
HB 1826 currently sits in the House Judiciary Committee awaiting consideration.