Law Enforcement
Philly getting a big chunk of federal dollars to address gun violence and violent crime
Wolf announced $25 million dollars will be allocated to Philadelphia police, including $20 million for the DA's office.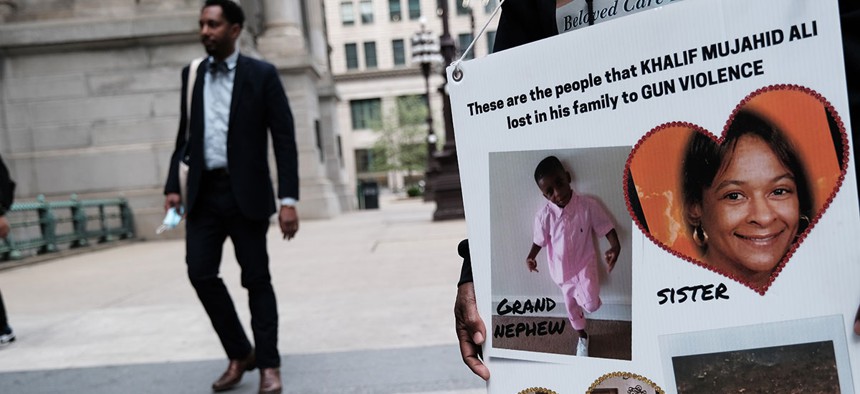 Law enforcement officials are getting a holiday bonus to help them investigate and prosecute violent crime in the commonwealth. 
This week, Gov. Tom Wolf announced $170 million in American Rescue Plan dollars will be allocated to more than 220 local law enforcement agencies and county district attorney's offices, $25 million of which is earmarked for the City of Philadelphia. 
Philadelphia Mayor Jim Kenney, joined by state Rep. Joanna McClinton, state Sen. Vincent Hughes and other city officials, held a press conference at Mill Creek Recreation Center in Philadelphia Thursday to tout the new funding. The recreation center was in the news months earlier when Tiffany Fletcher, an employee working there, was fatally shot while caught in the crossfire of a gun battle on the street. 
The money comes from the American Rescue Plan legislative package passed by Congress in March 2021. Those dollars were then secured by the Pennsylvania Commission on Crime and Delinquency during the state's budget negotiations and now will be spent on two new grant programs: the Local Law Enforcement Support Program and the Gun Violence Investigation & Prosecution Program – both of which are administered by PCCD. 
"These grant programs are one more tool in our toolbox to create safer communities across Pennsylvania," Wolf said in a statement. "With adequate resources, our local law enforcement and investigative offices can better protect and serve."
CeaseFirePA, the leading gun violence prevention group in the state, said while the law enforcement investments are a step in the right direction, further investment is needed in community-based programs. 
"We must match those resources with investments in community-centered violence reduction programs that interrupt cycles of violence," Adam Garber, executive director of CeaseFirePA, told City & State. Garber said he hopes Wolf will announce the distribution of the $105 million in violence prevention programs that were also set aside in this year's state budget "to help address influencers of violence before another life is lost and halt retaliation."
Specifically, $50 million is allocated for gun violence investigation and prosecution grant programs for local law enforcement agencies. Philadelphia will receive half of that $50 million, with $20 million going to the district attorney's office and just under $5 million going to SEPTA. 
The $20 million investment in the District Attorney's Office Gun Violence Task Force will include the expansion of the digital forensics lab, upgrades to digital field technologies such as cameras, and modernization of the investigator and prosecutor case management system. SEPTA will utilize the funding to install ZeroEyes software on security cameras to help identify suspects and increase transit police overtime.  
"We know the technology upgrades and expansions this grant supports will make a difference in our fight against gun violence – because they already have. The Philadelphia Gun Violence Task Force uses intelligence- and electronic data-gathering tools to secure convictions in homicides and non-fatal shootings of defendants involved in group retaliatory violence, even when witnesses refuse to cooperate," Assistant District Attorney and GVTF Supervisor Bill Fritze said in a statement. 
The Local Law Enforcement Support Program seeks to provide law enforcement agencies with resources necessary to implement technological and equipment upgrades and support recruitment and retention efforts. The Gun Violence Investigation & Prosecution Program provides assistance to county district attorneys' offices and local law enforcement agencies through investment in gun violence task forces and related personnel and technology costs.