U.S. Congress
Mayors fret over the possibility of ARPA fund clawbacks
Scranton Mayor Paige Cognetti said the city is using ARPA money to help certain businesses raise workers' pay.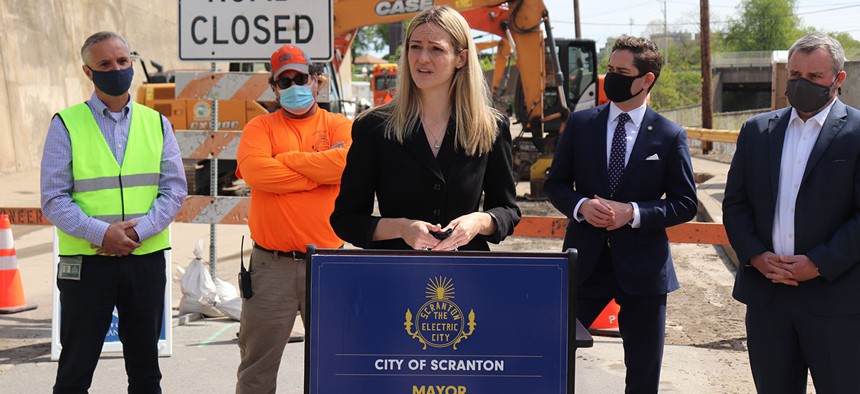 By Kery Murakami
With House Republicans demanding major cuts in federal spending in return for raising the nation's debt limit, Detroit Mayor Mike Duggan warned other mayors last week to spend all of their American Rescue Plan Act dollars sooner rather than later in case Congress tries to claw it back later this year.
"I would say to you that if you can responsibly speed up the obligations, I would say you do want to consider doing it," Duggan said. He also urged mayors to have independent auditors, in addition to city compliance staff, examine and attest that ARPA funds are being spent properly, in ways that adhere to the law and Treasury Department guidelines.  
"None of us wants to get our projects named in a congressional hearing in the next year or two," he said. Duggan added: "I hope eight months from now, 10 months from now, 60 months from now, we're not in a big fight to hang on to the obligated money."  
Duggan isn't the only mayor worried about potential ARPA funding clawbacks. 
"I think every mayor shares that concern," Republican Miami Mayor Francis Suarez, president of the U.S. Conference of Mayors, said when asked by Route Fifty about the issue at a press conference during the group's Winter Meeting.
Duggan noted that states and localities have until the end of 2024 to decide how to spend, or "obligate," the $350 billion of State and Local Fiscal Recovery Funds included in the 2021 pandemic relief package. They have to spend the money by the end of 2026.
"I'm here to tell you I don't think that's going to come true," he said, reiterating that he thinks the money could be taken back before then, during a discussion on how recipients are using the ARPA dollars. 
The Detroit mayor raised concerns that Republicans, after taking control of the House, are pushing for significant budget cuts in return for agreeing to increase the amount the federal government can borrow before facing the possibility of a default on its debts.
White House press secretary Karine Jean-Pierre has said Biden is not willing to negotiate such a tradeoff. But Duggan said he worries congressional Democrats and Biden, during the upcoming budget negotiations, might see rescinding unspent ARPA dollars as politically more palatable to win the support of Republicans than cutting bedrock programs like Medicare or Social Security.
"If you have people talking about paying Social Security, you're going to have people talking about cutting the military. If they are sitting there deciding what type of Medicare do I cut or unobligated, local ARPA dollars, what do you think the choice will be?" he said.
Republicans have repeatedly blasted how states and localities have used ARPA dollars. Top Republicans, including Rep. Jason Smith, chairman of the House Ways and Means Committee, have told Route Fifty they will seek to roll back what they consider examples of government waste.
Jacob Leibenluft, Treasury's chief recovery officer, praised how cities are using the ARPA funds. "They are helping to support some of the administration's top priorities like affordable housing and workforce," he told the mayors at their event.
Without the funding, he said, the nation would be in a different place today – "one that was more reminiscent of the Great Recession, where cities and states were forced to cut services at a cost to their communities," he said. 
Jim Diffley, executive director of the industry services and consulting group for economics at S&P Global Market Intelligence, said the money spent on workforce development is particularly important given a shortage of workers around the country.
He noted in a report he prepared for the mayors that there were 1.7 job vacancies for every unemployed employee in November, compared to 1.2 before the pandemic.
"Going forward, we need to increase the labor force," he said, noting that ARPA, the bipartisan infrastructure package and Democrats' climate law, known as the Inflation Reduction Act, are opportunities to invest in workforce development. 
"Now's a great time to invest in the workforce," he added.
Several mayors have been working on helping businesses find workers. Scranton Mayor Paige Cognetti said that the city is using ARPA funds to provide $50,000 each to certain businesses over two years to raise the pay of their workers.
"In Pennsylvania, we have a really drastic gap between the median wage and the living wage. We are trying to figure out how we can help meet the gaps for our residents," she said. 
The program will help businesses attract workers, she said. 
Under the city's program, the grants will pay for $4-an-hour wage increases at small businesses the first year. The city and businesses will split the cost of maintaining the higher wages the second year, with businesses committing to pay the full share beginning the third year.
Spokane, Washington Mayor Nadine Woodward said the city is contributing $50 million of its ARPA dollars to a $150 million initiative by a nonprofit foundation to pay for college scholarships and vocational training in eastern Washington.
Kery Murakami is a senior reporter for Route Fifty, where this story originally appeared.