Analysis
How Mark Rozzi has shaken up Harrisburg's halls of power: A City & State analysis
We take a look back at one of the most head-spinning weeks in recent memory.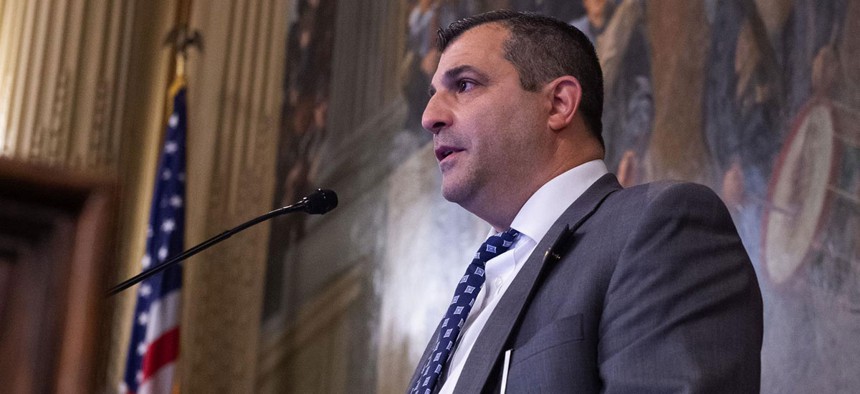 Less than two months after Democrats in the Pennsylvania House of Representatives gathered in front of Independence Mall in Philadelphia to claim a slim majority in the state House, the power structure in Harrisburg is as unpredictable as ever. The election of a new House Speaker has prompted fresh questions about how the state Capitol will function in the opening months of 2023.
Now presiding over the House is state Rep. Mark Rozzi, a Democrat who vowed to become an Independent shortly after winning the leadership election on Jan. 3. His ascent to the speaker's office was historic – he pledged to be the state's first-ever Independent speaker – but Rozzi's first week with the gavel was not without controversy. He may have even lost a longtime friend. 
His rise was unexpected; he received the support of the entire House Democratic Caucus and 16 Republicans after being nominated for the role by GOP state Rep. Jim Gregory, who was a close ally of his. Most notably, the two worked hand-in-hand on a package of bills to protect victims of child sex abuse, which included legislation to abolish the state's criminal statute of limitations on child sex abuse. 
Gregory said the plan to elect Rozzi as speaker was hatched in the moment on swearing-in day. He told City & State that the idea was raised jokingly by House GOP Whip Tim O'Neal in a conversation with Rozzi and Gregory. 
Roughly 15 to 20 minutes later, Gregory said he got a text from O'Neal, asking what it would take to get Rozzi to switch his party affiliation to Independent. "If you want to make a serious offer, then I suggest you call him and make a serious offer," Gregory said, recalling his response to O'Neal. Moments later, Gregory officially nominated Rozzi for speaker of the House, laying the groundwork for Rozzi to win the speaker's gavel. 
Speaking from the rostrum after being elected by his peers, Rozzi vowed to leave partisan politics behind him and announced his intention to become an Independent, adding that he would form a staff made up of Democrats and Republicans. He said that he would not caucus with either party. 
"I pledge my allegiance and my loyalty to no interest in this building, to no interest in our politics. I pledge my loyalty to the people of the commonwealth, to the people who are tired of the hyperpartisanship in both parties," Rozzi said. "I pledge to put people above politics and the institution before ideology."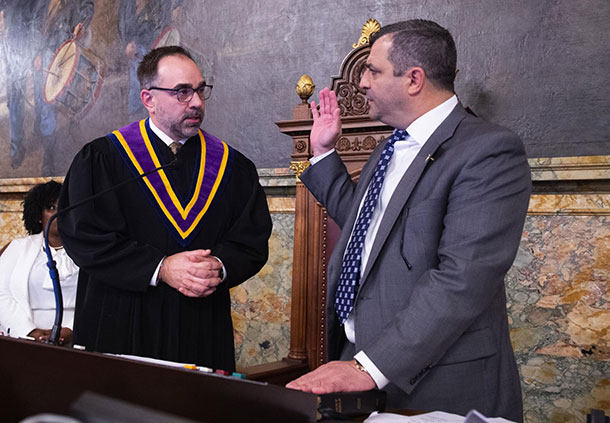 Following the vote, GOP lawmakers and Capitol insiders alike praised Rozzi for his drive and independent streak. 
House Republican Leader Bryan Cutler, who was one of the 16 Republicans who voted for Rozzi, said Rozzi's commitment to become an Independent was key to earning his support. "I think that it's good news for the voters of Pennsylvania because he's pledged to work with both sides," Cutler told reporters. 
"Rep. Rozzi is the quintessential consensus pick. He's well-liked and respected by Democrats and Republicans. He's been an independent thinker and a passionate and tireless worker in Harrisburg," said Mustafa Rashed, the president and CEO of Bellevue Strategies, a Pennsylvania-based government relations firm. 
Rozzi promised to root out dysfunction in Harrisburg, and while his initial pledge to become an Independent was welcomed by government watchdogs – confusion and dissension have also followed. 
I pledge to put people above politics and the institution before ideology.
- House Speaker Mark Rozzi
Fletcher McClellan, a political science professor at Elizabethtown College, said Rozzi's election left questions about how he would govern. Rashed concurred, pointing out that Rozzi and legislative leaders still have to iron out the rules of the House, establish the makeup of committees and appoint committee chairs. 
"We also don't know how active Rozzi will be: Will he serve as caretaker, a facilitator for one or both sides, or will he push his own agenda?" McClellan noted. "If the latter, what could Rozzi's agenda be and how will the legislative parties and the governor respond?"
In the days following his election, Rozzi made one key goal clear: He wanted to secure long-sought legal relief for survivors of childhood sex abuse. 
Rozzi and Gregory – both of whom are victims of child sex abuse – have been two of the loudest advocates in the Capitol for the constitutional amendment, which would provide a two-year legal window for child sex abuse victims to file civil suits against their abusers. The amendment's progress was derailed after the Pennsylvania Department of State failed to meet a constitutional requirement to advertise it.
The bonds of trust between friends – as close as you and I have been – are now broken.
- State Rep. Jim Gregory
Days after Rozzi's election, outgoing Gov. Tom Wolf formally called for a special session of the General Assembly to vote on the constitutional amendment, a move that drew praise from the new speaker. 
Underscoring his commitment to the amendment, Rozzi said that as long as he is speaker, no other legislation will receive a vote until lawmakers pass the constitutional amendment.  
"We've talked the talk – now it's time to walk the walk, together, one last time, for the victims of childhood sexual abuse," Rozzi said in a statement. 
Where Rozzi stands on a slate of GOP-backed constitutional amendments is less clear, as is how he will determine what bills get called up for a vote, and which don't see the light of day.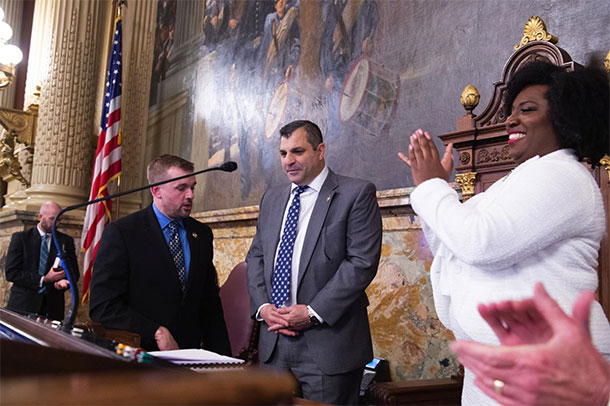 But Rozzi's rise could be halted as quickly as it came to be. One day after Gregory spoke with City & State, he penned a letter to Rozzi calling for him to resign as speaker. "It was with great sadness for me as your friend that you would admit to me Saturday that you are only thinking about switching," Gregory wrote of Rozzi's pledge to change his party affiliation in a letter first reported by Spotlight PA. "The bonds of trust between friends – as close as you and I have been – are now broken."
The letter raised new questions about whether Rozzi will remain speaker after special elections for three vacant seats are held. 
Democrats have said little publicly since Rozzi was elected, though House Democratic Leader Joanna McClinton, who was expected to be the Democratic nominee for speaker prior to Rozzi's nomination, called Rozzi a "true leader" before the vote and congratulated him on Twitter afterward. 
Rep. Rozzi is the quintessential consensus pick.
- Mustafa Rashed
However, in a Twitter thread posted two days after Rozzi was elected, Democratic state Rep. Malcolm Kenyatta suggested that Democrats supported Rozzi's speaker bid because the House "needed a speaker" and "House Dems took the 'least worst option.'"
"When the house has its full complement of members Leader Joanna McClinton will become Speaker Joanna McClinton," Kenyatta tweeted. A spokesperson for McClinton did not comment on the tweet. 
Rozzi said on swearing-in day that he envisions both parties getting some wins – at least as long as the people of Pennsylvania benefit, too. "Sometimes, Republicans will win. Sometimes, Democrats will win, and that is fine as long as the beneficiaries are the people of this commonwealth."
Whether he will remain in that role following special elections is a question that will ultimately be answered by Rozzi's colleagues.