News & Politics
Wolf calls for special session to pass statute of limitations amendment
House Speaker Mark Rozzi said the measure must be voted on 'without delay.'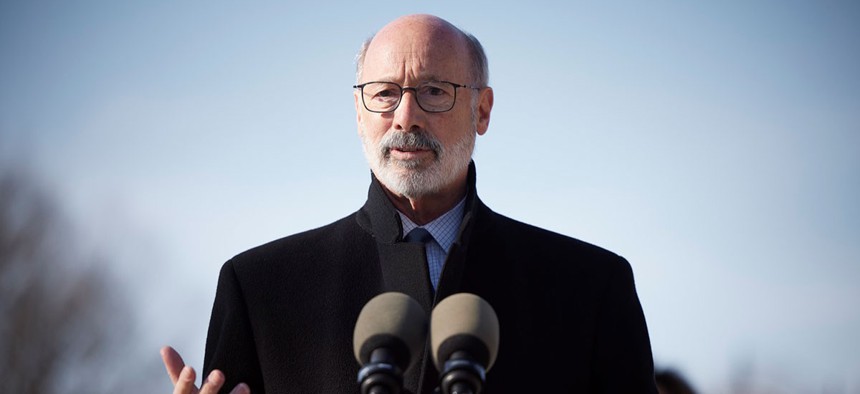 Capping off an eventful week in the state Capitol, outgoing Gov. Tom Wolf on Friday called for a special session of the General Assembly on Monday, Jan. 9 to vote on a constitutional amendment that would provide a two-year legal window for child sex abuse victims to file civil suits against their abusers.
Wolf said a vote is needed on the legislation by late January to ensure that the proposal makes it on the ballot this May, as constitutional amendments must be approved by voters before taking effect. 
"For far too many Pennsylvanians, justice and healing for the pain they've experienced is out of reach," Wolf said in a statement. "This special session is a critical step to allow the General Assembly to focus their work on this important, and potentially life-saving, task."
"No survivor should be denied the chance to hold their abuser accountable, regardless of how much time has passed," he added. 
Wolf's announcement came just three days after lawmakers elected state Rep. Mark Rozzi – a longtime advocate for the proposal – as the next speaker of the Pennsylvania House of Representatives. On Tuesday, Rozzi said he would refrain from caucusing with either party and instead lead the divided chamber as an Independent. 
In a statement released Friday, Rozzi thanked Wolf for his special session proclamation, and said he won't call votes on any other pieces of legislation until the constitutional amendment is approved by both chambers. 
"I came to Harrisburg with one purpose: to see that survivors of childhood sexual assault in Pennsylvania receive the justice that they deserve," Rozzi said.  
"This amendment must be passed without delay," Rozzi said. "How many victims of childhood sexual assault must take their lives before we give them access to the treatment that they desperately need and deserve?"
Rozzi and Republican state Rep. Jim Gregory – both of whom are victims of child sex abuse – have been two of the loudest advocates in the Capitol for the amendment, which would create a two-year timeframe for child sex abuse victims to file civil lawsuits against their abusers. The window would apply to victims for whom the statute of limitations has already expired. 
The amendment was on track to be placed on the ballot in 2021, but an advertising error at the Pennsylvania Department of State forced state lawmakers to restart the multi-year constitutional amendment process anew. The error resulted in a two-year delay that devastated survivors and victim advocates. 
Gregory, who nominated Rozzi for speaker of the House on Tuesday, praised Rozzi for his willingness to prioritize the two-year window. 
"I am grateful for Speaker Rozzi's commitment to correcting the devastating error from two years ago," Gregory said. "The time for politics will come. But today, the people of Pennsylvania should recognize that Speaker Rozzi is not waiting to govern."
Gregory was the prime sponsor of the amendment last session, which was contained in House Bill 14.In November 2019, Wolf signed a package of bills into law that were based on recommendations made by a grand jury that investigated widespread sex abuse within Pennsylvania Catholic dioceses. One of the bills, which was sponsored by Rozzi, eliminated the criminal statute of limitations for prosecuting sexual abuse crimes. Wolf announced last year that legislative leaders had agreed to advance the constitutional amendment early in 2023.
In order for constitutional amendments to be approved, state lawmakers must approve the language in back-to-back legislative sessions. The amendment is then presented to voters in the next-closest election in the form of a ballot referendum. Constitutional amendments do not need to be approved by the governor, unlike regular legislation. 
In Pennsylvania, a special session of the General Assembly may be called "by the Governor on petition of a majority of the members elected to each House or may be called by the Governor whenever in his opinion the public interest requires," per the state constitution.
The time for politics will come. But today, the people of Pennsylvania should recognize that Speaker Rozzi is not waiting to govern.
– State Rep. Jim Gregory
The House Democratic Caucus delivered a statement Friday saying that survivors "have had to wait too long for their opportunity for justice." Members thanked Wolf and Rozzi for placing an emphasis on the measure. Not all lawmakers appear to be on board with the idea of a special session, however. House GOP Leader Bryan Cutler said it is "not in the best interest of the commonwealth to do this work in special session."
"Passing this constitutional amendment was something we have done easily in the past and have already committed to running this session," Cutler said Friday in a statement. "We can do this work in regular session, while also addressing other urgent needs the people of Pennsylvania expect us to address in a timely manner."
In 2021, Republican lawmakers advanced a slate of constitutional amendments that still need to be approved one more time by lawmakers in order to appear on the ballot. Those amendments included language to establish universal voter ID requirements and limit the timeframe of gubernatorial executive orders, among others. But as Rozzi indicated Friday, other proposals likely won't be on his radar until the statute of limitations amendment is passed. 
In a joint statement, Senate President Pro Tempore Kim Ward and Senate Majority Leader Joe Pittman, both Republicans, said the special session is not needed to consider the amendment backed by Rozzi and Gregory.
"Gov. Wolf's call of a special session a week before his term ends is an attempt by him to prioritize one issue while there are equally important issues that deserve the same consideration among the voters," the leaders said.