News & Politics
What to know about Mark Rozzi, Pennsylvania's new House speaker
The Democrat-turned-Independent will lead a divided state House.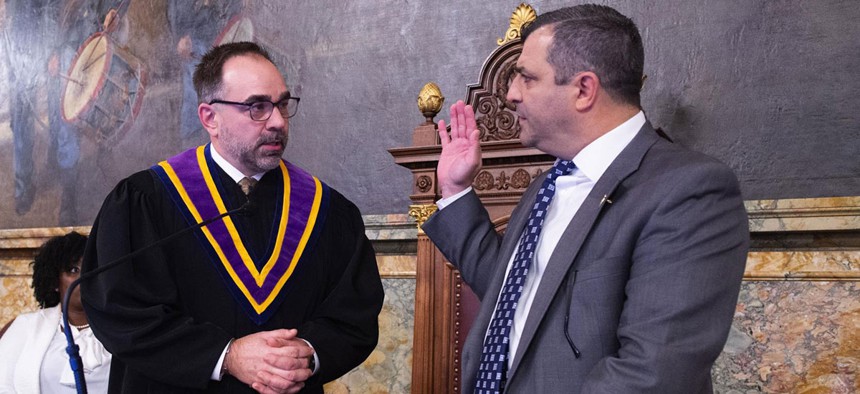 State Rep. Mark Rozzi shook up Pennsylvania's political power dynamic Tuesday when he was elected the next speaker of the Pennsylvania House of Representatives. The six-term Democrat quickly vowed to lead the chamber as an Independent in his first public address to colleagues. 
Rozzi's shocking rise to power further complicates Harrisburg's ongoing power struggle, though he has since promised to serve as an impartial arbiter who casts ideology to the wayside. 
Given that Rozzi was not expected to be one of the names in the running for speaker, here's some information about the Berks County lawmaker who was just elected the next presiding officer of the state House – and what his victory means for the General Assembly.
Who is Mark Rozzi?
Mark Rozzi was first elected to the General Assembly in 2012 as a Democrat representing the 126th state House District. Voters in the 126th District elected Rozzi to his sixth term last November, with Rozzi garnering roughly 64% of the vote in a race against Republican James Oswald.Rozzi is perhaps best known for his work to reform the state's statute of limitations laws surrounding child sex abuse. Rozzi, who was raped by a Catholic priest when he was 13, sponsored a bill in 2019 to abolish the criminal statute of limitations on childhood sexual abuse – a measure that was signed into law by Gov. Tom Wolf.  
Since then, Rozzi has remained supportive of a constitutional amendment that would provide victims of childhood sexual abuse with a two-year window to file civil lawsuits against their abusers. 
Prior to his time in public office, Rozzi worked at a window and door installation company owned by his family. He has a bachelor's degree in political science from Kutztown University and graduated from Muhlenberg High School in Reading, according to his official House biography. 
How did Rozzi become speaker?
Rozzi was nominated by state Rep. Jim Gregory, a Republican from Blair County who has worked with Rozzi on reforming Pennsylvania's statute of limitations laws.
Gregory spoke Wednesday to WJAC TV about how Rozzi's nomination materialized:
Heading into swearing-in day, Democrats and Republicans were at odds over which party was entitled to control of the state House. Democrats won 102 seats – a one-seat majority – in November's midterms, but the death of Democratic state Rep. Tony DeLuca and the resignation of two others in the caucus gave Republicans a 101-99 advantage heading into the new year. 
Both parties tried to schedule special elections to fill the vacant House seats, resulting in a lawsuit that is currently being considered in Commonwealth Court. 
Amid all the uncertainty surrounding how Tuesday's speaker vote would go, lawmakers at one point attempted to adjourn without voting to fill the role. That effort failed, and eventually, two candidates, Rozzi and Republican state Rep. Carl Walker Metzgar, were nominated for the speaker election. 
Rozzi won 115 votes, while 85 votes came in for Metzgar. All Democrats voted to support Rozzi's bid for speaker, as did 16 Republicans, including all members of GOP leadership. 
How is Rozzi going to run the House?
Rozzi, in a surprise move, announced that he will lead the chamber as an Independent during his opening address to House members, adding that he will not caucus with either political party. 
"My staff will be made up of people from both parties. I pledge my allegiance and my loyalty to no interest in this building, to no interest in our politics. I pledge my loyalty to the people of the commonwealth, to the people who are tired of the hyperpartisanship in both parties," Rozzi said. "I pledge to put people above politics and the institution before ideology."
The speaker of the House is one of the most powerful positions in the state Capitol, as the speaker has the power to appoint committee chairs and schedule special election dates and session days. 
Rozzi's first action as speaker was to issue two writs of election for vacant House seats in the 34th and 35th House districts, setting Tuesday, Feb. 7 as the election date for both seats, according to a spokesperson for the House Democratic Caucus. 
Still, questions remain about how the House will function under Rozzi's leadership, and whether he will live up to his promise to remain independent of both parties, with Spotlight PA reporting that Democratic Appropriations Committee Chair Matt Bradford said Tuesday that Rozzi "assured our caucus that he's a Democrat."
The House also has yet to adopt its operating rules for the 2023-24 legislative session, which govern not only how the House will operate over the next two years, but what the ideological makeup of various legislative committees will look like. 
If Democrats go on to win the three vacant seats – seats which they won last November – control of the House will be split at 101-101-1, a scenario that will place added significance to every vote cast in the chamber.