News & Politics
In email, GOP warns members against accepting deals from Dems ahead of House speaker vote
Democrats did not confirm or deny whether they had made any offers to Republican members.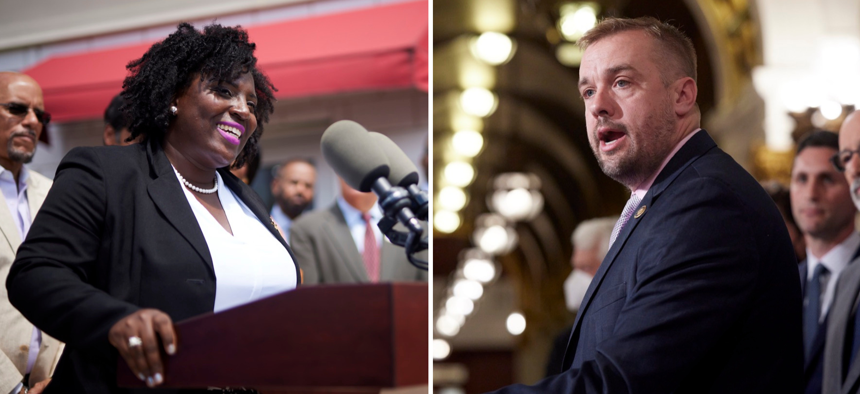 With just a few days until an unpredictable swearing-in ceremony in the Pennsylvania House of Representatives on Jan. 3, an ongoing dispute over control of the chamber has GOP leaders warning their own members against negotiating with Democrats to elect the next House speaker. 
In an email sent to members of the House Republican Caucus on Thursday – that has been verified by City & State – Jake Smeltz, chief of staff to House Republican Leader Bryan Cutler, relayed a warning from the Republican leadership team. In the email, GOP leaders said that members of the House Democratic Caucus had reached out to GOP members about supporting a Democratic candidate, or a "transitional or consensus candidate," for speaker. 
The leaders said that Democrats reached out to GOP members claiming that Gov.-elect Josh Shapiro "would deliver on projects" in their districts if they supported the Democrats' candidate.
"We had specific inquiries that were about the many offers that were being made on behalf of Democratic members meeting with you and more concerning promises by leadership that the Governor-Elect would deliver on projects in your districts if you voted for their candidate," the leaders wrote.
The caucus has repeatedly stated its desire for an amicable agreement with the House Republican Caucus.
- Nicole Reigelman
They went on to say that offers "are being made all across the Commonwealth and total in the Hundreds of Millions of dollars."
Control of the House is closely divided, with Republicans currently occupying 101 seats, and Democrats holding 99. Democrats won 102 of 203 seats in November's midterm elections – enough seats to give Democrats a one-seat majority on paper. 
But the death of one member and two subsequent resignations – all seats won by Democrats in November – have left House leaders on both sides of the aisle sparring over which party is entitled to schedule the special elections for the three vacant House seats, as well as which party will govern the chamber until those seats are filled. 
The GOP leaders cautioned members against trusting promises from Democratic members that Shapiro might deliver on their behalf, writing, "the nature of the offers is unseemly and smacks of pay-to-play politics and has the potential for grave reputational harm to you individually as members and the Institution in general."
Nicole Reigelman, a spokesperson for House Democrats, did not confirm or deny whether Democrats had made any offers to Republican members.
Reigelman did say that Democrats are willing to work with Republicans to create an "orderly and celebratory swearing-in ceremony" on Jan. 3.
"The caucus has repeatedly stated its desire for an amicable agreement with the House Republican Caucus, and our doors remain open to discussions with any Member of the House who wants to see this historic day conducted with the dignity that it deserves," Reigelman told City & State in an email.
Jason Gottesman, a spokesperson for House Republicans, accused Democrats of engaging in a "desperate pay-to-play ploy" that he said "confirms the utter failure of their incompetent and illegitimate attempted power grab and redefinition of the term 'majority' over the last several weeks."
It's not totally uncommon for state funding to be used as leverage to encourage lawmakers to vote a particular way; outgoing Gov. Tom Wolf reportedly used the strategy in December 2021 to encourage lawmakers to back his proposal to regulate emissions from the power sector, per the Pennsylvania Capital-Star.
Uncertainty still looms over when special elections will be held to bring the House to full strength. 
House Democratic Leader Joanna McClinton attempted to schedule all three special elections for Feb. 7 after she was privately sworn in as House Democratic Leader. 
Two days later, Cutler, in a lawsuit, asked the Commonwealth Court to invalidate the elections scheduled by McClinton, arguing that McClinton scheduled the special elections "without constitutional or statutory authority as she is neither Speaker of the House of Representatives nor is she Majority Leader."
In a Dec. 22 order, the Commonwealth Court decided it would schedule expedited arguments and hearings for a date and time after Jan. 4, 2023.