News & Politics
Tug of war for control of state House intensifies
Democrats say precedent makes Joanna McClinton the chamber's presiding officer, but GOP leaders are accusing Democrats of an improper power grab.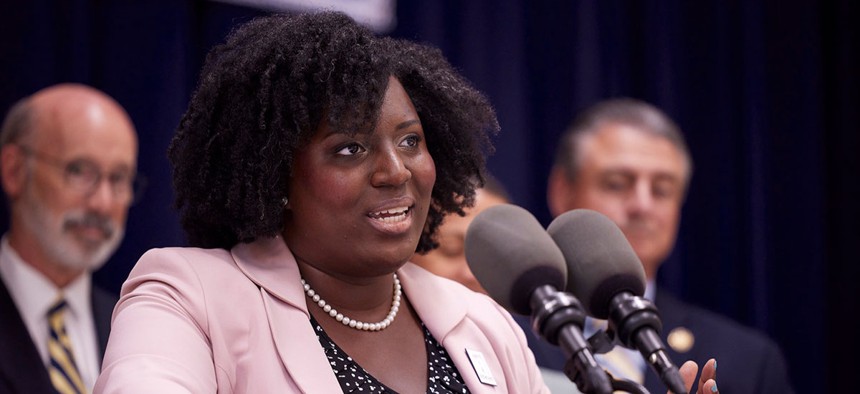 The ongoing tug of war for control of the Pennsylvania House of Representatives intensified Wednesday as House Democratic Leader Joanna McClinton said she was sworn in as the chamber's presiding officer until members can elect a permanent speaker next year – an unannounced move that angered Republicans. 
McClinton, who could become the first Black woman elected speaker in state history next year if she garners enough votes, moved to schedule three special elections on Feb. 7, 2023 to fill vacant seats in the state House – seats that will determine which party holds the majority in the next session.
Democrats won 102 seats in this year's state legislative elections, putting them in position to flip the chamber in their control with a slim, one-seat majority. However, one seat belonged to the late state Rep. Tony DeLuca, who died on Oct. 9 while still in office. Despite his death, he was posthumously reelected, as his name remained on the ballot due to the timing of his death. 
With DeLuca's seat vacant, Democrats and Republicans were deadlocked at 101 seats each, leaving both parties fighting in the aftermath of the midterms over which caucus controls the chamber.
Complicating the picture, two other Democrats – state Reps. Austin Davis and Summer Lee – resigned Wednesday. Davis was elected the state's next lieutenant governor in November, while Lee was elected to Congress. 
McClinton, in a statement, said Wednesday marked a "fresh start" in the chamber, adding: "After more than a decade of Republican management, today is a fresh start. A day for new leaders, new perspectives and new collegiality. I am confident that together, we can do amazing things to advance our commonwealth."
Speaking to reporters last month, House Republican Leader Bryan Cutler said he was not ready to concede the majority to Democrats. On Wednesday, Cutler accused Democrats of orchestrating an "illegitimate power grab."
"Today's illegitimate power grab by Rep. McClinton, who was sworn in without notice and in complete secret, is a paperwork insurrection typical of a Democratic Party that is constantly displaying that their last two years of rhetoric on respect for institutions has been nothing but crocodile tears," Cutler said in a statement. 
Cutler said that by admitting that the three Democratic seats were vacant, McClinton was acknowledging that Democrats are currently in a minority, with Republicans holding 101 seats and Democrats holding 99. He said the moves made by McClinton were an "affront to our democratic institutions."
McClinton's office said past precedent gives her the ability to schedule special elections for vacated seats, pointing to an instance in December 2004 when the Republican majority leader at the time, Sam Smith, scheduled a special election for an open seat. She also scheduled the first 60 days of the next legislative session, according to a press release. 
A spokesperson for McClinton said the state constitution required special elections to be scheduled within 10 days of a vacancy, adding that a writ of election previously signed by Cutler was returned by the Pennsylvania Department of State. 
"The writ issued by Rep. Cutler last week was returned today by the Department of State. However, the House Democrats agree with the timeline outlined by Rep. Cutler, which is why Leader McClinton selected Feb. 7 for all three special elections," said Nicole Reigelman, a spokesperson for McClinton's office. "Every Pennsylvanian deserves representation, and that date restores the House complement as quickly as possible."
In a letter sent today to the chief clerk of the House, Acting Secretary of State Leigh Chapman said Cutler's writ of election was returned because it did not comply with language in the state's constitution and Election Code. 
It was unclear if Republicans planned to take any immediate action on Wednesday, but one lawmaker, state Freedom Caucus Chair Dawn Keefer, said she planned to introduce a resolution that would remove the chief clerk of the House from office. 
Lawmakers are set to convene in Harrisburg for the first time in the new legislative session on Jan. 3, 2023.