News & Politics
House Republicans end session with new leaders and a bone to pick with Democrats
Republicans chose new party leaders for the first time since losing their majority in the midterms.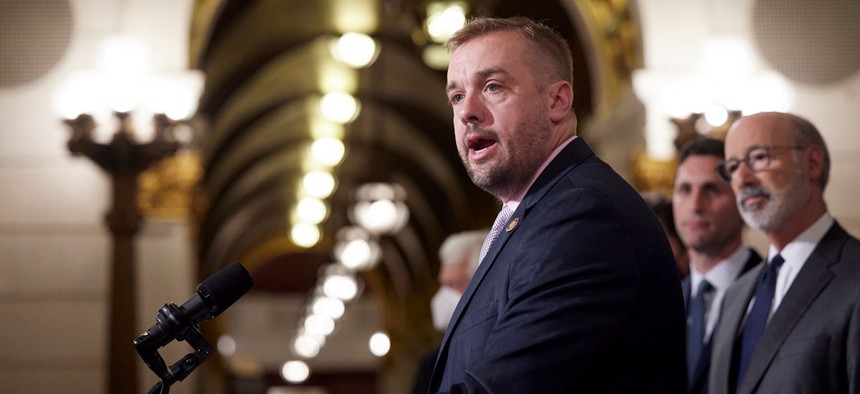 Republicans in the Pennsylvania House of Representatives have picked outgoing House Speaker Bryan Cutler to lead the caucus for the next two years after the GOP lost their majority in the state House in the midterms. 
Cutler, a Lancaster County lawmaker, was elected leader in closed-door caucus elections on Tuesday, and wasted little time making his feelings known about why his party's majority evaporated this year. 
"The outcome of the 2022 elections for the Pennsylvania House of Representatives was not the result of any policy decisions or political calculus, but the end result of an outcome-oriented map," he said at a press conference following the elections, casting blame on new legislative maps approved by a state panel in 2021. 
Cutler blamed Democrats for high crime rates, accusing the party of failing to address a rise in homicides in Philadelphia. He also said Democrats in Washington, D.C. have worsened inflation and high prices. 
"We will see what ideas the Democrats have, and then we will let the people decide if they are the right ones," he said. 
A day earlier, one of Cutler's colleagues from across the state Capitol, state Sen. Sharif Street, said the maps were consequential in the Democrats winning a narrow majority.
"I think fair maps played a role," Street said, adding that the districts "were less gerrymandered" in his view. But he also chalked up the gains to voters wanting to take the state in a different direction. 
"What I think it says is that Pennsylvania is a fairly moderate state that wants pragmatic solutions and rejected some pretty extreme ideology that was coming out of the Republicans at the top of the ticket," Street told attendees at a luncheon in Harrisburg. 
Lawmakers have yet to formally elect a speaker – a position that will be filled when lawmakers convene in January for the new legislative session.
We will see what ideas the Democrats have, and then we will let the people decide if they are the right ones.
– House Republican Leader Bryan Cutler
With a 101-101 split in the House following the death and subsequent reelection of state Rep. Anthony DeLuca, questions remain over how a vote for speaker of the House will go down. Special elections will also need to be held to replace state Reps. Summer Lee and Austin Davis, both of whom were elected to higher office earlier this month. 
Cutler said until all those seats are filled, he's not ready to concede the majority. "I think the terms majority and minority, quite frankly, are misplaced, because right now, we're numerically tied," he said. "I'm not ready to concede anything."
Cutler remains the top-ranking Republican in the House. House Majority Leader Kerry Benninghoff chose not to run for a leadership post this cycle, leaving the position of floor leader up for grabs. 
The caucus elected Washington County state Rep. Tim O'Neal as whip. State Rep. Seth Grove of York County was elected minority chair of the House Appropriations Committee – replacing state Rep. Stan Saylor as the Republican chair after Saylor lost his primary race earlier this year. 
State Rep. Jesse Topper of Bedford County, who was vice chair on the committee this session, unsuccessfully challenged Grove for the top GOP seat on the panel. 
Westmoreland County state Rep. George Dunbar fended off a challenge for caucus chair from state Rep. Ryan Mackenzie, who represents Lehigh County. Dunbar will continue serving in the role, which he has held since he was first elected in early 2021. 
State Reps. Martina White, of Philadelphia, and Sheryl Delozier, of Cumberland County, were elected caucus secretary and caucus administrator, respectively. Beaver County state Rep. Josh Kail will chair the House Republican Policy Committee.