Capitol Beat
Austin Davis resigns from state House to focus on transition to lieutenant governor
Davis is one of two state representatives who resigned Wednesday.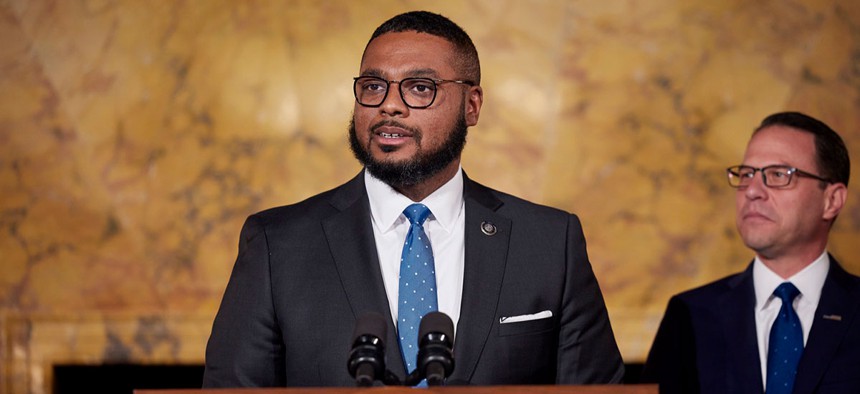 By Peter Hall
State Rep. Austin Davis, an Allegheny County Democrat, resigned from his seat in the state House Wednesday effective immediately to focus on his role as lieutenant governor-elect as he and Gov.-elect Josh Shapiro prepare to take office in January. 
Davis said in a statement that he was honored to serve in the House and provide a voice for his Monongahela Valley community in the Capitol.
"If you had told me as a 16-year-old teen, driven to my first city council meeting to protest gun violence that had reached my own block, that I would have the privilege to represent my hometown and neighboring communities in our state Capitol, and the opportunity to take those issues head on and improve lives, I wouldn't have believed it," Davis said.
Davis' resignation is one of two that will erase a nominal Democratic majority in the house, at least temporarily. State Rep. Summer Lee, from Allegheny County, also resigned Wednesday before taking office as a U.S. representative for Pittsburgh.
Among his accomplishments as a state representative, Davis listed his work on the state health insurance marketplace, Pennie; his vote to support what he described as a historic increase in education funding; and revitalization and redevelopment of the municipalities in his district.
Davis was reelected in November to his third term in the 35th House District at the same time that he and Shapiro won the governor and lieutenant governor's races. Under Pennsylvania law, elected officials are allowed to run for another office while seeking reelection but they may not hold two offices simultaneously.
The House was expected to begin its next session with a 101-101 split even though Democrats won 102 seats in November. One of the lawmakers reelected was longtime Rep. Anthony DeLuca, who died in October. It was too late to remove DeLuca's name from ballots and voters reelected. 
Davis, DeLuca, and Lee's seats will be up for grabs in special elections early next year.
House caucus leaders have squabbled in the last week over which party's leader has the authority to call for special elections despite being in agreement that the elections for vacant House seats should be held as soon as possible.
On Wednesday, House Democratic Leader Joanna McClinton announced she has been sworn in as majority leader in the House.
McClinton said that she would preside over the lower chamber as 'acting speaker.' House Republican Leader Bryan Cutler, who said he would not seek election to the speaker's chair next session, accused McClinton of making up the 'acting speaker' title.
Peter Hall is a reporter for the Pennsylvania Capital-Star, where this story first appeared.