Interviews & Profiles
A Q&A with Austin Davis
The Democratic lieutenant governor nominee is gearing up for one of the midterm election's marquee races.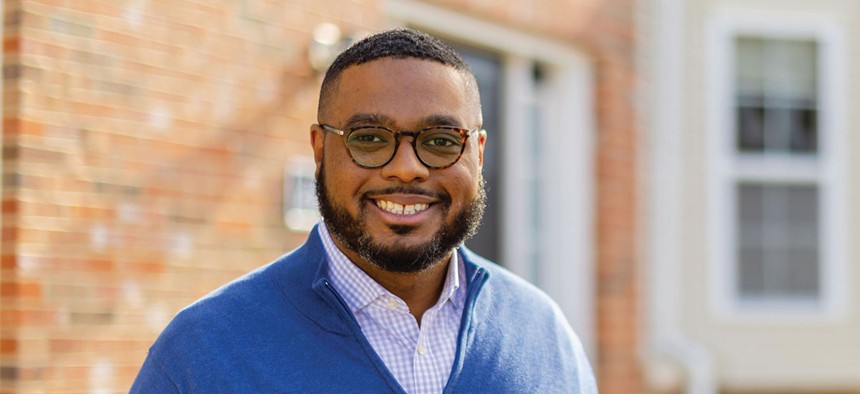 Austin Davis entered the Democratic primary for lieutenant governor with the support of Attorney General Josh Shapiro, which helped propel him to an overwhelming victory in the May primary. 
Now, with the Democratic Party's ticket set for a serious showdown with Republicans, Davis is vowing to be a close "governing partner" with Shapiro if the Democratic duo ultimately wins in November. In an exclusive interview with City & State, Davis discusses what motivated him to run for lieutenant governor, how he intends to work within the confines of the office and whether or not the Shapiro-Davis ticket can unite a politically-divided commonwealth this fall.
This interview has been condensed and edited for length and clarity.  
What prompted you to run for lieutenant governor and pursue this role?
I decided to run for two reasons: One, to be a strong governing partner for Josh Shapiro. Over the years, we've seen governors and lieutenant governors who (have been) mismatched. Gov. (Tom) Wolf and Lt. Gov. (Mike) Stack were probably the best example of that. I really view this role as being a partner to the governor and helping him enact his agenda and helping him govern our commonwealth. The second reason is to be a champion for working-class families here in Pennsylvania. That's something that's deeply important to me. I'm the proud son of a union bus driver and a hairdresser. My parents worked extremely hard, just like millions of Pennsylvanians, to make sure that my sister and I had every opportunity to succeed, allowing us to become first generation college graduates. It ought to be a little bit easier for working-class families to get ahead here in Pennsylvania. We need to make sure state government is working to help create ladders of opportunities for folks so they can live the American dream here in Pennsylvania. I think the lieutenant governor can be extremely impactful in terms of our day-to-day governance as a commonwealth in terms of helping to set an agenda, and in terms of being an advocate for the issues that are important to them and the people here in Pennsylvania.
I think the contrast could not be clearer on where we stand on the issues.
- Austin Davis
What is the highest priority that the next administration needs to address from your perspective?
Dealing with the economic issues here in the commonwealth is going to be the top priority. Helping to make sure we're creating an environment here in Pennsylvania where we can create jobs, where we can help revitalize communities that have often been left behind and haven't seen the type of economic growth that other areas have seen. We're going to be focused on making sure that our commonwealth is strong economically, by creating economic growth hubs, by making sure we're creating new jobs and making sure we're being active in terms of attracting new businesses to locate here in Pennsylvania, and (helping) businesses that are currently here expand their growth … Folks are worried about their economic future. They're worried about how their wages are going to keep up with the rising costs of everything, and I think that's one of the top priorities we're going to focus on, in addition to making sure communities are safe, to make sure that folks don't have to live in communities that are plagued by gun violence or any violence. In addition, making sure children are able to get a quality education in the commonwealth. We know kids are dealing with issues today that they weren't necessarily dealing with before COVID. We need to make sure that our children and our schools have the support and resources to make sure our young people can thrive and learn.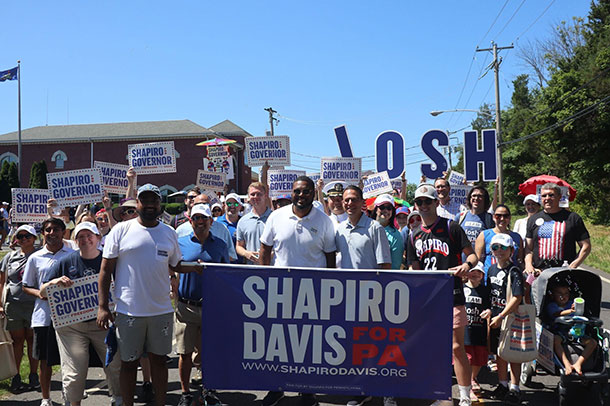 Lt. Gov. John Fetterman has made criminal justice reform a top priority during his time in office. But Republicans have often criticized Democrats for not being tough on crime. How would a Shapiro-Davis administration balance criminal justice reforms with actually being more aggressive about combating crime in the state?
Josh and I have said very clearly that we believe people should live in safe communities, which is why we want to increase the amount of resources that police officers receive here in the commonwealth so that we can make sure that they have the resources that they need to do their jobs. One of my roles as lieutenant governor will be the chair of the Board of Pardons, and in that role, I'm certainly going to view my overarching policy (with) an eye toward second chances, but I think each individual case is different, and I look forward to studying each individual case that comes before the board and weighing all of the issues that come with making a decision about whether somebody should be pardoned or (receive) a commutation. Let's also be clear, because I think there's a misunderstanding out there about what a pardon is. A pardon goes to people who already served their sentences and their debt to society. A pardon does not let anybody out of jail. A commutation does that, but a pardon does not. I think that's getting distorted in the political environment that we find ourselves in.
We need to make sure state government is working to help create ladders of opportunities for folks so they can live the American dream here in Pennsylvania.
- Austin Davis
This race for governor, and thereby lieutenant governor, has gotten contentious and personal, at times. If you had to make an elevator pitch for why voters should ultimately vote for you, what would you say?
I would say a Shapiro-Davis administration is focused on delivering real results for people here in Pennsylvania – making sure we have a strong economy, making sure we're creating family-sustaining jobs, making sure every child has the opportunity to get a quality education here in the commonwealth, making sure our communities are safe. We've rolled out a number of policy prescriptions to address the most pressing issues facing Pennsylvanians. The contrast is clear – our opponents have not rolled out a policy agenda at all. We are running against the most dangerous and extreme gubernatorial candidate in the country. We're running against a candidate who wants to ban abortion with no exceptions. So, if you believe women should have the right to make their own reproductive health care decisions, you want to vote for Shapiro-Davis. If you don't, then you're probably on the side of Doug Mastriano – without exceptions. I think the contrast could not be clearer on where we stand on the issues, and voters are going to have a choice to make on Nov. 8.