Campaigns & Elections
Josh Shapiro outlines his plans for Pennsylvania's economic future
The Democratic nominee for governor is promising to cut business taxes and increase use of renewable energy.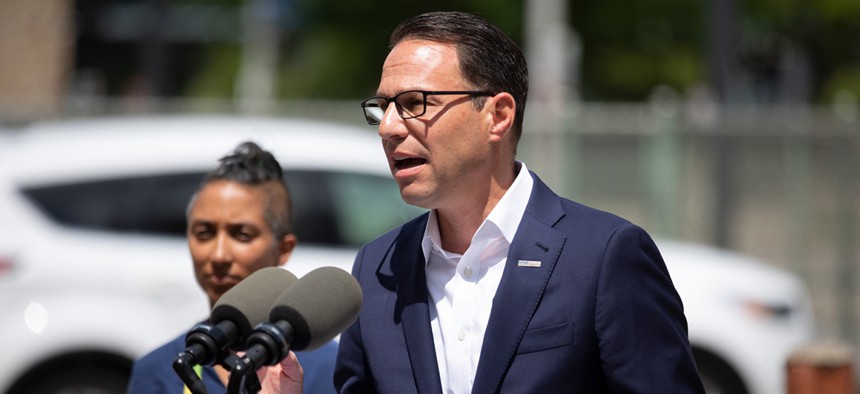 As worries about inflation and the economy dominate the minds of voters heading into this year's election for governor, Democratic gubernatorial nominee Josh Shapiro unveiled a set of plans to boost the state's economy and energy sectors if he's elected governor this November.
In a wide-ranging plan released this week, Shapiro vowed to help businesses secure permits and access applications, slash the state's business tax rate, sign legislation to cut carbon emissions and increase funding for career and technical education. 
Shapiro, the state's incumbent attorney general, said he would form a new office dedicated to helping businesses navigate the state's regulatory environment, and said he would expand an existing initiative that connects manufacturers with colleges, universities and other institutions that train students for in-demand careers in the manufacturing sector. 
He also said he would support the continued emergence of new sectors in Pennsylvania, such as biotech, robots and autonomous vehicles, and further cut the state's corporate tax rate, which is expected to drop to 4.99% in 2031 following the enactment of this year's state budget.
"As Governor, I'll lead the way to reignite our economy, ensuring businesses come to Pennsylvania and stay here, and making our Commonwealth a national leader for innovation, manufacturing, and job creation," Shapiro said in a statement accompanying the plan. 
He said that a Shapiro administration would "connect businesses with leading research institutions, get companies access to capital, and create a talent pipeline from high school and college to the workforce."
A recent poll from AARP Pennsylvania showed that 27% of likely voters in the state listed "inflation and rising costs" as the most important issue driving their decision in the state's race for governor, with "honesty in government" and "abortion" coming in second and third, respectively. Among those surveyed, inflation was the top concern among Republicans, with 37% of GOP voters listing the issue as their chief concern in the race, compared to 20% of Democrats and 18% of Independents. 
Shapiro said he wanted to build off cuts to the state's Corporate Net Income Tax rate included in this year's state budget, by reducing the state's CNIT rate to 4% by 2025. The rate is currently slated to drop from 9.99% to 8.99% next year, and eventually drop to 4.99% by 2031. The plan pushed by Shapiro on Monday would accelerate that timeframe significantly. 
The Democratic candidate also expressed a desire to have 30% of the state's electricity come from renewable energy sources by 2030 and have the state reach net-zero emissions by 2050. He also said he would expand the use of carbon capture technology in the state, and make the state home to a "new regional hydrogen hub."
Shapiro's economic plan would also eliminate 4-year degree requirements for "thousands" of jobs in state government, and increase funding for apprenticeship programs.
Shapiro is facing state Sen. Doug Mastriano in the general election for governor this November, in what appears to be a close race according to public polling conducted since the primary election. 
Mastriano has frequently looked to tie Shapiro to President Joe Biden, and said earlier this month that Shapiro wants to "force Pennsylvanians to endure even more suffering."
"He is blind to the benefits of small government, the wonders of the free market system, and the transformative power of our energy sector," Mastriano said in a July 13 statement. "It's time to revive – not ravage – our beloved Commonwealth."
According to the AARP poll, Shapiro holds a slim 3% lead over Mastriano, though the results fall within the poll's margin of error. Similarly, a poll from USA Today and Suffolk University showed Mastriano within 5% of Shapiro, a result that also is within the poll's margin of error.