News & Politics
Mastriano releases goals for first 100 days if elected governor
The GOP state senator is vowing to push back against COVID-19 mandates and usher in reforms to state government.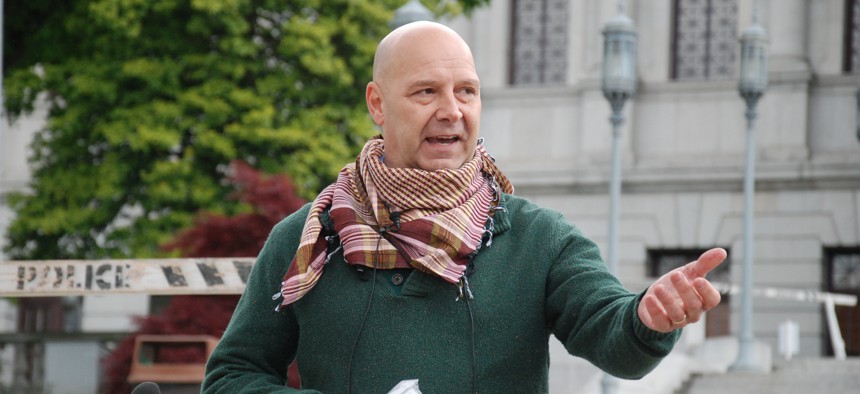 State Sen. Doug Mastriano has released a nine-point plan that details how he would handle his first 100 days as governor, promising to push back against COVID-19 mandates, eliminate mail-in ballots and implement voter ID, and reform state government if he is elected in November. 
Mastriano, a Republican from Franklin County, is among the state's leading candidates in the GOP primary race for governor, with a recent poll from the Trafalgar Group showing him at the top of the Republican field with support from 21.9% of likely voters. However, 19.4% of respondents said they were undecided at the time the survey was conducted, underscoring the unpredictability of the primary.  
In a video accompanying the release of his policy plan, the Republican gubernatorial hopeful pledged to protect freedoms and support policies that would stimulate the state's economy, including by lowering the state's corporate tax rate and cutting regulations. 
"If you want your freedoms back, you want to restore your families, rebuild the economy and revive the state to the greatness that it should have, I'm your guy for the job and we will deliver results," Mastriano said. 
Mastriano, who rose to prominence as a vocal opponent of Gov. Tom Wolf's pandemic-related restrictions, said he will "reject" COVID-19 policies handed down by the White House and the Centers for Disease Control and Prevention, adding that he will ban policies that mandate masks and COVID-19 vaccines. 
He also said he would back policies to eliminate the use of mail-in ballots, which he supported in 2019, and that he would sign legislation to ban private election grants and implement universal voter ID requirements. 
Regarding education, Mastriano said he would ban certain teachings related to race, ethnicity and gender, and would sign legislation to establish "Education Opportunity Accounts" and other bills that would expand school choice policies. Mastriano also supports the elimination of school property taxes, lowering the state's Corporate Net Income Tax and cutting at least 55,000 state regulations. 
Mastriano also expressed his desire to reform state government by implementing a gift ban that would prohibit public officials from receiving gifts from lobbyists and special interest groups. His plan also calls for getting rid of the "revolving door" that allows lobbyists to take jobs within the General Assembly, and prohibiting political consultants from concurrently registering as lobbyists. 
Mastriano took aim at politicians on both sides of the aisle in a video promoting his executive and legislative agendas. "It's time to return the power to the people," he said. "Pennsylvania should be the wealthiest, most prosperous, greatest state in this nation here. We should be. But because of failed politics and politicians from both sides of the aisle, we've been driven into the ground."
The gubernatorial hopeful also promised to remove the state from the Regional Greenhouse Gas Initiative, and protect the Second Amendment by making Pennsylvania a constitutional carry state, which would effectively do away with concealed carry permits.  
Mastriano has become one of the more controversial figures in Pennsylvania government in recent years, due in no small part to his opposition to COVID-19 restrictions and his efforts to dispute the state's 2020 presidential election results. In 2020, Mastriano hosted a hearing that amplified former President Donald Trump's exhaustively discredited claims of widespread election fraud, with Trump calling into the meeting to falsely claim that the election was "fraudulent" and "rigged" against him. Mastriano later sponsored a resolution that sought to dispute, without evidence for doing so, the state's presidential and statewide election results, and floated the possibility of the General Assembly designating its own slate of presidential electors. 
Mastriano has also come under fire for busing people to Washington, D.C. on Jan. 6, 2021, the same day of the attack on the U.S. Capitol. Mastriano, however, has said he did not enter the Capitol or cross police lines. 
The U.S. House panel investigating the Jan. 6, 2021 attack on the U.S. Capitol has subpoenaed Mastriano for information pertaining to their investigation, but it's unclear as to whether Mastriano has complied with the request. 
Mastriano is facing eight other candidates in the Republican primary for governor: former U.S. attorney Bill McSwain, former U.S. Rep. Lou Barletta, state Senate president Pro Tempore Jake Corman, Delaware County businessman Dave White, political strategist Charlie Gerow, heart surgeon Dr. Nche Zama, Montgomery County Commissioner Joe Gale and former U.S. Rep. Melissa Hart. The primary election is on May 17.