News & Politics
State House shocker: Rozzi to lead chamber
The Berks County Democrat-turned-Independent said he would put people above politics as speaker.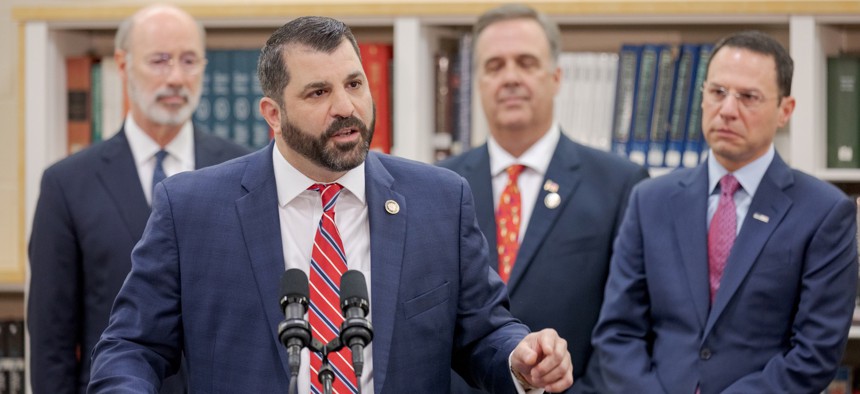 It was anyone's guess who would emerge as speaker of the Pennsylvania House of Representatives amid an unprecedented struggle for control of the chamber, but as the dust settled on Tuesday, it was state Rep. Mark Rozzi who unexpectedly became the last man standing, making history in the process. 
Rozzi, a Berks County Democrat, pledged to put "people above politics" as he takes over the speaker's gavel, and said he would change his party affiliation to independent, making him the first independent Speaker of the state House in Pennsylvania history. 
"The commonwealth that is home to Independence Hall will now be home to this commonwealth's first Independent speaker of the House," Rozzi said in an address to House members. 
"I pledge my allegiance and my loyalty to no interest in this building, to no interest in our politics," he said. "I pledge my loyalty to the people of the commonwealth."
Rozzi, who was first elected to the state House in 2012, said he would build his staff from members of both parties and that he would refrain from caucusing with Democrats and Republicans while speaker. 
Rozzi was nominated for the role by Republican state Rep. Jim Gregory, who has fought alongside Rozzi for reforms to the state's statute of limitations laws surrounding child sex abuse. 
Speaking to reporters after the vote, Gregory said he nominated Rozzi in part due to his independent streak. "It was a matter of reaching out to a member that I believe has had an independent voice," Gregory said. "I trust him."
Tuesday marked swearing-in day for both the state House and Senate, so both chambers had to carry out some procedural formalities before the House got to the speaker vote. Republican state Rep. Carl Walker Metzgar was the other nominee for speaker. Metzgar was nominated by state Rep. George Dunbar, who said Metzgar possessed the leadership capabilities needed to govern the chamber. 
House GOP Leader Bryan Cutler, who voted for Rozzi to become the next speaker, said he promised his support to Rozzi after the Democrat indicated he would change his party affiliation to Independent. 
I pledge my loyalty to the people of the commonwealth.
- Mark Rozzi
Cutler said Tuesday that he expects Rozzi to serve as speaker for the remainder of the 2023-24 legislative session, which started Tuesday and for Rozzi to govern the chamber in a bipartisan fashion. 
"I think that it's good news for the voters of Pennsylvania because he's pledged to work with both sides, which is exactly what I tried to do when I was majority leader," Cutler told reporters. 
Prior to Rozzi's announcement about changing his party affiliation, Democrats held 99 seats in the state House, while Republicans held 101. Democrats won a total of 102 seats in the November midterm elections, giving them a paper majority, but two resignations and the death of another member gave Republicans a temporary majority that raised questions about which party would obtain the speaker's gavel. 
A spokesperson for House Democrats did not immediately comment on the results of the election for speaker. Even with a speaker now selected, Cutler acknowledged that the narrow margin between Democrats and Republicans is going to require both sides to work across the aisle.  
"It's going to necessitate all of us to work together as we continue to work through the many problems here in the commonwealth," he said.
This is a developing story that will be updated as new information becomes available.