Education
Pennsylvania joins several other states in pushing for universal free breakfasts for kids
Lawmakers nationwide are passing bills that would make free school meals permanent following the end of a federal pandemic-era program.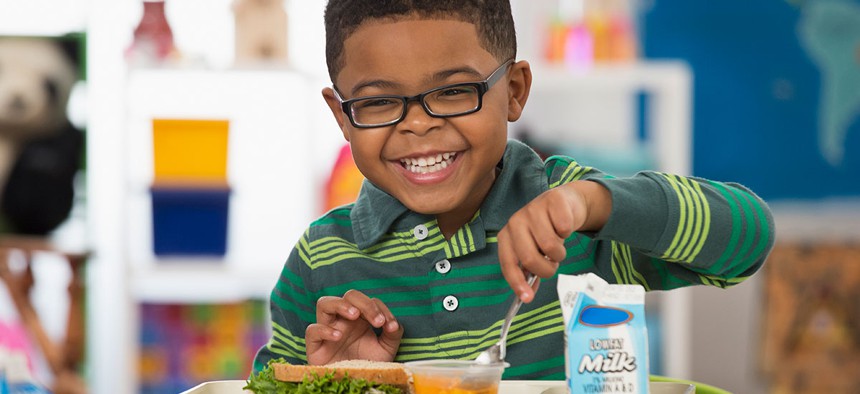 By Daniel C. Vock
Now that a pandemic-era federal program to provide free meals to every student has come to an end, Pennsylvania joins a growing number of states that are moving to make school lunches and breakfasts free for all kids.
"What the pandemic did was, it totally shifted people's perceptions of what was politically feasible," said Jennifer Gaddis, an expert on school food politics and a professor of civil society and community studies at the University of Wisconsin-Madison.
Better access to free meals proved to be so popular during the pandemic, that at least seven states have stepped in to provide school meals to all students since the federal program ended in June. California and Maine have made their programs permanent. Connecticut, Massachusetts, Nevada and Vermont are providing free meals for every student just for the current school year. And Colorado voters approved a measure last fall, but it won't take effect until next school year and districts can opt out.
Other states could soon join the list. New Mexico lawmakers sent Gov. Michelle Lujan Grisham a measure Sunday, which she is expected to sign since she pressed the legislature to make the change. Minnesota Democrats sent a similar proposal to Gov. Tim Walz this week, over Republican objections about the cost and effectiveness of the effort. Pennsylvania Gov. Josh Shapiro and Wisconsin Gov.Tony Evers have put it on their agendas, too, and advocates are making a push to get it passed in New York state.
Michigan Gov. Gretchen Whitmer designated a "school lunch week" to highlight her budget proposal to allow all students to get free meals.
"It's hard for kids to learn on an empty stomach," Whitmer said in a statement. "Let's deliver on my budget proposal to offer all 1.4 million public school students in Michigan free breakfast and lunch, saving families over $850 a year and helping them succeed."
All told, lawmakers in 20 states have considered similar expansions this year (although some measures have already fizzled out in, for example, Oregon and Washington).
The state programs would essentially fill in the gaps in the federal system, which sorts students into three tiers based on their families' incomes.
Under that long-standing arrangement, kids from households that have incomes of less than 130% of the federal poverty level qualify for free meals. Students who come from households with incomes between 130% and 185% of the poverty level qualify for reduced price meals (30 cents for breakfast and 40 cents for lunch). Children from higher-income households receive no subsidy.
Since the Obama administration, whole schools or school districts can qualify for reimbursement, too, if they have a high enough concentration of students who would otherwise qualify for the federal subsidies. One in three schools nationally qualified for "community eligibility" before the pandemic.
But the income-based criteria means school nutrition programs reach far more kids in some places than others. More than half of children in the U.S. qualified for free and reduced lunches in the 2019-2020 school year. Those rates vary significantly by state. More than two-thirds of students qualified in Washington, D.C., Mississippi and New Mexico. In New Hampshire, on the other hand, less than a quarter of children were eligible.
With the latest proposals, states would pay school districts the difference between the federal reimbursement and the actual costs of providing the meals.
"The reason why this year is the year everyone is focused (on the issue) is because schools had to go back to the way they operated before the program, and people don't want to go back to that," said Crystal FitzSimmons, the director of school and out-of-school time programs for the Food Research & Action Center, which is pushing for expanded school meals.
"They don't want to go back to not all kids being able to access meals. They don't want to go back to unequal meals and some of the challenges that that creates in the cafeteria. They want to be able to focus their energy on preparing and providing the healthiest most nutritious meals possible to their students," she said.
The U.S. Department of Agriculture issued waivers during the pandemic to expand school meal programs to students regardless of their families' income. But those waivers expired over the summer, after Republicans in the U.S. Senate blocked continued spending for them. Senate Minority Leader Mitch McConnell and other GOP lawmakers objected to the ongoing spending, arguing that the expansion was only supposed to be temporary to help students while schools were closed.
Gaddis said the introduction of community eligibility in 2010 and the universal eligibility during the early pandemic helped researchers quantify the benefits of free school meals for all.
Districtwide expansions in places like Boston, Chicago, Dallas, Detroit and New York City also provided more examples for advocates and researchers to look at.
"Studies started to show there were improvements in things like school attendance, children's behavior, health outcomes and academic achievement," Gaddis said. Wider eligibility also reduced administrative costs, they found. Those conclusions backed up the arguments that school nutrition advocates had been making for nearly a century, she said.
State lawmakers from both parties also backed measures that became popular right before the pandemic to prevent school districts from shaming students for uncollected meal money. That reinforced the bipartisan appeal of programs to help kids get fed at school, Gaddis noted.
Many of the current plans to provide universal meal coverage are being championed by Democratic governors and legislators, but there are some exceptions. 
Notably, Vermont Gov. Phil Scott, a Republican, signed off on a one-year expansion last year despite initially opposing it. "As the governor has said, he supports the state doing more to help vulnerable families in need – but he will not support forcing working families to pay more in taxes to essentially pay for the more affluent to get free meals," a Scott spokesman told the news site VTDigger last year. "But that will be a debate for next year if the legislature chooses to pursue that path."
Gaddis said many of the aspects could attract Republican support as well, especially when the proposals include incentives for schools to buy ingredients from local suppliers.
Besides, she said, expanding school meal eligibility would "disproportionately" benefit people in rural and suburban areas because people living in larger, urban districts are already more likely to qualify.
"Sometimes this can be incorrectly marked as a partisan issue. But it's really something that would benefit people across the ideological spectrum," Gaddis said. "We see more Republican support than you might imagine. It's just about figuring out how to tap into that and grow it, because I think it's a good idea and one that should have bipartisan appeal."
Daniel C. Vock is a senior reporter for Route Fifty, where this story originally appeared.