News & Politics
Is Pennsylvania any closer to having legal weed?
The commonwealth continues to lag behind its neighbors in cashing in on legalized recreational marijuana.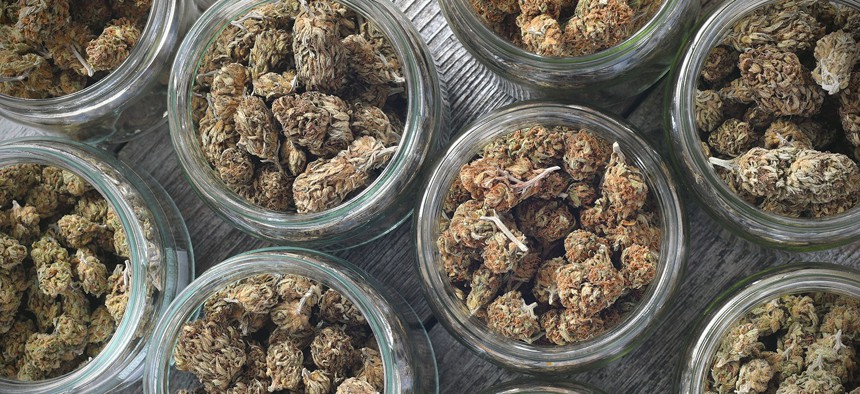 The short answer is no. 
Even with a Democratic majority in the state House and a governor who included legalized adult-use marijuana in his future budget projections, the commonwealth is no closer to creating a regulated recreational cannabis market. 
Pennsylvania remains one of the only states in the region not to have established or be in the process of debating weed legalization. Neighboring states, including New York and New Jersey have fully established adult-use recreational markets. To the south, Delaware and Maryland's state legislatures recently passed measures to begin regulating, licensing and taxing for cannabis sales. 
Maryland lawmakers passed a bill on April 7 finalizing rules for the state's legal recreational cannabis market, which is expected to be signed into law by the governor after voters approved legalization through a ballot measure. Delaware lawmakers passed two companion legalization bills in March as well. Delaware Gov. John Carney, who vetoed a similar proposal last year, has until Saturday to sign the legislation, veto it or allow it to become law without his signature. 
The Keystone State, however, isn't as close as its neighbors despite its share of proposals. 
Gov. Josh Shapiro's first budget proposal included estimates that take an adult-use marijuana market into account beginning in January 2025 and project about $16 million in tax revenue that first year, $64 million in 2026, $132 million in 2027 and more than $188 million in 2028. It proposes a 20% tax on the wholesale price of marijuana products "sold through the regulated framework of the production and sales system, once legalized."
Several state lawmakers have introduced various legalization bills over the years – none of which never gained traction in a Republican-controlled legislature. But even as the Democrats control the state House and governor's office, a Republican Senate could stand in the way of any potential legalization. 
Senate Majority Leader Joe Pittman, a Republican from Indiana County, spoke on the potential of marijuana legalization at the Pennsylvania Press Club luncheon on Monday. When asked if there is any legalization policy Republicans would consider, Pittman said "it's early to tell" and that he'd like to see the federal government address it so law enforcement has a better grasp of how to handle the issue at the state level. 
"This issue is multifaceted and proposals would need to first be vetted by standing committees, before advancing further and receiving input by each of our 28 members," Kate Flessner, spokesperson for the Senate Republican Caucus, said in a statement. "Strengthening our communities and ensuring public safety are of paramount importance to our caucus."
Meredith Buettner, executive director of the Pennsylvania Cannabis Coalition, argued that law enforcement needs clarity from state lawmakers now more than ever given the neighboring state's recreational markets drawing Pennsylvanians across state lines. 
"The Republican Senate is our biggest obstacle at this point," Buettner told City & State. "(Law enforcement) is going to be dealing with 50% of our population having legal access within half an hour of them, and no resources to help them deal with it … I think it's shortsighted to kick the can of adult-use down the road."