Environment
Report: Pennsylvania ranked fourth nationally in greenhouse gas emissions in 2020
The southwestern region of the state accounts for nearly half of the commonwealth's pollution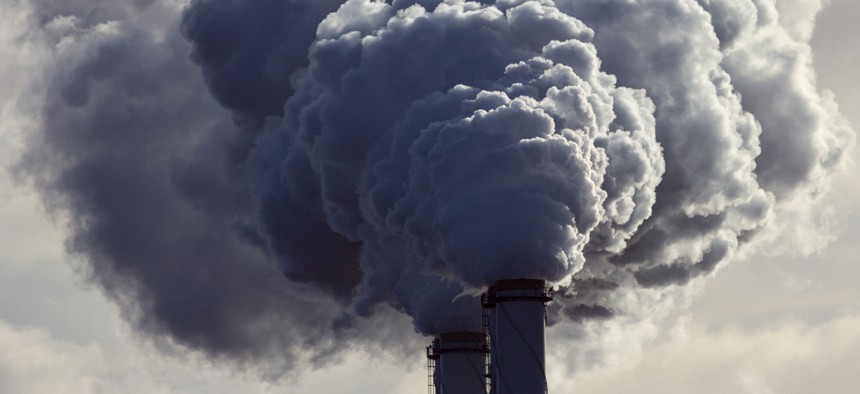 Pennsylvania ranked fourth in the nation in greenhouse gas emissions in 2020, with just 12 facilities making up nearly one-fifth of the commonwealth's total pollution, according to a new report by the PennEnvironment Research & Policy Center. 
"It's clear that Pennsylvania is an outsized part of the problem of climate change," Zachary Barber, Clean Air Advocate for PennEnvironment, said at a press conference Tuesday morning. "This report highlights the need to rein in these facilities and tackle these emissions."
Barber was joined by state Sen. Carolyn Comitta in Harrisburg Tuesday to announce the report alongside legislation calling for modernization of the state's renewable energy standards. 
The report, titled "Pennsylvania's Dirty Dozen," reveals the state's top polluters, noting that southwestern Pennsylvania accounted for 44% of the commonwealth's greenhouse gas emissions reported by large polluters. It demonstrated that industrial facilities and power plants are the two biggest contributors to pollution in the commonwealth, with those two sectors making up roughly 60% of the state's greenhouse gas emissions in 2020. 
Among the top emitters were the Keystone Generating Station in Armstrong County and the Conemaugh and Homer City power plants in Indiana County. Meanwhile, steel, mining and cement facilities were among the largest emitters in the industrial sector, with U.S. Steel in Allegheny County atop that list. 
"The electrical power sector was the largest source of greenhouse gas emissions in the commonwealth between 1990 and 2017. But in 2018, industry took over as the largest emitter, and it remains so today," the report said. "This shift is likely due to the dramatic reduction in coal-fired power generation in Pennsylvania." 
PennEnvironment issued recommendations to state officials to curb emissions, including to: 
Transition homes, businesses and transportation away from fossil fuels
Continue the state's commitment to joining the Regional Greenhouse Gas Initiative
Strengthen enforcement of clean air laws; and
Support environmentally responsible decarbonization of industry.
Comitta, a Chester County Democrat and co-chair of the legislature's Climate Caucus, joined Barber at the press conference to introduce Senate Bill 230, which seeks to modernize the commonwealth's renewable energy standards and promote a transition to alternative energy sources. 
The legislation would expand Tier 1 requirements in the Alternative Energy Portfolio Standards Act – which requires electric distribution companies to include a specific percentage of electricity from alternative sources – from 8% by 2030 to 30% by that year, as well as enable community solar projects in the state. 
"Pennsylvania is responsible for 1% of global emissions. That is more than some countries," Comitta said Tuesday. "The transition from greenhouse gas emissions to a clean energy economy is well underway. We cannot afford to be left behind."
Senate Bill 230 has been referred to the Senate Consumer Protection and Professional Licensure Committee. State Sen. Patrick Stefano, a Republican from Fayette County and chair of the committee, couldn't immediately be reached for comment on the bill and report. 
The Pennsylvania Petroleum Association, a trade association representing businesses in the state's energy and transportation sector, also didn't immediately respond to a request for comment.