Philadelphia
Traveling Violation
The Philadelphia 76ers' plan to move from South Philly to Center City is drawing plenty of opposition from local residents.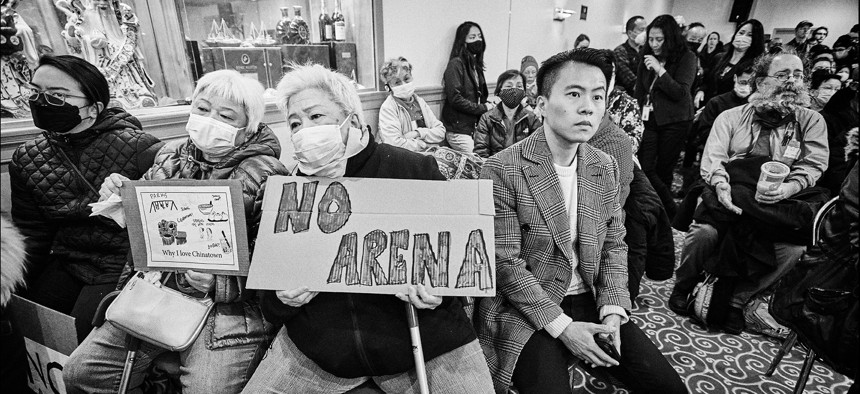 The Philadelphia 76ers are once again asking Philadelphians to trust the process. 
This time, though, it's not about stockpiling draft picks and building a championship team, but about creating a new home for the NBA franchise. 
On July 21, 2022, Sixers ownership announced plans to build a $1.3 billion basketball arena. The move would bring the team, which has won multiple championships and produced many Hall of Famers, from South Philly to the heart of Center City's Market East section. 
But with the proposed site located just blocks from Chinatown, local residents are trying to sell the city on a different idea: keeping the arena out of a neighborhood that has long been targeted by developers. 
The arena
When Sixers managing partners Joshua Harris and David Blitzer announced plans for 76 Place last July, they pledged to build a privately funded arena located on part of  the Fashion District Philadelphia mall. 
It's expected to be a state-of-the-art complex – and is viewed by the team as a long-needed upgrade from their current home at the Wells Fargo Center, which also hosts the NHL's Philadelphia Flyers and the MLL's Philadelphia Wings. 
The duo chose David J. Adelman to partner with Harris Blitzer Sports Entertainment as chair of 76 Devcorp, the development corporation heading the project. In a July 2022 interview with 97.5 The Fanatic, a Philadelphia sports talk radio station, Adelman said that the team hopes to create an improved experience for fans with the new venue.
"The sight lines are going to be amazing. Our building's going to house about 18,500 people, which is slightly smaller than the 20,000 that Wells Fargo has. But we did that intentionally. We want 18,500 great seats with great views," Adelman said. "That's our intention here – to have great views, great amenities, different clubs that people can go to during halftime or during the game. The food choices are going to be amazing. It's just gonna be a fun experience."
Location, location, location
Adelman said the location was chosen in part due to its accessibility: The arena would be located above SEPTA's Jefferson Station, making it easily accessible from hundreds of stops in the region. 
"The infrastructure is there – that's the beauty of this," he told The Fanatic. "Jefferson Station has access to over 200 – I want to say that again – over 200 train stops in the region, whether it's South Jersey, in the suburbs or Northeast Philly – it doesn't matter. It all culminates in that station."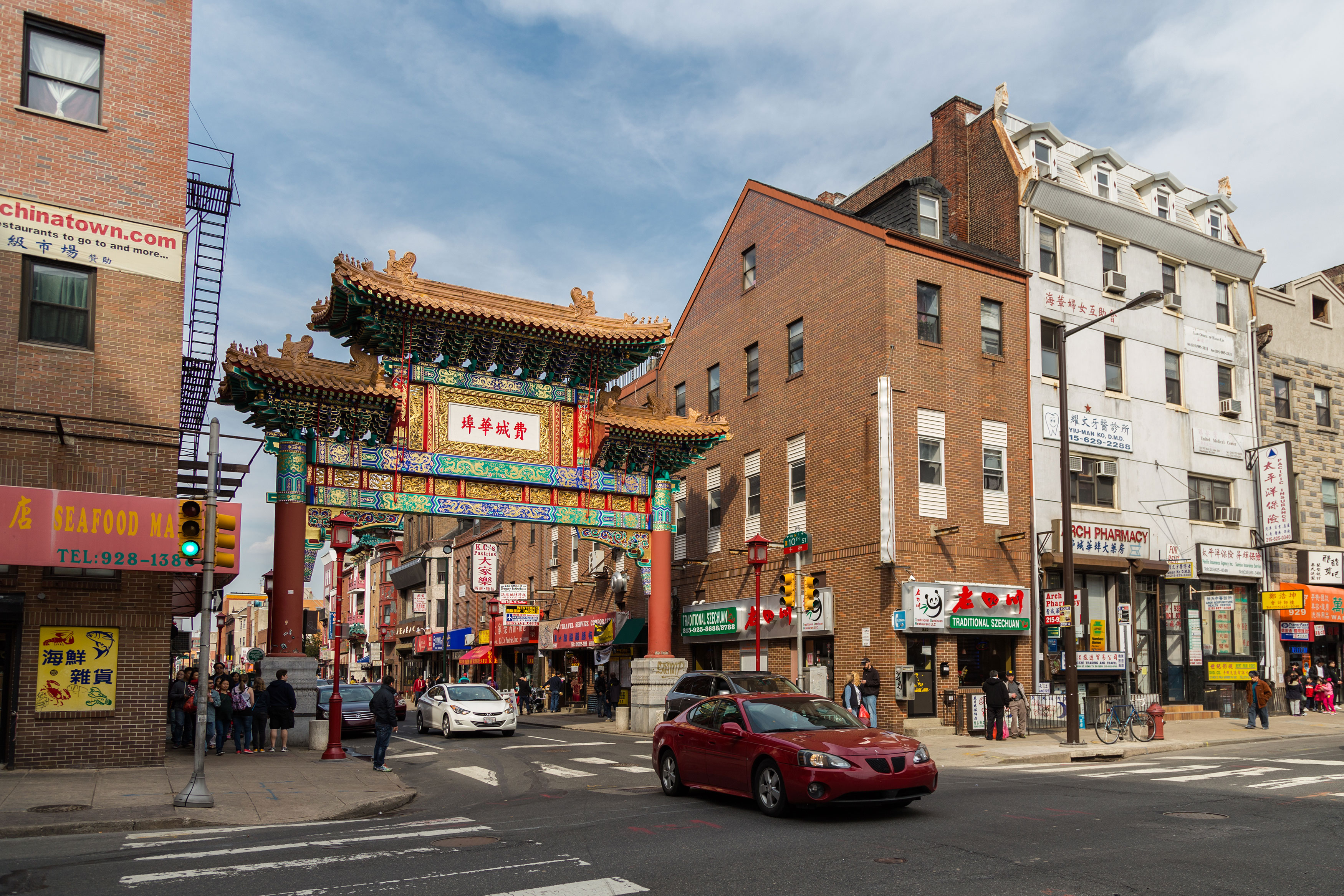 "Our ability at Jefferson Station and Market East to bring all those people there was really appealing to me," he added. 
Former Philadelphia Mayor Michael Nutter has been a strong proponent of the Center City arena, writing in a November 2022 op-ed that the project could help the Fashion District, which was created on the site of the former Gallery mall, thrive.
"The private investments fueling the proposed arena don't come along often, and if things continue as they are, I remain concerned about the ability of the Fashion District … to thrive," Nutter wrote for WHYY's Plan Philly. "If you've been inside the mall or along the sidewalks, you know the concern is real, regardless of what side of the arena debate you stand." 
"The 76ers are proposing a project that could give Market East the lifeline it needs," he wrote, making the economic case for the arena. 
76 Devcorp estimates that the construction of the arena will create $1.9 billion of economic output and 9,000 construction jobs. The arena itself is projected to create $400 million in annual economic output and 1,000 jobs. 
The proposal has gained the support of the Eastern Atlantic States Regional Council of Carpenters and the Philadelphia Building and Construction Trades Council – two of the city's largest labor organizations. 
Ryan Boyer, the business manager of the Philadelphia Building and Construction Trades Council, wrote in a March op-ed that the arena will "stimulate the local and regional economy and provide benefits that will be felt in every corner of our city."
But not everyone believes the impacts would be positive.
Not their first redevelopment rodeo
Philadelphia's Chinatown is viewed by the city's Chinese and Chinese American population as a safe haven not just for its residents  but for the city's Chinese culture in general. 
This isn't the first time a major development has been proposed near the neighborhood. Community members previously successfully opposed a baseball stadium and a casino – and they are fighting back now. 
In March, the Philadelphia Chinatown Development Corporation announced its opposition to the arena, stating that the proposed project "deeply imperils the future of Chinatown."
Community members fear the plan will increase traffic and congestion, and also drive up property values and costs. The end result, they say, will be displaced Chinatown residents and businesses – and, advocates add, if gentrification occurs and businesses and community members are forced to move elsewhere, it would deal a fatal blow to the neighborhood's culture. 
"Ultimately, it could mean the disappearing of Chinatown," Debbie Wei, a longtime Chinatown organizer, told City & State. 
Wei, the founder and member of Asian Americans United, said she has vivid memories of visiting Chinatown with her parents as a child to buy things like food and utensils in the neighborhood that they couldn't find elsewhere. She emphasized that the community meant so much more to them than just being one of the rare places they could go to buy culturally appropriate items.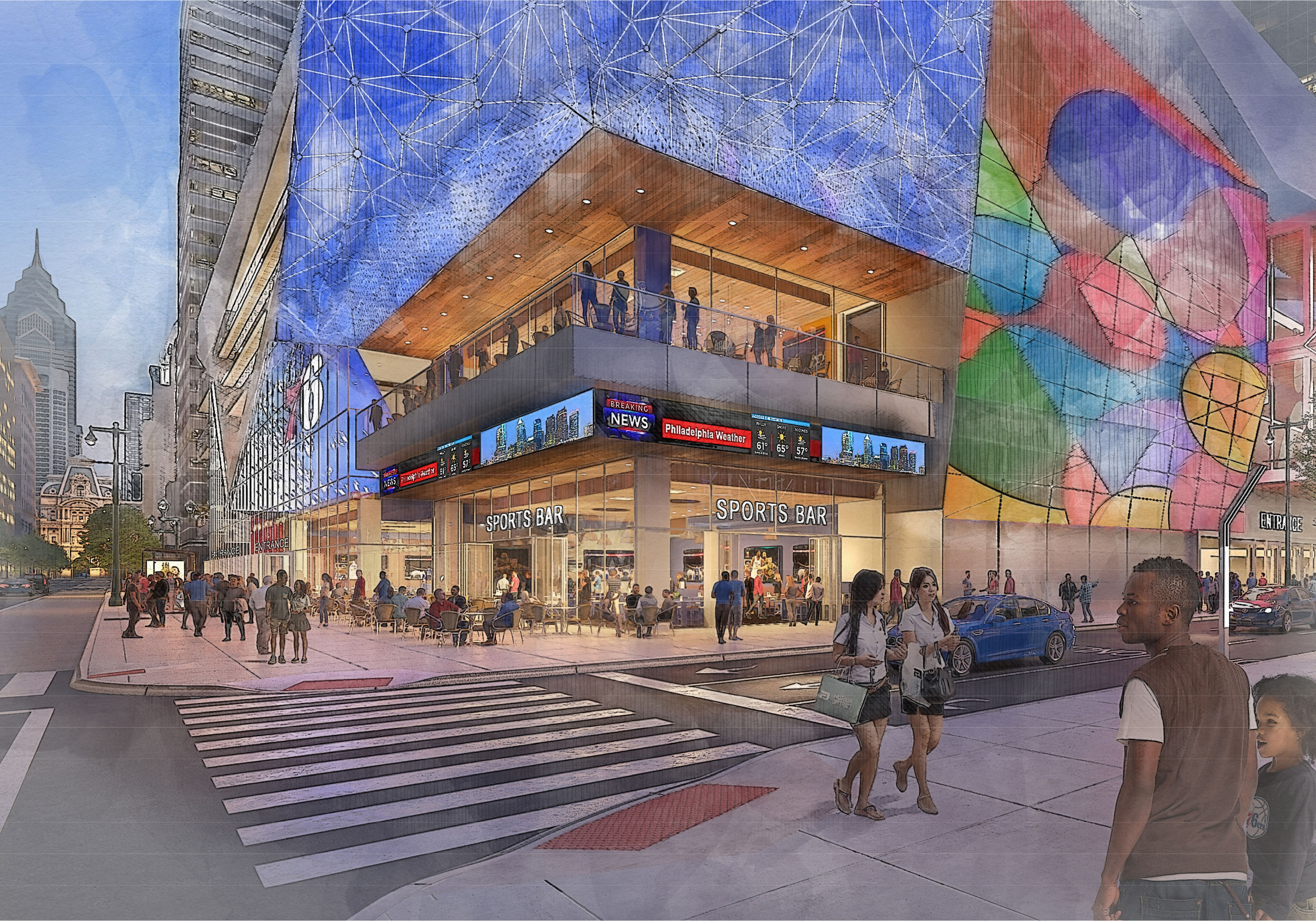 "It wasn't just the food, and it wasn't just the utensils they needed. It was being someplace where they could speak Chinese and not worry that they would be attacked for it, being somewhere they could just walk down the street and people didn't look at them like they were weird," she said. 
Kaia Chau, the co-founder of Students for the Preservation of Chinatown, said she grew up going to Folk Arts-Cultural Treasures Charter School in Chinatown, which gave her a unique opportunity to connect with her culture. 
"I personally was really lucky to be able to grow up as a Chinese American kid and go to school with other people that looked like me, and have the ability to connect with my culture and eat the food that my family used to eat before they came to the U.S.," she said. "But if Chinatown doesn't exist, I also really fear for the future generations of Asian Americans who won't be able to have that same privilege and that same experience to connect with their culture," Chau said.  
One primary concern of those advocating against the arena is that the project will drive up property values and force people to leave the neighborhood. 
Wei expressed skepticism that the developers – including Adelman, who leads the Philadelphia-based Campus Apartments real estate company – will be sensitive to community concerns. 
"I don't trust him as far as I can throw him because he built his empire by pushing people out of University City," she said. "He gentrified University City and he drove up the cost of housing."
Community advocates are hoping to prevent the same thing from happening to Chinatown. Plus, they say that Chinatown community members are more than capable of figuring out how to develop the neighborhood on their own. 
"If left to their own devices, residential communities can build for themselves," Wei said. "That's something that's really important for people to remember."
Addressing community concerns
With demolition and construction set to take place from 2026 to 2031 – if the project goes through – the effects of the new space and the details surrounding a community benefits agreement won't fully be realized until the next deacde. 
A spokesperson for 76 Devcorp told City & State that because the arena would be located on a portion of the existing site of Fashion District Philadelphia, which borders Chinatown, "we will not displace one resident or business in Chinatown."
"Our goal has always been to make this project a win for everyone. Since announcing the project in 2022, we have been conducting a robust community engagement process, including over 30 meetings with community leaders and community groups," the spokesperson said. 
76 Devcorp said their conversations with community members and organizations will help them develop a $50 million community benefits agreement – a legal document that lists benefits or stipulations that a developer must agree to in order to win community support. 
76 Devcorp said the agreement will aim to address "local priorities such as maintaining affordability for residents and businesses, managing traffic and parking, and using our resources to support neighborhood businesses."
Tess Wei, the founder of Restaurant Industry and Small Businesses for Chinatown's Existence (RICE), cited a survey from the PCDC that found that more than 90% of Chinatown community members don't want the arena built.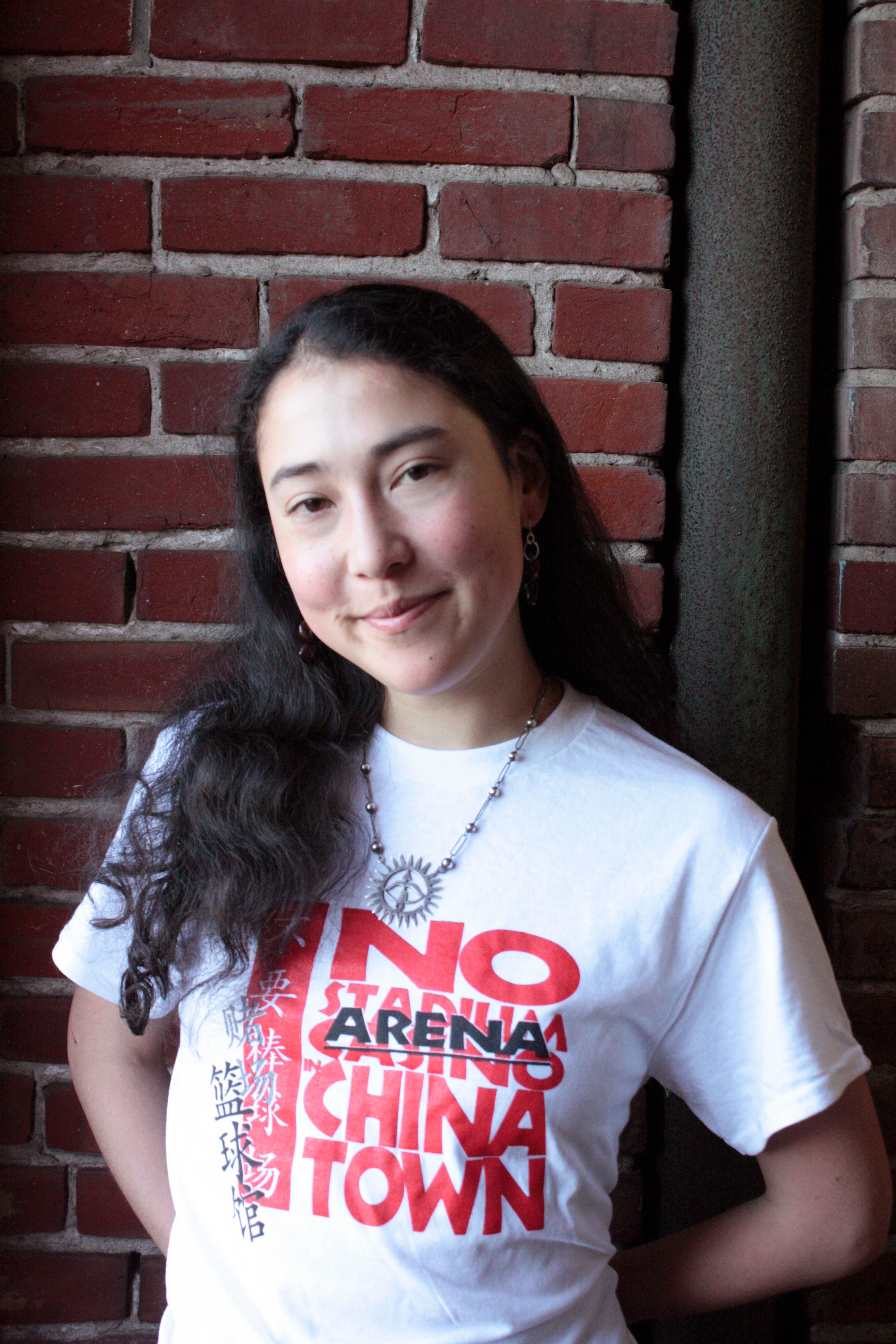 "Why would I trust the people that are actively ignoring an over-90%-majority of people who don't want something – that they'll then respect a benefit agreement?" they asked. 
Chau expressed similar concerns.  "I honestly don't really care what community benefit agreement they're going to offer, because if the arena is built, there will be no community to reap the benefits of whatever that agreement will be," she said. 
What comes next?
Developers are currently in the process of securing entitlements and approvals for the project, with the design phase coming next. 
The fate of the $1.3 billion arena rests in the hands of City Councilmember Mark Squilla, who represents the 1st Council District, where the arena would be located. 
Thanks to City Council's tradition of councilmanic prerogative, where members who represent geographic areas of the city have final say on land-use decisions, Squilla's veto power has never been more important, particularly to the Chinatown community. 
Squilla isn't taking the decision lightly: He recognizes the importance of finding an equitable outcome for the community and its existing residents. He said without councilmanic prerogative, the situation could be even more heated. 
Community members "would feel really bad if a different councilmember introduced this" in such a way that there would be "no accountability to the community that would be impacted the most," Squilla told City & State. "It would leave the community out of the mix, the councilmember out of the mix – and you would have a pretty big uprising from the existing communities and other communities who feel that it could happen somewhere else."
If left to their own devices, residential communities can build for themselves.
– Tess Wei
Squilla has been meeting with community members around Philadelphia and visited with Washington, D.C. officials, who offered insight into the challenges their Chinatown has faced since an arena was built there in 1997. Years after what is now known as Capital One Arena, which is home to Washington's professional basketball and hockey teams, D.C.'s Chinatown is a shell of what it once was. 
In D.C., Squilla said, "we see that there was a decrease of the Chinatown proper and there's a lot less Chinese businesses and a lot fewer people of Chinese descent living in that area. Value of properties increased, the owners would then sell those properties and move to other places." 
Squilla said he's aware of the community's disapproval, but he's also interested inhearing what could help residents if the project were to move forward. 
"Can there be a cultural-historical district in place that would prevent a mass exodus if this is going to increase the values of properties?" Squilla said. "Is the impact of traffic or congestion something that would deteriorate business opportunities for people who are currently there? All that still remains to be seen."
The city is conducting impact studies around the proposal to estimate the economic, community, transportation and health outcomes of such a large-scale project on neighboring communities. 
The arena would have to move forward through a form of legislation, but Squilla confirmed Chinatown residents would be notified at least 30 days in advance of any formal action being introduced. He also suggested having a community benefits agreement as part of the legislation to ensure developers are held accountable for the promises they make to Chinatown's residents.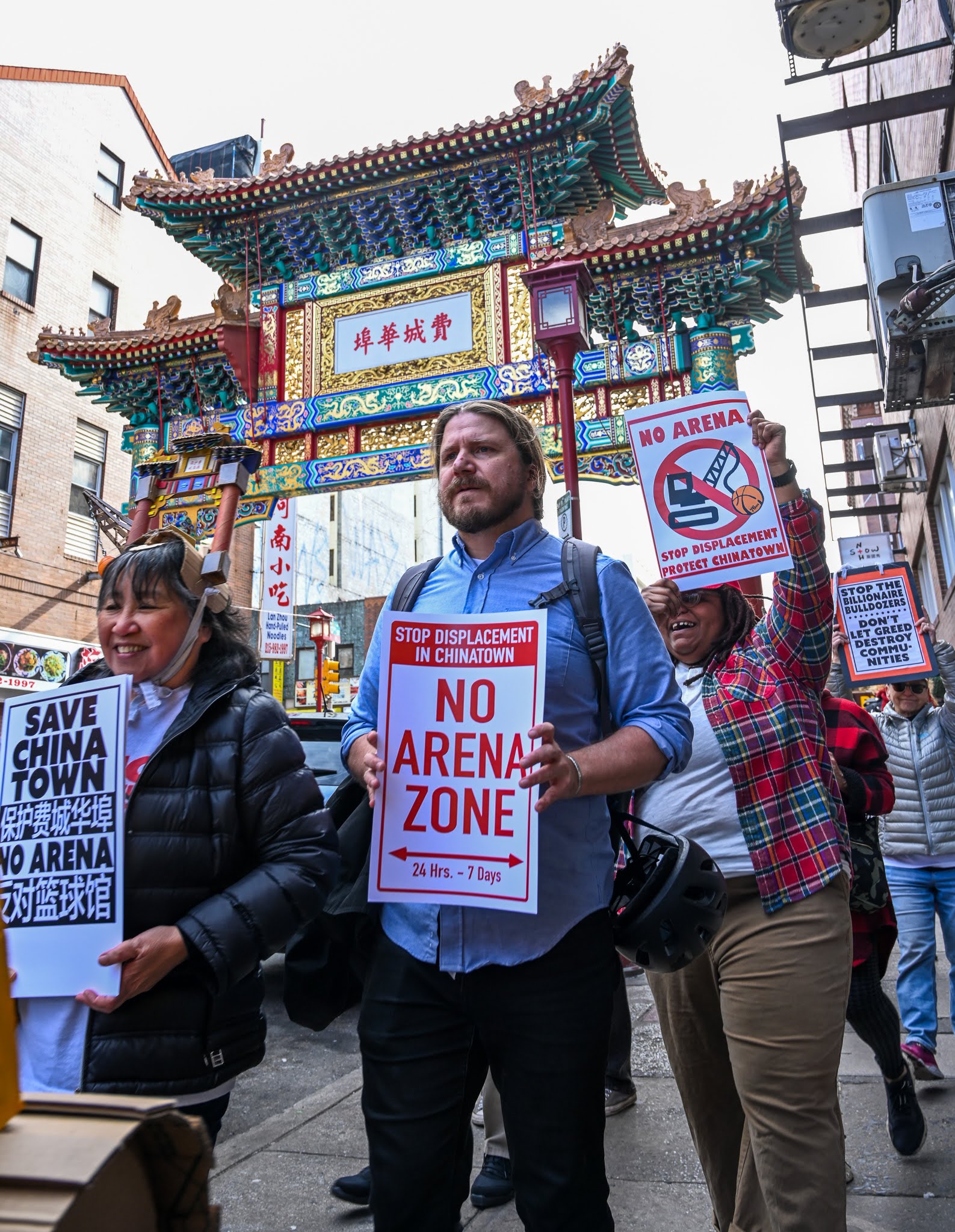 The CBA could take the form of reinvestment into the community, such as business subsidies to assist existing residents with rising property values. Exclusionary zoning, mandated affordable housing, designating the area as a historic cultural district and more could also be considered. 
"I'm sure there are ideas out there that we could look at, but it would have to be something that was done in conjunction with the surrounding stakeholders," Squilla said. 
If the CBA were to be codified into law along with the arena's approval, then "the city would have to hold the development team accountable to ensure whatever benefits they agreed to, they would have to follow up on," he said. 
Common ground may be hard to find given the opposition from residents. Wei, the founder of Asian Americans United, said that until a final decision is made on the arena, community members will keep making their voices heard. 
"I look at the community and I think of all the things that we had to fight for, the things that we had to build ourselves," she told City & State. "There are many traditions in this Chinatown – and one of those traditions is protecting the community."