Transportation
A brief history of havoc on Pennsylvania's highways
City & State looks at some of the most memorable highway incidents over the last 10 years.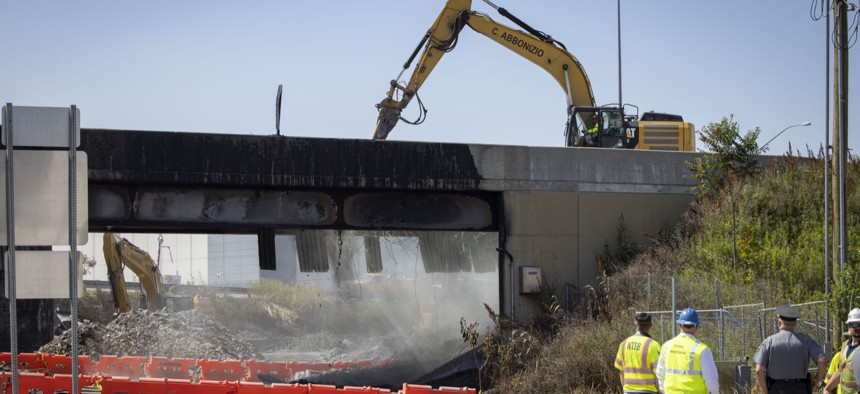 Pennsylvania has had no shortage of eyebrow-raising traffic and infrastructure incidents over the last decade. From the failure of Pittsburgh's Fern Hollow Bridge in 2022 to the more recent collapse of a portion of Interstate 95 in Philadelphia – the commonwealth has had plenty of close calls, odd occurrences and downright disruptive events on the road. Below, City & State takes a look at some of the most memorable infrastructure issues from highways in Pennsylvania over the last 10 years. 
2022: Hot diggity dog … filler
One of the more bizarre incidents in recent years came when more than 15,000 pounds of hot dog filler poured out along the side of Interstate 70 in Rostraver – the accident occurred on May 20, 2022 after a driver reportedly lost control of their tractor-trailer, which veered off the road and overturned, causing the pink, bubble-gum-colored filling to be released onto the road. The road was closed for roughly four hours, according to reports, as officials cleared the road of the meaty mess.  
2022: Snow in Schuylkill County
In March 2022 a snow squall blinded drivers in Schuylkill County, resulting in an 80-car pileup that left six people dead and dozens of others injured. The wreck occurred on Interstate 81 and extended for roughly a mile, according to The New York Times. Emergency officials said the squall impacted road conditions, which contributed to the crash, according to the Times. 
2022: Monkeys in Montour
Last January there was some monkey business in Montour County when a truck towing a trailer full of monkeys was hit by another vehicle, resulting in the escape of three primates. The monkeys were found a day later, ending their brief moment of freedom in rural Pennsylvania. 
2022: The Fern Hollow Bridge collapse
On Friday, Jan. 28, 2022 – the same day President Joe Biden was set to visit Pittsburgh to promote bipartisan infrastructure legislation he signed into law – the city-owned Fern Hollow Bridge collapsed. And while it didn't occur on a highway or interstate, the collapse added a whole new layer to Biden's visit to the City of Bridges. The bridge reopened nearly a year later, though it's temporarily closed for some additional construction. 
2021: Hurricane Ida fallout
Natural disasters and roadways don't go well together. The commonwealth experienced the remnants of Hurricane Ida in 2021 first-hand, the Philadelphia region in particular, where historic flooding caused millions in damages and led to a complete shutdown of I-676 in Center City. What was a central artery to the city's highways turned into a canal, with some residents even taking a dip in the stormwaters. In the end, five people died, more than 3,500 homes were impacted and the city's roadways were water-logged for days as a result of the storm. 
2019: Chicken run
Why did the chicken cross the road? You'll have to come to Pennsylvania to find out – as the Keystone State's highway system seems to be developing a close relationship with fowl situations. In June 2019, more than 100 chickens were rescued by Humane Pennsylvania after crates of live chickens fell off a truck driving on Interstate 78 in Berks County. There was also an incident in February of this year, when Interstate 83 near Harrisburg had to be shut down due to a chicken juice leak, per ABC 27.  
2019: The sinkhole bus strikes
While it didn't occur on a highway, a Pittsburgh bus made headlines in October 2019 when it was swallowed by a sinkhole that developed in downtown Pittsburgh. The back half of the Port Authority of the bus was stuck in the sinkhole and had to be removed. The memory of the sinkhole bus lives on, as the event inspired a Twitter account and plenty of jokes and memes. 
2018: Pittsburgh's Route 30 collapse
A scary situation unfolded in East Pittsburgh in April 2018 when a portion of Route 30 collapsed, falling 30 to 40 feet and damaging a nearby apartment building, according to KDKA. The collapse was caused by a landslide, and prompted the stretch of highway to remain closed for several months, according to WTAE.
2014: A Valentine's Day pileup
No one loves a pileup – especially on Valentine's Day. But that's exactly what happened on the Pennsylvania Turnpike on Feb. 14, 2014, when at least 14 cars were involved in an initial collision in Bucks County, with about 20 other wrecks following in quick succession. About 30 people were injured, and the accidents caused traffic to back up for several miles, according to CNN.