Infrastructure
Almost a year later, Wolf and Pittsburgh leaders announce reopening of Fern Hollow Bridge
The bridge collapsed in January just as Joe Biden was set to visit Pittsburgh to discuss infrastructure improvements.
Gov. Tom Wolf and Pittsburgh officials on Wednesday celebrated the completion of the Fern Hollow Bridge – a city-owned bridge that collapsed nearly a year ago just hours before President Joe Biden was set to visit the city to promote his new infrastructure plan.  
Joined by Pittsburgh Mayor Ed Gainey, Allegheny County Executive Rich Fitzgerald and other government officials, Wolf said the quick turnaround in rebuilding the bridge is an example of government being responsive to the needs of its citizens. He commended the cooperative efforts of federal, state and local leaders.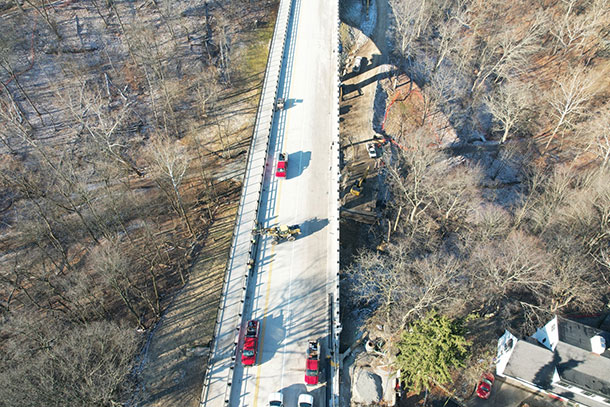 He called the completion of the bridge an "incredible milestone for Pittsburgh."
"I was here on Jan. 28 to survey the damage from the collapse, and today, less than a year later, I stand before a bridge that is nearly ready to reopen to traffic," Wolf said. "This is the power of government working for the people in Pennsylvania."
The rebuilding of Fern Hollow bridge in less than one year shows what we can accomplish when we work together.
– Ed Gainey
The bridge is expected to open to traffic by the end of this month. It collapsed around 6:30 a.m. on Jan. 28 – the same day Biden was scheduled to visit Pittsburgh to promote the bipartisan infrastructure deal he signed into law in 2021. Ten people were injured in the collapse, though none of the injuries were life-threatening. 
Biden, speaking in January, said the collapse underscored the need to rehabilitate the nation's aging roads and bridges. "We've got to get on with it. We got to move. The next time, we don't need headlines saying that someone was killed when the next bridge collapses," Biden said. "We saw today, when a bridge is in disrepair, it literally can threaten lives."
Wolf said that state and local disaster declarations allowed the City of Pittsburgh to enter into an agreement that saw the Pennsylvania Department of Transportation lead the construction and design of the new bridge. 
The new law signed by Biden allowed PennDOT to quickly distribute more than $25 million in federal funds to pay for the bridge construction. According to the Wolf administration, that same law will provide Pennsylvania with $4 billion in federal funds for highways and bridges over the next five years.
Gainey echoed Wolf's sentiment, calling Wednesday a historic day in the city's history. "The rebuilding of Fern Hollow bridge in less than one year shows what we can accomplish when we work together," Gainey said. "Thank you to President Biden, Governor Wolf, PennDOT and everyone who made this day possible."