Capitol Beat
How Pennsylvania plans to deploy $1.16B allocated for broadband expansion
Officials hope to deploy those resources over the next five years.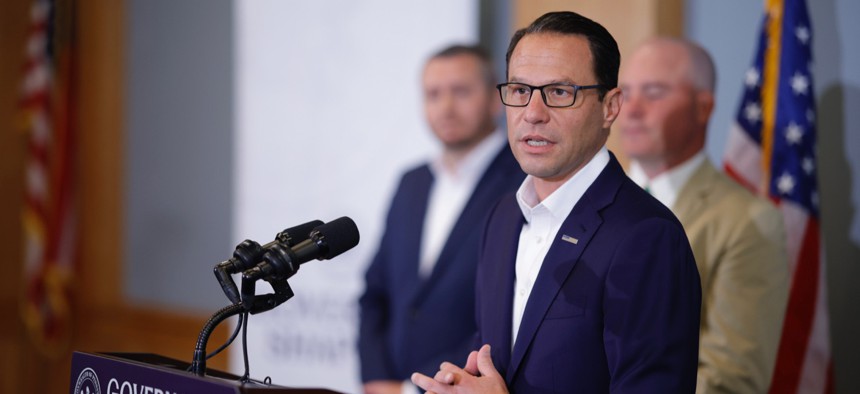 By Marley Parish
More than $1 billion in federal funds is earmarked for Pennsylvania to expand broadband access, and state officials hope to deploy those resources over the next five years, aiming to serve thousands of people still without high-speed internet across the commonwealth.
Joined by local and state leaders, Gov. Josh Shapiro and Pennsylvania Broadband Development Authority Executive Director Brandon Carson outlined the administration's plans to invest in broadband infrastructure, including efforts to encourage affordability and government collaboration.
"This is a historic investment in broadband infrastructure and will help to provide the resources we need to expand access to hundreds of thousands of Pennsylvanians (who) currently lack it," Carson said during a stop in Luzerne County at the Pittston Memorial Library.
Shapiro, who is currently in the middle of a budget impasse with state lawmakers, said the funding "will start to hit communities" early next year, estimating that roughly 325,000 businesses, homes, and other establishments lack broadband access in Pennsylvania.
"This is government working together at all levels to deliver something meaningful and necessary for the good people of Pennsylvania," he said.
Here's what to know about the funding and rollout plan:
Where did the funding come from?
Pennsylvania received funding from the Broadband Equity, Access, and Deployment Program, included with the Infrastructure Investment and Jobs Act signed into law in 2021.
The $42.45 billion BEAD Program aims to expand high-speed internet access across the United States by funding planning and development plans to invest in infrastructure.
How much money did Pennsylvania receive?
Pennsylvania received $1.16 billion from the BEAD Program, announced by Pennsylvania's U.S. senators, Bob Casey and John Fetterman, both Democrats, in June.
Who will administer the funds?
The Pennsylvania Broadband Development Authority will administer the funds to counties after getting approval from the federal government on a five-year comprehensive plan.
"Once that is approved, then the federal dollars start flowing to the communities," Shapiro said. "That means we can then immediately hire crews to start laying cables, putting up towers, and making Pennsylvania's new broadband infrastructure a reality."
Approval is expected later this year or early 2024, Shapiro said.
What about service affordability?
Internet costs largely depend on the service provider, but Carson said internet services providers must disclose their pricing plans when applying for funds to deploy services.
He also cited federal assistance programs that offer subsidies for eligible households.
Are there opportunities for public input?
The Pennsylvania Broadband Development Authority has scheduled a series of community events to discuss broadband expansion this month. An online survey is also available.
Marley Parish is a reporter for the Pennsylvania Capital-Star, where this story first appeared.