News & Politics
10 things you need to know about PA's budget impasse
The state budget is currently stuck in legislative limbo.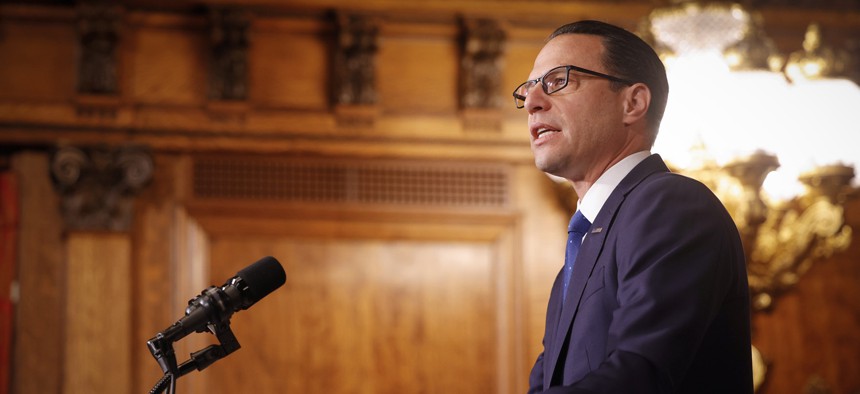 Pennsylvania's state budget is currently stuck in legislative limbo as the result of an impasse between the politically divided state legislature and the state's Democratic governor – with no clear sign of the gridlock breaking any time soon. 
That doesn't mean there hasn't been any action – lawmakers have advanced spending proposals, voted on education funding bills and even negotiated across party lines with Gov. Josh Shapiro, but due to a multitude of reasons, a finalized state budget package has yet to reach the governor's desk and be signed into law. 
Amid all the uncertainty surrounding the status of the state budget, here are 10 things you need to know about Pennsylvania's budget and the ongoing impasse. 
1. Lawmakers have approved a $45.5 billion spending plan
In both chambers of the General Assembly, lawmakers have approved a $45.5 billion spending plan. The proposal includes a $567.4 million basic education funding increase and would expand funding for two educational tax credit programs by $150 million. The plan also allocates $100 million for Level Up funding for cash-strapped public school districts. 
The spending plan, which is contained in House Bill 611, would also deposit $500 million into the state's Rainy Day Fund and includes funding for 384 new Pennsylvania state troopers.
2. The governor can't sign it yet
Before the bill goes to Shapiro's desk, it needs to be signed by the presiding officer of the state Senate – a key procedural step for all bills. 
3. The Senate isn't scheduled to convene for session until Sept. 18
However, the state Senate's next scheduled session day is on Monday, Sept. 18 – and Senate Republican leaders have not given any indication that the bill will be signed before then. 
Kate Eckhart Flessner, a spokesperson for the Senate Republican Caucus, said: "While the Senate currently stands recessed until Sept. 18, we remain on a 24-hour call. We continue our work to complete the necessary components of the budget for FY 2023-2024."
4. There is a budget impasse over private school vouchers
The sticking point in this year's budget is $100 million for private school vouchers that was included in a spending plan approved by the GOP-controlled state Senate. 
Shapiro, a Democrat, also supports the idea and publicized his support for the program on the campaign trail last year. 
However, after the state Senate approved the $45.5 billion budget legislation on June 30, House Democratic leaders expressed opposition to the proposal. "There are not the votes for it, it's not coming up and, if it comes up, it will be defeated," House Democratic Leader Matt Bradford told The Associated Press on June 29.
About a week later, on July 5, Shapiro promised to line-item veto funding for the voucher program, known as the Pennsylvania Award for Student Success program, or PASS, despite supporting the policy.
Shapiro said his promise to veto the funding was necessary to gain enough support for the spending plan to pass the Democratic-controlled state House.  "Knowing that the two chambers will not reach consensus at this time to enact PASS, and unwilling to hold up our entire budget process over this issue, I will line-item veto the full $100 million appropriation and it will not be part of this budget bill," Shapiro said. 
The state House approved HB 611 with a 117 to 86 vote on July 5. 
5. Understanding the bad blood over vouchers
Senate Republicans and school choice advocates say Shapiro reneged on his promise – and support – for the voucher proposal. 
State Senate President Pro Tempore Kim Ward said during an appearance on NewsNation that Senate Republicans feel like they've been "double-crossed" by Shapiro. "It's not so much the issue as it is that we feel like we've been double-crossed. He said one thing and then he did another. He was for them before he was against them," Ward said. 
State Senate Majority Leader Joe Pittman said in a statement that Shapiro "overpromised his ability to unify his own party and rally the support of House Democrats for the budget deal he worked alongside Senate Republicans to build."
Shapiro views the situation a bit differently, telling reporters that his administration, Senate Republicans and House Democrats were never able to finalize an agreement due to the $100 million voucher program. "House Democrats made clear that it would not pass their chamber, particularly with the Senate's unwillingness to advance more of the House's priorities," Shapiro said at a June 6 press conference. "We worked hard to develop a budget package that could win the support of both chambers. But in the end, we could not reach a final agreement between all three parties."
The voucher program was vocally opposed by the state's largest labor unions, who wrote in a letter to Shapiro on June 22 that the state has a "moral and constitutional responsibility to fund its existing system of public education."
Union leaders said that was especially true in the wake of a recent legal ruling on the state's public education system. "Particularly in the wake of a Commonwealth Court decision that found that our state's public education funding system is unconstitutional, it is unacceptable to entertain any discussion about tuition voucher schemes that divert funding from our public school students," the letter from the labor unions read. 
However, supporters of the PASS scholarships also made a public push in the days leading up to the budget deadline. Following Shapiro's decision to veto the funding, Commonwealth Partners President and CEO Matt Brouillette criticized the governor for dropping his support for the proposal. 
"He claims he wins big fights, but in the first big fight of his administration – with kids' futures on the line – he left the court without even taking one shot," Brouillette said in a July 5 statement.
6. Higher education funding gets blocked
The spending plan contained in HB 611 isn't the only budget bill that needs to be approved by state lawmakers. 
Appropriations for Pennsylvania's four state-related colleges and universities are also in flux – as efforts to pass House Bill 612, an omnibus bill containing funding for the four institutions, have failed to gain the votes needed to pass in two back-to-back votes. However, a bill providing funding to Lincoln University did pass the House with bipartisan support on June 26; it now awaits action in the state Senate. 
7. A constitutional requirement
If you're wondering how lawmakers were able to advance HB 611 but not HB 612, the funding bill for state-related universities – it's because the state constitution requires education appropriations for state-related institutions to receive a vote from two-thirds of the members of each chamber, as opposed to the usual simple majority. 
8. Republicans want more from state-related universities
In both votes, all Democrats voted in favor of HB 612 – but even with the support of many Republicans, it still wasn't enough to get the two-thirds majority vote needed to send the bill to the Senate. 
Republican opposition to the legislation comes on multiple fronts. Some lawmakers called on the four universities – the Pennsylvania State University, the University of Pittsburgh, Temple University and Lincoln University – to commit to freezing tuition. Others wanted to see state-related institutions subjected to the state's Right-to-Know Law. 
Members of the Pennsylvania House Freedom Caucus have also opposed the legislation due to policies at Penn State's Gender Health Clinic.
9. Code bills could be coming
Most spending plans are accompanied by code bills, or budget-enacting bills that direct how state funding can be used. 
While the state Senate advanced one code bill that contained language for the PASS scholarship program, no code bills have reached Shapiro's desk this budget cycle. He urged lawmakers in both chambers to finalize those remaining budget-related bills. 
"It's now the responsibility of the House and the Senate to find a way to work together and to iron out those details," Shapiro said on July 6. 
10. Lawmakers remain on call
As Flessner noted, Senate lawmakers remain on 24-hour call in case any session days are scheduled between now and Sept. 18. State House Speaker Joanna McClinton said at the conclusion of session on July 7 that she "does not anticipate voting session in the near future," but alerted lawmakers that they will be given a 12-hour notice if a session is scheduled to vote on budget matters.