Capitol Beat
Shapiro touts federal broadband funding in visit to Erie County
The governor said the improved internet access will boost the economy and improve student outcomes.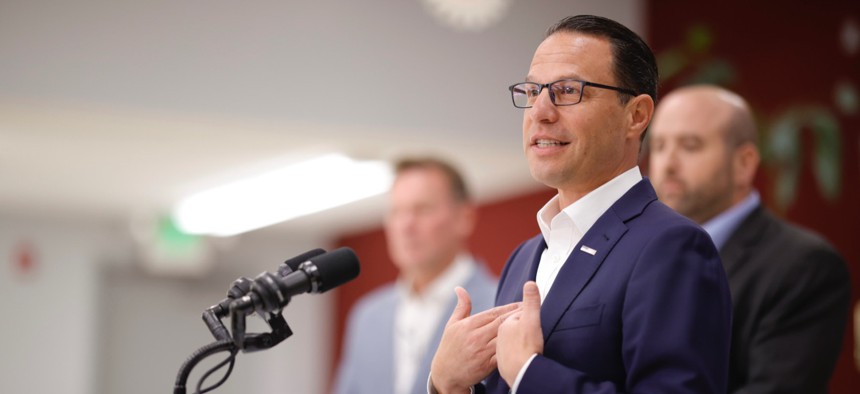 Gov. Josh Shapiro celebrated a new $1.16 billion federal allocation for broadband deployment during a visit to Erie County on Tuesday, touting the funding as a means to deliver internet access to unserved and underserved areas of the state. 
Shapiro said the funding, which was announced by the Biden administration in June, could be a key difference-maker in providing internet to the 276,000 households in the state that currently don't have any access. 
"Having high-speed, affordable internet is not a luxury. This is not something that is for just special times, or special people or special purposes. This is something that needs to be available to all," Shapiro said. 
The governor estimated that in addition to the 276,000 Pennsylvania households that lack internet access, another 52,000 lack access to "reliable" internet service. He said Tuesday that an expansion of internet access throughout the state will improve health and educational outcomes and boost the economy. 
"Positive outcomes come when people are connected to high-speed, affordable internet," Shapiro said.
Rick Siger, the state's secretary of the Department of Community and Economic Development, was also in attendance. Siger said the department has heard from people across the state who have struggled without adequate internet. 
"This kind of investment really provides us with the resources we need to finally make internet for all a reality," Siger said. 
The Pennsylvania Broadband Development Authority is tasked with doling out federal and state broadband funds. The authority is currently developing a five-year action plan for the federal funding, which was allocated through the federal Broadband Equity, Access, and Deployment (BEAD) program.
The state's plan must be submitted to the National Telecommunications and Information Administration by Aug. 12. 
Once the plan is approved by the NTIA, the state will receive the funding. Shapiro said he expects that to occur late this year or in early 2024.