Capitol Beat
What state leaders are saying about the ongoing budget impasse
The PA Senate's top-ranking Republican said the chamber could return next month, but other obstacles remain.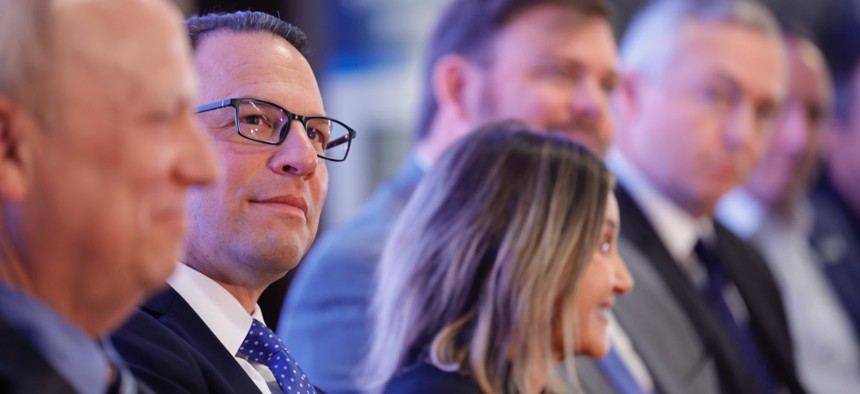 Pennsylvania has yet to enact a budget for this fiscal year, and while lawmakers still aren't scheduled to return to the Capitol until mid-September, one legislative leader raised the possibility this week that a spending plan could be sent to the governor's desk before summer's end. 
Appearing on ABC 27's "This Week in Pennsylvania," Senate President Pro Tempore Kim Ward said that the chamber could send Gov. Josh Shapiro a budget plan next month without delaying state payments to school districts and other entities. 
"I'm sure at some point in August, we will be able to get this general appropriation (bill) signed. Treasurer Stacy Garrity said she can get checks out to schools within a day," Ward said. "The bottom line is, we're not going to leave Pennsylvanians hanging."
The commonwealth has gone nearly a month without a state budget after lawmakers left for the summer earlier this month without having fully finalized a budget package. Both the state House and the state Senate approved a $45.5 billion general appropriations bill, but disagreements between Shapiro, House Democrats and Senate Republicans over the inclusion of $100 million in state funding for private school vouchers led to the bill getting stuck in the Senate. 
Both chambers also need to approve funding legislation for state-related universities after an appropriations bill repeatedly failed to garner the two-thirds majority vote needed to advance. (The state constitution requires that appropriations bills for state-related institutions receive a two-thirds vote of each chamber.)
As far as the Senate is concerned, Shapiro urged lawmakers to sign the bill and send it to his desk during a stop in Erie County on Tuesday. "I've urged the Senate to come back and just do its simple job," he said. "By the way, it will take literally one minute for them to hand me the bill, and then I'll be able to sign it."
Speaking to reporters on Tuesday, Shapiro cast blame on Ward for the Senate's delay in signing the bill – a constitutional requirement that must occur before the bill is presented to the governor. "It's more of an administrative thing that the Senate pro tem, the leader of the Senate, is required to do. So far, she's refused to do that. I've been urging her to change her mind and, hopefully, she will," Shapiro said. 
But Republicans have laid the blame at Shapiro's feet after the Democratic governor said he would drop his support for the $100 million voucher program to get the bill through the Democratic-controlled state House. 
Erica Clayton Wright, a spokesperson for Ward, tweeted Tuesday that the "most effective way to address the problem is for @GovernorShapiro to just keep his word so we don't have to redo things." Shapiro, however, has contended that the Senate advanced a $45.5 billion spending plan that "was not agreed upon by all three parties."
Meanwhile, leaders in the state House are also still at odds over who's at fault. In a recent op-ed in The Philadelphia Inquirer, House Democratic Matt Bradford wrote: "There is no budget impasse. And there was no 'Great Betrayal.'"
"Unfortunately, this budget process ran off the rails when Senate Republicans attempted to ram through an unagreed-to budget plan at quite literally the 11th hour – including a brand-new private school voucher proposal without time to discuss, analyze, or debate such a controversial policy," Bradford wrote. 
That drew the eye of House Republican Appropriations Committee Chair Seth Grove, who wrote in a dueling op-ed that the state is very much in the midst of a budget impasse. "The first step in solving a problem is recognizing that it exists."
While officials in the commonwealth aren't in agreement on where the state's budget problem began, both sides have expressed a desire to get the budget done. "We owe the people of Pennsylvania a functioning government," Ward said, "so we're going to have to find a way to move forward."