Energy
With billions in clean energy grants on the way, states get a leg up on applications
To help school districts come up with the rest of the money they'll need to take advantage of the federal funds, state Rep. Elizabeth Fiedler is proposing setting aside enough state money to pay half of the cost of solar panels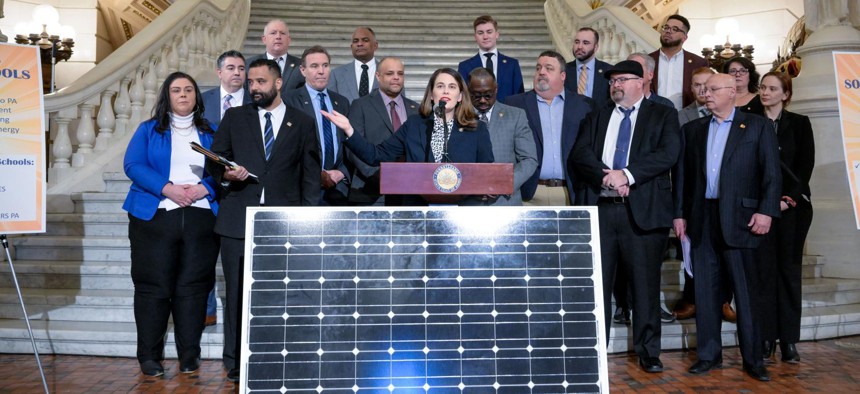 By Kery Murakami
With billions in grants for clean energy on the way, or already available from the Biden administration's signature infrastructure acts, states are setting up programs to give themselves and their smaller communities a better shot at getting the money.
In some cases, though, even getting the federal dollars will not be enough to pay the full cost of climate resilience measures like installing solar panels in schools. The Inflation Reduction Act, for instance, would only give schools enough to pay 30% of the cost of adding the panels. 
To help Pennsylvania school districts come up with the rest of the money they'll need to take advantage of the federal funds, state Rep. Elizabeth Fiedler, a Philadelphia Democrat, is proposing setting aside enough state money to pay half of the cost of solar panels, the Pew report noted. 
If school districts have a better chance of winning the renewable energy money, it would bring federal tax dollars back to the state from Washington, D.C., Fiedler told the Pennsylvania Capital-Star.  
"It's a great return on investment of our taxpayer dollars, and it's a great deal for local school districts to be able to save millions of dollars," Fiedler said in that interview. "I don't know any school district that would turn down a zero electricity bill, especially as we see utilities rising and fluctuating so much."
Minnesota legislators earlier this year set aside $190 million for a State Competitiveness Fund that will give local governments money they can use for matching funds, technical assistance and grant-writing help so they can better compete with municipalities from other states for the federal dollars. Seventy-five million dollars will be set aside to help disadvantaged communities.
"We have this historic opportunity by partnering with the federal government, and we want Minnesota to be as competitive as possible with other states around the country in securing those funds," said Democratic state Rep. Patty Acomb at a press conference in March pushing for the bill. Acomb said that according to estimates, every dollar the state is spending would bring back $7 in federal funds.
Minnesota isn't alone in trying to position itself to get the clean energy dollars created by the 2021 Infrastructure Investment and Jobs Act and the following year's Inflation Reduction Act, according to a recent study by The Pew Charitable Trusts.
States like Michigan and Connecticut, for example, have set aside matching funding they hope will give their school districts a better chance at winning federal dollars to buy more energy-efficient school buses.
Other states are hiring staffers to go after other federal clean energy grants. 
Yaron Miller, senior manager of Pew's state energy modernization project, and a co-author of the study, said the moves are examples of the "innovative ways" some states are positioning themselves to get the funding. Miller in an interview encouraged all states to "think creatively about ways to take advantage of the opportunities" the federal dollars are making possible.
Creativity is key because, despite the mammoth amount of available money, states and local governments will be competing with each other for those funds.
The Environmental Protection Agency alone is handing out about $90 billion through 13 grant programs created by the two laws. Five of them are competitive and will likely draw thousands of applications.
The EPA, for instance, last year awarded the first $965 million of the $5 billion created by the infrastructure law to replace diesel buses with electric or natural-gas-powered school buses. In the first year of the five-year program, the EPA said it received about 2,000 applications for $4 billion in funding.
Miller noted that while the school bus program does not require school districts to share in the cost, the EPA has said those applicants willing to contribute their own money to pay for the conversion will get extra points in the grants selection process.
"Anything to help school districts get a leg up in the application process can be helpful," he said of the matching funds Michigan and Connecticut are providing. 
Other cities and states, the report said, are trying to deal with the increased workload required to go after the federal dollars.
"For a state or local agency to effectively leverage federal funding, it must identify grant opportunities, develop applications, coordinate with stakeholders and report on outcomes, among other tasks," the report said. But many smaller state and local agencies are not staffed to write and manage grants.
In the budget bill being debated by the North Carolina General Assembly, for instance, the state's Senate is proposing to spend $5 million to hire contractors and temporary staff to help agencies apply for grants. The money would address the state's "lack of capacity" to identify and apply for the grants, Michael Arnold, the deputy director and chief operating officer for the state's Office of State Budget & Management, said in an email. The Senate proposal would also set aside another $5 million for agencies to use if grants require state matching funds. If state agencies don't know the funds for assistance or matching money is available they "may abandon applying altogether," he said.
Minnesota has also created a new position to pursue and manage federal funding opportunities. 
"Actions such as these give state agencies a much-needed capacity boost to identify and secure available federal resources and also provide technical assistance to local governments and other stakeholders so they also can take better advantage of federal funding opportunities," the report said.
Kery Murakami is a senior reporter for Route Fifty, where this story originally appeared.