Transportation
Fetterman and Casey urge Norfolk Southern to join close call reporting system
The railroad said in March it would join the system but hasn't yet done so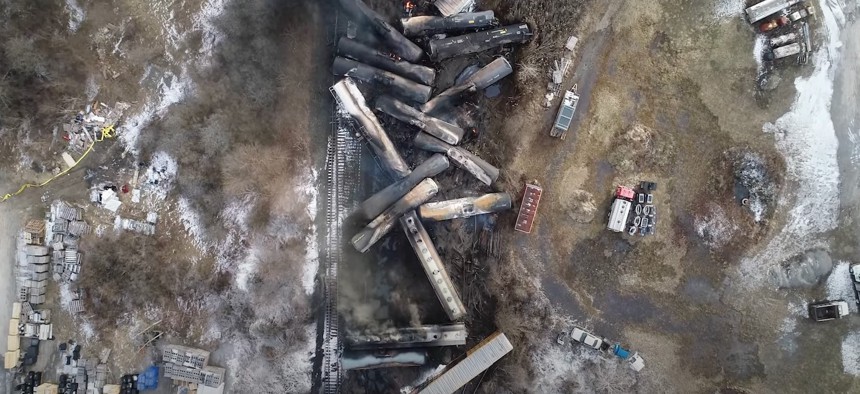 By Kim Lyons
U.S. Sens Bob Casey and John Fetterman on Friday sent a letter to the CEO of Norfolk Southern urging the company to participate in an early warning system that the railroad announced it would join earlier this year.
In March, Norfolk Southern said it would join the Confidential Close Call Reporting System, an anonymous "near-miss" reporting system, following the February derailment of a train carrying hazardous materials in East Palestine, Ohio. To date, according to the U.S. Department of Transportation, the company has not done so.
"Five months after that commitment, Norfolk Southern has still not formally joined the program," the senators' letter to Norfolk Southern CEO Alan Shaw states. "We are writing today to urge you to follow through on your promise and promptly begin participation in C3RS."
C3RS would allow rail employees to report near-misses or close calls on railroads when they see them. Under the terms of the system, employees who do so cannot be disciplined for reporting such events.
Darlington Township, Pennsylvania was also affected by the derailment, and residents on both sides of the state line have raised concerns about how the air, water and soil in the area were affected. Norfolk Southern conducted a controlled release of vinyl chloride in the days following the derailment, claiming it was necessary to avoid an explosion.
The New York Times reported last week that Norfolk Southern was reluctant to join the program, mainly because of a provision that protects employees from retribution for reporting such near-miss incidents.
"C3RS is a promising program with real potential to improve rail safety, protect employees, and reduce incidents if adopted by a larger swath of the rail industry," Fetterman and Casey write in the letter.
The program "acts as one unified database for reporting and, with NASA as an independent third-party administrator, ensures confidentiality and protects against retribution against employees who make reports,'' the letter adds. "Ensuring that employees are not disciplined for reporting near-misses is key to making the program effective, as employees are more likely to report these incidents when they have a guarantee of anonymity and safety from retribution."
The Federal Railroad Administration recommended in a safety assessment released last week that Norfolk Southern join the C3RS program.
In an email to the Capital-Star, Norfolk Southern spokesman Bryan Long noted that the railroad was not the only one that had not joined C3RS. "We are making good progress toward operationalizing our membership in the Confidential Close Call Reporting System," according to a statement from Norfolk Southern. "We met with FRA representatives in May to receive an initial briefing on the program, and with labor representatives this month to discuss the multi-party Memorandum of Understanding and the subsequent implementation of a pilot program at NS."
Casey and Fetterman have previously written to Norfolk Southern for answers on how the railroad plans to clean up the site of the derailment, and wrote to the Environmental Protection Agency and the National Transportation Safety Board to urge further action.
Casey and Fetterman also joined with U.S. Sens. Sherrod Brown and J.D. Vance of Ohio to introduce new legislation aimed at preventing future freight train derailments. The Railway Safety Act of 2023 includes provisions to improve rail safety protocols, such as enhancing safety procedures for trains carrying hazardous materials, increasing fines for rail carriers who violate rules and requiring railroads to operate with crews of at least two people.