Campaigns & Elections
Lawmakers take step to give Pa. voters a bigger voice in presidential primaries
"As the fifth-largest state in the country, we should have a stronger role in this election," state Sen. David Argall said.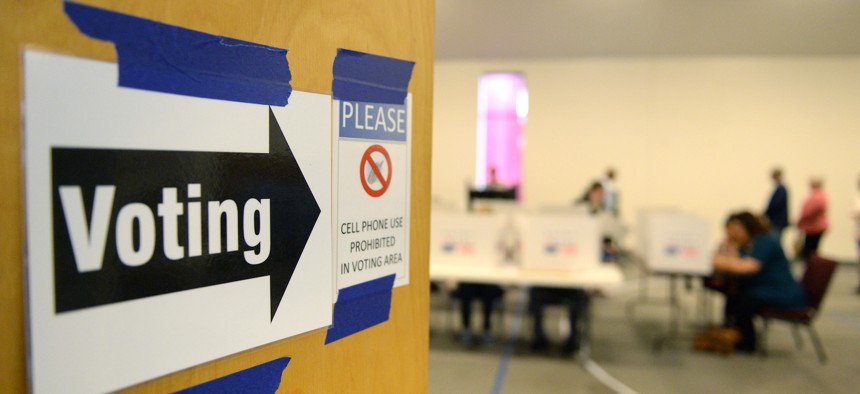 By Peter Hall
A state Senate committee took the first step on Wednesday toward moving Pennsylvania's presidential primary election to an earlier date – a move that could give voters in this battleground state a bigger voice in choosing the nation's chief executive.
With the 2024 presidential election fast approaching, lawmakers in the state House have also said they plan to consider legislation to move up the primary, but there is disagreement about when that date should be.
The Senate State Government Committee sent a bill sponsored by Sen. David Argall, a Republican from Schuylkill County, that would set the election for March 19 – more than a month earlier than the current date – to the full Senate for consideration. 
"As the fifth-largest state in the country, we should have a stronger role in this election. In most presidential elections, the outcome is largely decided before our voters have a chance to cast their vote," Argall said.
House State Government Committee Chair Scott Conklin, a Democrat from Centre County, said he would consider the Senate bill and a House bill sponsored by Rep. Malcolm Kenyatta, a Democrat from Philadelphia, that would set the primary for April 2. 
Election watchdogs say that whichever date is ultimately selected, the legislative process must be completed soon. 
"It's imperative that we consider the effect on county election offices," Committee of 70 chief policy officer Pat Christmas told the Capital-Star. "I think the county election officials have been very clear that they need to be done as soon as possible."
In a letter to Senate President Pro Tempore Kim Ward, a Republican from Westmoreland County, last month, Secretary of State Al Schmidt said that while he and Gov. Josh Shapiro both support an earlier primary date, Schmidt has serious concerns about the timeline, given that the Senate will not return to session until Sept. 18 after a one-day session Wednesday.
The House returns even later, on Sept. 26.
"I am deeply concerned we will not give county election officials the time they need to adjust thousands of polling locations to accommodate a new, earlier primary date," Schmidt wrote.
Pennsylvania's Election Code sets presidential primaries on the fourth Tuesday in April, later than all but about a dozen states. As a result, the winners of each party's presidential nomination are usually clear by the time Pennsylvania voters go to the polls. 
Another consideration that lawmakers have stated is that in 2024, the primary would fall on April 23. That's right in the middle of Passover, when many Jewish people who observe traditional prohibitions on writing, driving or using electricity during the holiday could be disenfranchised.
But the difference between the proposed primary dates has to do with the start of the election process, Conklin said in a statement this week. 
Would-be candidates have a three-week window in which to gather signatures on nominating petitions before the deadline to submit them 10 weeks before the primary election.
Argall's March 19 primary date would allow candidates to begin collecting signatures Dec. 19, the Tuesday before Christmas, while Kenyatta's April 2 date would allow the process to begin on Jan. 2, after the holidays.
"While both bills propose to move up the primary date, the Kenyatta bill does so in a way that does not conflict with religious observances or disrupt family commitments during the holiday season," Conklin's statement reads.
Kenyatta told the Capital-Star on Wednesday that April 2 is a reasonable date that gives election officials the time they need to execute the election effectively. It also falls just after the Easter holiday.
Although election officials are readying for the November general election, preparations are already well underway for the spring 2024 primary, Christmas said. 
Of particular importance, he said, is the allocation of space for polling places, which are often situated in school buildings. As a result, many schools are closed on Election Day and school calendars have already been set.
Christmas said Pennsylvania's votes may not have a great influence in the 2024 presidential primary because President Joe Biden is unlikely to have credible Democratic challengers and Donald Trump has established himself as a clear frontrunner in a crowded Republican field.
But Chris Borick, a political science professor at Muhlenberg College, said Pennsylvania's late presidential primary has done a disservice to voters for decades. Even if there's little doubt about the 2024 presidential nominees, an earlier primary will serve voters well in future presidential elections.
"Leading candidates will want to establish a presence in Pennsylvania," Borick said. "There will be all kinds of reasons to come to Pennsylvania and fight for voters here."
While moving up Pennsylvania's primary has often been considered but never accomplished, recent conversations with lawmakers have led Borick to believe there's more will to get it done this year. 
"For a state that is a premier swing state, one of the biggest electoral vote bounties, to have a peripheral role in presidential primaries isn't fair to Pennsylvania voters," Borick said.