Capitol Beat
PA State Police announce body camera pilot program
Troopers in Carlisle are testing out the body cameras ahead of a statewide rollout.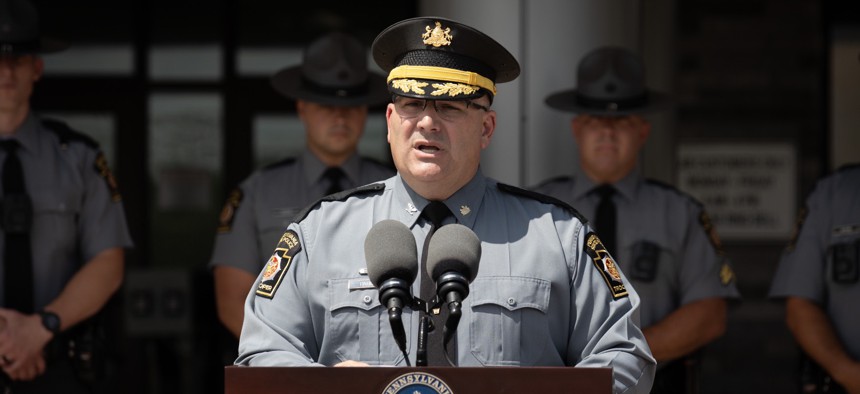 Pennsylvania State Police officials announced a new body camera pilot program for select state troopers ahead of a planned statewide rollout.
The pilot program, which began two weeks ago, applies to patrol troopers in Troop H, Carlisle, who will wear the cameras while on duty. Eighteen cameras will be shared between 43 troopers as a way to reduce costs, according to the State Police. 
The pilot program will help guide how the State Police rolls out body cameras to the rest of its 87 patrol stations, said State Police Commissioner Christopher Paris. 
"We will take what we've learned, we will look at our policy and we will again start building it out across the other 87 installations across the commonwealth," Paris said.
Paris said the cameras will serve as an "objective means" of documenting interactions between police and citizens, and that the cameras will also benefit troopers, as they will gather additional evidence that can be used during criminal proceedings. He added that the body cameras will also protect both troopers and residents from false claims of abuse or misconduct. 
"The public expects trustworthiness, transparency and professionalism from their law enforcement agencies," Paris said. "These cameras will capture more public interactions between troopers and citizens than ever before, while also serving to provide transparency to residents and visitors of the commonwealth."
Paris also said body camera footage can be used for training troopers and cadets. 
The new program has earned the support of David Kennedy, president of the Pennsylvania State Troopers Association. "This technology has become an important tool in law enforcement and is an added layer of protection for good police work," Kennedy said. The police union president also called for an increase to the department's complement. 
"It's been a generation since our department has received a legislatively approved increase to our complement. Since then, the world has changed a great deal and the challenges continue to increase," Kennedy said. 
The Carlisle pilot program will last between 60 and 90 days. The State Police entered into a five-year contract with Axon, an Arizona-based technology and weapons company, to supply the body cameras. The department will have an option to renew the contract after the initial five years are up, according to Paris.