Philadelphia
Philly officials introduce Rental Improvement Fund for small landlords to repair properties
The program provides forgivable and 0%-interest loans to small landlords in exchange for rent stability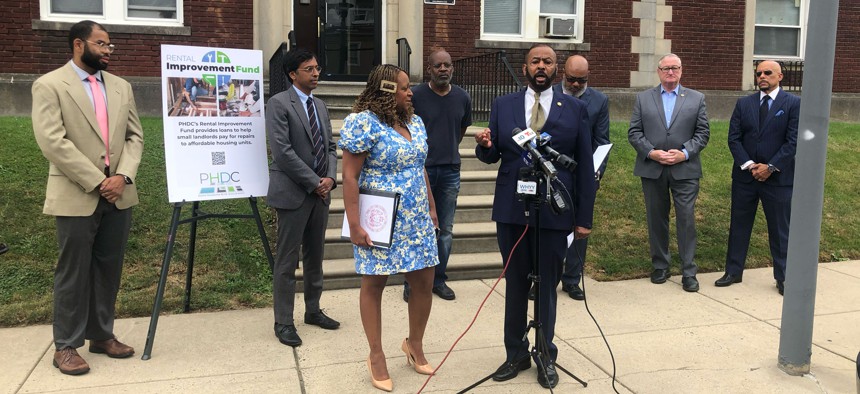 "When I first heard of the program, (my reaction) was disbelief. I'm going to get all these things fixed, at no cost?" Steve Hawkins said across the street from his property in West Philadelphia Wednesday morning. Hawkins, who purchased the home in 1999, was one of the first beneficiaries of the city's new Rental Improvement Fund – a program providing forgivable and 0%-interest loans to small landlords in need of property repair or modernization. 
"It went from disbelief to wait-and-see, and now, it culminated to this," Hawkins said. Through the new rental repair program, Hawkins was able to get roofing, window, flooring and bathroom renovations contracted out to local workers. The roughly $16,000 tab was covered by the Rental Improvement Fund, which offers eligible landlords the opportunity to apply for the cost of needed repairs to be covered in exchange for guaranteed rent stability for their tenants. 
City and commonwealth officials announced the launch of the Rental Improvement Fund Wednesday morning, calling it a great utilization of local and state dollars to meet an ongoing housing issue. 
"The RIF supports repairs, updates and weatherization improvements in apartments across Philly, while helping stabilize rent at no additional cost to tenants," state Sen. Nikil Saval said at the press conference Wednesday. "Much of the housing that we consider affordable (comprises) these units, and when our small landlords are forced to sell their properties or to forego repairs, the loss of this housing is experienced across our city and the repercussions are irreversible."
Officials said about $7 million has been allocated toward the program, which is partially funded by the Neighborhood Preservation Initiative – funded by the city and run through the Philadelphia Housing Development Corporation – and by state dollars included in last year's Whole-Homes Repair Program. 
PHDC conducted a pilot with landlords who had previously worked with other PHDC programs and services, and after months of working out the details, the corporation is launching the Rental Improvement Fund to small landlords across the city. 
The new fund provides two types of loans: 10-year forgivable loans up to $24,999 and 15-year 0% interest loans up to $50,000. In order to be an eligible small landlord, the property owner must own no more than five rental properties and no more than 15 rental units, have a rental license and property insurance and be current or in a payment agreement for city taxes. 
Qualified landlords must also guarantee an annual rent increase of no more than 3% and a three-year good cause eviction protection for their current tenants. 
"We have a housing crisis, spurred by markets, developers and banks, that is squeezing out tenants, potential homeowners and mom-and-pop landlords," state Rep. Rick Krajewski said Wednesday. "As a government, we have a responsibility to intervene and provide the necessary support to make sure that everyone is allowed to live in dignified housing, which is why this Rental Improvement Fund is so important."