Health Care
Greater Philadelphia Healthcare Summit welcomes the region's top healthcare experts and officials
The summit's panels focused on elder care, innovations in primary care delivery and more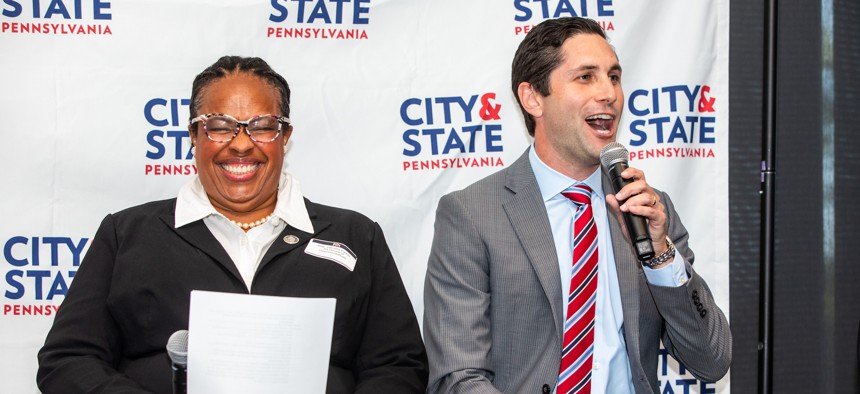 More than 100 attendees convened at FS Investments in Philadelphia's Navy Yard on Wednesday for City & State PA's second annual Greater Philadelphia Healthcare Summit. The half-day conference featured public officials, healthcare experts, academics and business and nonprofit leaders discussing how the region's healthcare community and policymakers can address ongoing challenges related to elder care, primary care delivery and accessibility.
Dr. Cheryl Bettigole, Philadelphia Health Commissioner, a keynote speaker, offered insight into how both the region's strengths and weaknesses in the healthcare sector were laid bare throughout the pandemic. 
"Through United for Ukraine, the mpox outbreak, the arrival of buses of asylum seekers and from the Texas border and wave after wave of COVID-19, you all have stepped up to help – from the leaders of hospital systems who helped us to strategize and plan to the frontline health care workers who volunteered their time saw patients and offered advice and guidance when it was needed," Bettigole said Wednesday. "When we are at our best, we are a city that combines the best of modern medicine with a sense of social solidarity that is missing from much of modern America."
State Rep. Rick Krajewski, another keynote speaker, touched on the need for community engagement when it comes to developing comprehensive policy solutions. 
"This is an urgent and necessary shifting of how we relate to health care…When we center community in the discussion, we begin to understand that health care is so much bigger than going to see your doctor or having to make that visit to the emergency room," Krajewski said. "Mental health treatment is health care, gun violence prevention is health care and stable housing and stable employment is health care."
The conference also featured two panels of industry experts who discussed a variety of topics spanning from health care accessibility and equity, particularly among the aging and vulnerable populations, to community engagement and the gaps existing in the area of community-based, long-term and home-based care. 
Check out photos from the event below.