Gun Control
Mary Gay Scanlon joins Philly advocates in calling for assault weapons ban
The Democratic congresswoman met with gun control and public school advocates in Philadelphia Thursday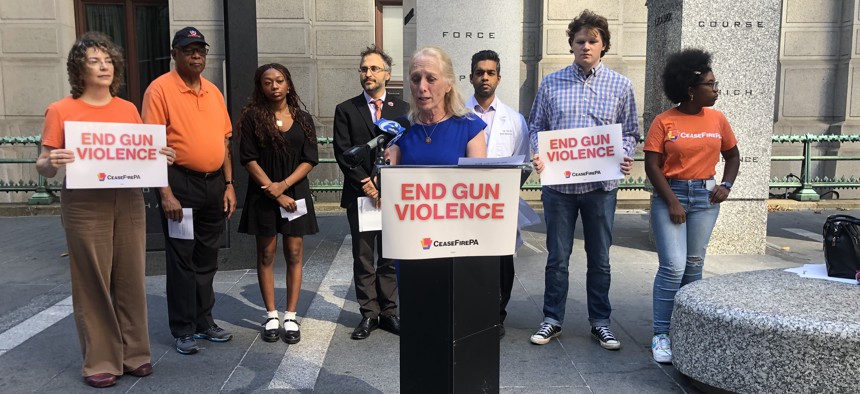 With back-to-school season in full swing, Democratic U.S. Rep. Mary Gay Scanlon met with gun control and public school advocates in Philadelphia Thursday to call for a federal assault weapons ban. 
Dr. Vivek Ashok, a pediatrician at the Children's Hospital of Philadelphia and an advocacy board member of the Pennsylvania Chapter of the American Academy of Pediatrics, told reporters nothing in his medical training prepared him or his colleagues to handle the "gruesome injuries" they see when a child comes in with a gunshot wound from an assault weapon. 
"Simply stated, a victim of a handgun has a chance of survival; a victim of an AR-15 does not," Ashok said. "There's nothing we can do as pediatricians after such devastation has occurred … but outside the hospital, I can do something. That's why I'm standing here."
After hearing from Ashok and Philadelphia-area students and educators, Scanlon urged lawmakers in Harrisburg and Washington, D.C. to take legislative action to thwart gun violence. She also touted the Stopping Fraudulent Sales of Firearms Act, a bill that seeks to combat online firearms sales that take place without a background check. 
Scanlon said her colleagues have called on Republican House Speaker Kevin McCarthy to schedule votes on a range of gun safety bills and are using procedural tools to try and force a vote on such legislation on the floor of the U.S. House. 
"If they want to block that legislation, they should have the guts to have a vote on it and expose to the voters how they're going to vote on this," Scanlon said Thursday of her Republican colleagues in Washington. "We have three bills in Congress where we file a discharge petition, which asks that the bill proceed directly to the floor because it's been sitting untouched."
The three pieces of legislation include the Assault Weapons Ban of 2023, of which Scanlon and several members of the state's Democratic delegation are co-sponsors. 
Adam Garber, executive director of CeaseFirePA Education Fund, compared the legislative impasses in Washington to those in Harrisburg, where the Republican-controlled state Senate has yet to consider gun safety bills passed by the Democrat-led House. 
"We need Harrisburg (lawmakers) to act. They have solutions available to them," Garber said, referring to two bills Democrats passed out of the House that would expand background checks to private purchases of long guns and allow law enforcement to temporarily seize firearms from individuals deemed to be an immediate threat to themselves or others. 
When the gun safety bills originally passed the state House, Senate Republicans didn't downplay the need for public safety measures but also fell short of committing to considering the legislation. 
Senate Majority Leader Joe Pittman, a Republican from Indiana County, said in May that "advancing measures to increase safety and security is of chief importance" to Senate Republicans.
"We remain steadfast in our ongoing support of law enforcement, leadership of school safety initiatives, and examination of ways to provide greater mental and behavioral health support to help protect our communities," Pittman added. "Pennsylvania currently has robust laws in place pertaining to guns, which must be enforced in every corner of our commonwealth."
The calls for action come not only as school districts across the commonwealth are welcoming back students and teachers for a new school year, but also just days after a University of North Carolina graduate student shot and killed a faculty member, leading to a campus-wide lockdown. 
"On day one of the new school year, it started with students, teachers, a lockdown and an active shooter terrorizing the campus and nearby elementary school," Scanlon said. "Monday showed the unacceptable consequences of failing to pass comprehensive, constitutional gun safety laws."