Policy
Shapiro announces development of new statewide economic development plan
The governor also announced the creation of a $10 million pilot program to spur business growth.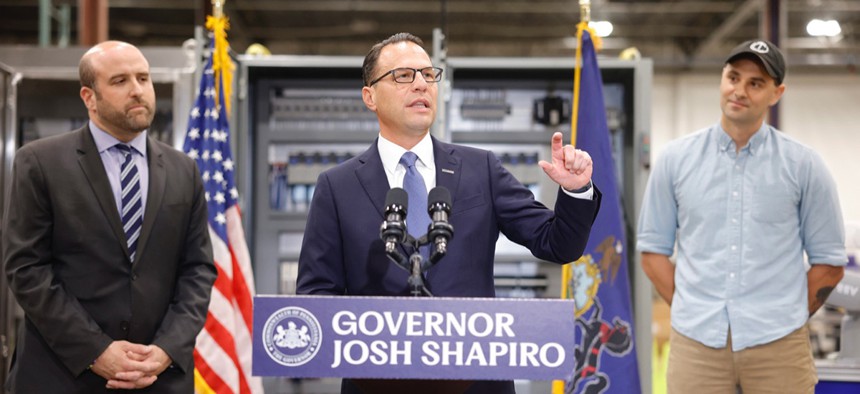 Gov. Josh Shapiro announced Tuesday that his administration is in the early stages of creating a new statewide economic development plan that will map out the state's strengths and barriers when it comes to economic development – as well as ideas for how policymakers can supercharge the state's economy.
Joined by Department of Community & Economic Development Secretary Rick Siger, Shapiro said the department will soon hold listening sessions with leaders in labor and business – input that will help form the state's development strategy.
"This will be our Bible. This will be the thing that we reference back to every single day as to what our strategy is, what our North Star is, what our concrete goals are and how we can inform investment decisions for the years to come," Shapiro said. "This is a strategy that's going to lead to real economic growth for Pennsylvania businesses and to more opportunities for Pennsylvania workers."
Siger said the plan will provide benefits to the state that will outlast the administration and should serve as a "foundation for the next generation of the commonwealth economic development leaders."The economic development plan will include strategies to streamline processes for businesses looking to relocate to Pennsylvania, outline action plans for high-growth sectors and encourage small business development, according to the administration.
The state is partnering with the Team Pennsylvania Foundation, a nonprofit connecting public and private sector leaders, to develop the plan. 
As part of the announcement, Shapiro also unveiled a new $10 million pilot program, the Pennsylvania Strategic Investments to Enhance Sites program, which is designed to encourage the development of new sites for businesses. 
"Pennsylvania SITES will invest $10 million to enhance previously used and underdeveloped sites across the commonwealth and make them shovel-ready for businesses to relocate, to expand and to create jobs right here in Pennsylvania," the governor said. 
Municipalities, economic development organizations, redevelopment authorities, municipal authorities and industrial development agencies are all eligible for grants under the program. DCED will accept applications from now until Nov. 8