News & Politics
Five For Friday: PA leaders react to Biden's hydrogen hub announcement
Politicos, policymakers and other parties weigh in on the alternative energy investment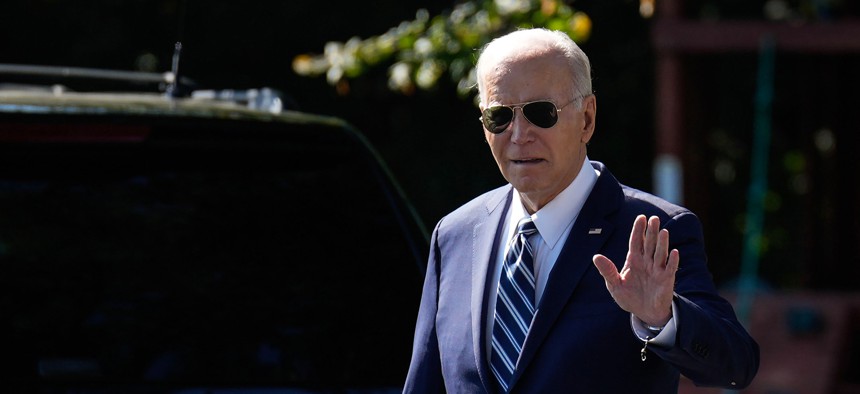 The commonwealth's energy sector will be getting a boost, as President Joe Biden visited Philadelphia Friday to announce a $7 billion investment in regional hydrogen hubs. Pennsylvania, the only state that will have two hub projects that will produce and process hydrogen fuel as an alternative to fossil fuels, will take part in the Appalachian Regional hub – slated to receive up to $925 million – and the Mid-Atlantic hub – slated to receive up to $750 million. 
Despite being deemed an alternative to fossil fuels, many environmentalists and activists say the hubs could still threaten to increase the region's carbon emissions, while proponents of the hubs say they will spur job creation and economic activity while addressing climate challenges. City & State has your Five for Friday, compiling five sets of reactions from around the commonwealth to Biden's hydrogen hub announcement. 
Pennsylvania's congressional delegation
Biden's announcement drew praise from several Democratic members of Pennsylvania's congressional delegation, including U.S. Sen. Bob Casey, who called the hub a "gamechanger" for the state. "This hub will bring good union jobs, economic growth and clean energy innovation to the region. The infrastructure law is helping Pennsylvania take control of its future and become the energy powerhouse we know we can be," Casey said. 
U.S. Rep. Brendan Boyle said he fought to bring the project to fruition, and said the federal government investment will lead to jobs in his district. "This is an exciting day for my congressional district, the city of Philadelphia, and the entire region … I am proud to have fought long and hard to bring this project here. This $750 million federal investment will lead to the creation of hundreds of high-paying jobs right here in our community."
"This is proof that by investing in renewable energy initiatives, we can protect our environment while simultaneously creating new jobs in the green sector," Boyle said.
U.S. Rep. Chrissy Houlahan took to X to celebrate Biden's announcement, saying it will result in "good-paying jobs" and "a more resilient energy infrastructure." "Proud to welcome @POTUS to our Commonwealth today to announce this WIN!" Houlahan posted. 
Gov. Josh Shapiro
Gov. Josh Shapiro said the investment will lead to the creation of thousands of union jobs, and thanked Biden for his administration's confidence in the commonwealth. 
"Today, Pennsylvania is positioning itself as the leader of our country's clean energy future and creating thousands of new, good-paying union jobs," Shapiro said in a statement released Friday. "Since my campaign for Governor, I have been a strong supporter of this investment in our Commonwealth and my Administration has worked closely with organized labor, industry partners, and our neighboring states to make Pennsylvania the only state in the country to secure two regional clean hydrogen hubs. I thank President Biden for his belief in Pennsylvania and Senators Casey and Fetterman for their leadership in securing this win for our Commonwealth."
Environmental advocates
While many Pennsylvania officials praised the news delivered by Biden in Philadelphia, environmental advocacy organizations were a little more reserved, and some expressed worry at the potential emissions that could result from the hydrogen production process.
In a statement released Friday, the Better Path Coalition, Delaware Riverkeeper Network and other environmental groups said the focus of government officials should be on create jobs in renewable energy: "Job creation is often used incorrectly as a justification for continued fossil fuel development and that is already some of the political rhetoric around blue hydrogen, but the fossil fuel jobs that would underpin its development have already passed their expiration date," the coalition said in a release. "If the current administration and state legislature want to move the state forward, they will focus on creating the renewable energy jobs of the future."
Conservation Voters of PA stressed that government officials should prioritize regulations that ensure the health and safety of those living near hydrogen hubs. "The policymaking process involves the balancing of competing priorities. Conservation Voters of PA understands and respects that reality," the organization said in a statement. "As the announced regional hydrogen hubs are built and prepared to be brought online, we reiterate the need for the local, state, and federal regulations to better ensure the health and safety of the communities in which these hubs will be sited and the workers who will build them.
Rob Altenburg, the senior director for energy and climate, said in a statement that PennFuture worries that the hydrogen hubs will pull focus away from reducing carbon emissions.
"Our concern is that production of hydrogen using fracked gas or diverting our focus from other decarbonization priorities threatens to increase the region's carbon emissions and act as yet another subsidy for the fracking industry," Altenburg said. "We absolutely don't want to let this, or any hydrogen or CCS project, delay the essential work we must do to maximize the deployment of proven, cost-effective energy efficiency and clean renewable energy technologies." 
The Pennsylvania Chamber of Business & Industry
The hydrogen hub funding drew an excited response from the Pennsylvania Chamber of Business and Industry. Pennsylvania Chamber President & CEO Luke Bernstein called the development of the hydrogen hubs and the associated funding "historic."
"Pennsylvania is a global energy leader that is home to abundant natural resources, industry thought leaders, and cutting-edge innovators," he said. "We have led every major energy transition in our nation's history and the PA Chamber is excited for Pennsylvania to help lead this historic initiative as well."
Biden's remarks
Biden, speaking in Philadelphia on Friday, touted the job gains and climate benefits that the federal hydrogen hub investments could create. The president said Pennsylvania's Mid-Atlantic Hydrogen Hub will create a total of 20,800 jobs, and said his administration expects the $7 billion sum going to hydrogen hubs across the country to attract $40 billion in private investment.
"Folks, those hubs are about people coming together across state lines, across industries, across political parties to build a stronger, more sustainable economy and to rebuild our communities," Biden said at the press event announcing the funding. 
He also joked that Pennsylvania had a built-in advantage from the very beginning. "I'm a big Pennsylvania guy, you have an advantage in Philly. One, I married a Philly girl. Two, you're between Scranton and Wilmington." When he did get as many laughs as he would have liked, he quipped to the audience: "You guys have no sense of humor, man."