Technology
Roboregulation: 5 ways lawmakers are working to regulate AI
… and 5 options they should consider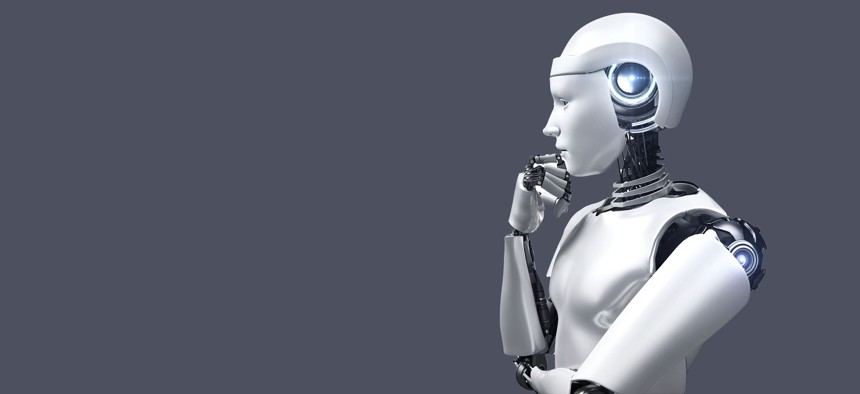 Artificial intelligence is already changing the way we do … well … pretty much everything, and government hasn't been spared. As state lawmakers are grappling with how AI is used in the public sector, they're also in charge of how to regulate it. 
Pennsylvania lawmakers have introduced a range of AI legislation this year, and while few have moved far along in the legislative process to date, legislators in the state Capitol have plenty of ideas – as does the Shapiro administration, which established a new panel focused on AI. Below, we take a look at some of the ways Pennsylvania officials are looking to address the rise of artificial intelligence, as well as some other options they may want to consider.
What PA officials are doing – and want to do –  on AI
Pennsylvania's Generative AI Governing Board
On Sept. 20, Gov. Josh Shapiro signed an executive order creating a state Generative AI Governing Board, a 12-member panel tasked with recommending "employee-centered guidance and direction" on the design, development, procurement and deployment of generative AI in state agencies. Shapiro said the board would also develop "thoughtful" policies around how AI is incorporated into government services. "We don't want to let AI happen to us," Shapiro said just before signing the executive order. "We want to be part of helping develop AI here in the commonwealth for the betterment of our citizenry.
A resolution to study artificial intelligence
Democratic state Reps. Robert Merski and Chris Pielli have joined forces on several pieces of AI legislation, including House Resolution 170. While the proposal wouldn't create any new laws, it would direct the Joint State Government Commission – a research organization that serves the General Assembly – to study the benefits and risks of AI and develop proposed legislation to regulate AI. 
Disclosure requirements for AI-generated content 
Following similar proposals in other states and at the federal level, state Reps. Pielli, Merski and O'Mara introduced legislation – House Bill 1598 – to require a disclosure on all AI-generated content. The law would apply to the Unfair Trade Practices and Consumer Protection Law, ensuring disclosure of any content that was generated using artificial intelligence and presentation of the disclosure in a manner reasonably understandable and readily noticeable to the consumer.
Action on artificially generated impersonations and deepfakes 
Merski and Pielli have also sought to target the dissemination of deepfakes or AI-generated impersonations of individuals. House Bill 1373 would define the offense of unauthorized dissemination of an AI-generated impersonation and make it a first-degree misdemeanor for a person to willingly share the content without that individual's consent. The bill adds that if the dissemination is done with intent to defraud or injure another person, the offense would be graded as a third-degree felony.
Creating an AI registry
Republican state Rep. Rob Mercuri is the prime sponsor of House Bill 49, which would create an artificial intelligence registry managed by the Pennsylvania Department of State. The registry would include all businesses operating artificial intelligence systems in the state, and Mercuri's proposal would also create a searchable online database with all of the businesses that operate the AI systems. "Establishing this AI Registry will enable law enforcement and Pennsylvania citizens to know and respond should anything nefarious occur," Mercuri wrote in a legislative memo about the bill. 
---
Other actions PA officials could take on AI
Ban sexual and political deepfakes
Lawmakers in Minnesota have considered a proposal to criminalize people who non-consensually share deepfake sexual images of others, and people who share deepfakes to hurt a political candidate or influence an election. It's an issue that's already prompted lawmakers in the commonwealth to introduce legislation that would prohibit AI-generated child pornography, which is something we could see gaining bipartisan support in the commonwealth.
Regulate the use of AI in hiring processes
Taking effect at the beginning of this year, New York City updated its consumer and worker protection rules in 2021 to include a restriction on the use of AI hiring processes. Under the law, employers are required to notify candidates about the use of such tools, allows candidates to request what data is used, and requires an annual audit to evaluate the tool for bias.
Establish a formal definition for AI
According to a report from the National Conference of State Legislatures, it's been difficult for many organizations to reach a consensus on how to define artificial intelligence. That can create difficulties for state lawmakers as they seek to put in place a regulatory framework, with the NCSL stressing that "lawmakers will need to coalesce on an acceptance of concepts and potential impacts before being able to effectively intervene and create meaningful policy."
An AI Bill of Rights
In October 2022, the White House released its own blueprint for an AI Bill of Rights, centered around five key areas: safe and effective systems; algorithmic discrimination protections; data privacy; notice and explanation and human alternatives, consideration and fallback. At least one state has also made an effort to establish clear rights pertaining to AI at the state level. This year, Connecticut lawmakers asked a task force to develop an AI Bill of Rights for state residents inspired by the White House model. Look for other states to mimic Connecticut as AI legislation begins to gain traction.
Work with educators and education officials
Much like it has impacted everything from government to health care, AI has also had an impact on schools and education. It's put educators in a bit of a bind, as one hand, students can – and have – used the technology to cheat on assignments, but AI also offers the potential to become a new type of learning tool. Policymakers in Harrisburg will likely be forced to confront AI in education – and should before it confronts them first.