Ethics
Before FBI raids, Henon sought to close ethics loophole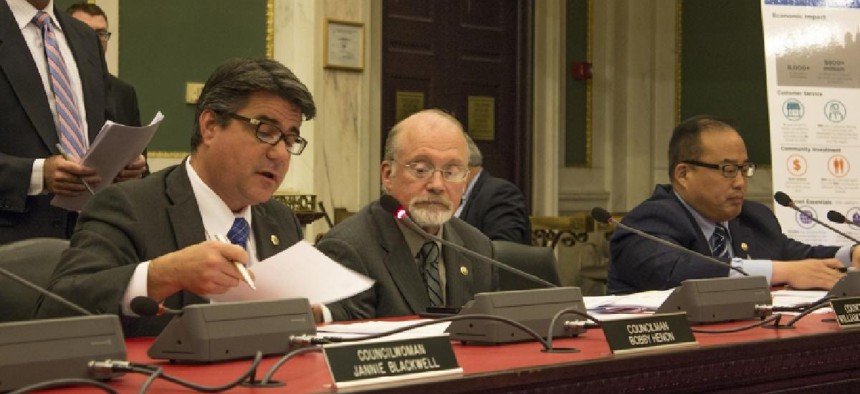 Less than a week removed from FBI agents carting off personal documents from both his City Hall office and Northeast Philadelphia home, Philadelphia City Councilman and Majority Leader Bobby Henon's name isn't exactly synonymous with transparency or good government. But not so long ago, it might have been: A few months before the raids, Henon had been working to close a major ethics loophole.
A month before council's final spring session in June, Henon sponsored a bill to update conflict-of-interest provisions in the city's ethics code, notably extending those provisions to nonprofits in addition to private businesses. 
"This bill is about closing gaps," said Michael Cooke, director of enforcement at the city's Board of Ethics. "And this was a big gap, as the code is currently written."
The current version of the code requires city employees and elected officials to disclose ties to private businesses they have a stake in, and restricts their behavior in various other ways: For instance, a councilman steering city grants to a business that they or a family member are invested in is off limits. 
Incredibly, for more than four decades, these rules only applied to for-profit enterprises, despite the increasing presence of large businesses, institutions and city contractors that are officially registered as nonprofits.
In fact, Cooke said, Pennsylvania's ethics code currently restricts these kinds of relationships – but Philadelphia's does not. He blamed an outdated and densely written code for the longstanding discrepancy, dating the current conflict-of-interest provisions to the initial creation of the city's ethics regulations in 1963.
Ethics board staffers authored the new bill to clarify and extend those provisions in conjunction with Henon's office over the past year. The passage of the legislation, as it's currently written, could have far-reaching implications.
Numerous elected officials and their staffers serve on prominent boards. For instance, Mayor Jim Kenney had long sat on the board of the nonprofit insurance giant Independence Blue Cross prior to running for mayor last year. If this new legislation is passed, officials would be required to disclose similar ties and recuse themselves from any official actions impacting these entities.
Henon's bill wouldn't bar elected officials or city employees from holding outside jobs or holding board seats outright, but it could create an impediment in some circumstances, according to Cooke.
"As a practical matter, it could make it difficult for a city officer to serve on the board of a nonprofit that has significant dealings with the city," he said. "It may not be feasible to serve on these boards if you're constantly recusing yourself from votes."
What Henon's alleged entanglement in a significant corruption case could mean for the bill is unclear for now. His problems with the FBI apparently stem from a wide-ranging investigation that, according to an anonymous source quoted in the Philadelphia Inquirer, appears to center on funds that were improperly diverted from Philadelphia's politically influential electricians union Local 98 to the campaigns of Mayor Kenney and Supreme Court Justice Kevin Dougherty. Dougherty's brother, Local 98 leader John "Johnny Doc" Dougherty, is a major political player with significant ties to numerous elected officials, including Henon.
Henon's political ambitions have been bankrolled by the union and publicly supported by Dougherty, whose home was also raided, along with Local 98's headquarters. In addition to his six-figure government salary, Henon also draws $71,000 a year from Local 98, where he served as an executive prior to running for office.
The legislation he has sponsored could give him an opportunity to shore up his tarnished image – or it could simply become one of many distractions. Alternatively, his headline-grabbing troubles could give reluctant colleagues cover to back away from potentially inconvenient legislation.
When reached for comment, the councilman directed City & State to contact his office staff; multiple phone calls to his office went unanswered.
The bill was referred to council's Rules committee in May and should be taken up again in the fall. A spokesperson for Henon's colleague, Bill Greenlee, who chairs that committee, said he will happy to hold hearings to advance the legislation in the fall.
"We haven't gotten a request yet, although that's not unusual at this point," said Holly Maher, Greenlee's communications director. "It will be up to Councilman Henon to request a hearing."
Bill No. 16051400 by Ryan Briggs on Scribd