Economic Development
Restaurateurs can take the heat on fraught issues
Before Cristina Martinez and Ben Miller decided to make the move from selling tacos from a street cart to opening a brick-and-mortar restaurant last year, a well-meaning friend offered some advice: Don't mix politics and business.
Instead, the husband-and-wife team behind the nationally lauded South Philly Barbacoa and its younger sibling, El Compadre, decided to serve up their social causes along with their food – primarily immigration reform, a nod to Martinez's status as an undocumented immigrant, and right-to-work issues, acknowledging the thousands of people who toil in America's hospitality industry.
It turns out that pairing politics with housemade corn tortillas stuffed with the slow-cooked marinated lamb that Martinez learned to make as a 6-year-old in Mexico works – and it works well. The restaurant's food has received rave reviews while helping draw the spotlight to Martinez and Miller's issues of choice.
When the restaurant hosted one of its monthly "right2work dinner series" events during the Democratic National Convention in July, locals, an overflow crowd of delegates and visitors spilled into the streets.
After choosing South Philly Barbacoa as one of the nation's best new restaurants of 2016, the usually politically neutral magazine Bon Appetit acquiesced to the couple's insistence that their social mission be included in the article.
"By mixing politics and business, we've attracted customers who are engaged with us, who are loyal and supportive," Miller said. "They're writing about us in non-food publications and television programs … We're thriving as we support the community, and the community supports us back."
Miller's response to those who choose not to visit the restaurant because of his and his wife's politics is direct and to the point: "The racists who don't want us to even exist in the first place? I don't want them anyway. … You want to come in here and hate my wife and hate her people and you want to enjoy good tacos? Go to fucking Chipotle."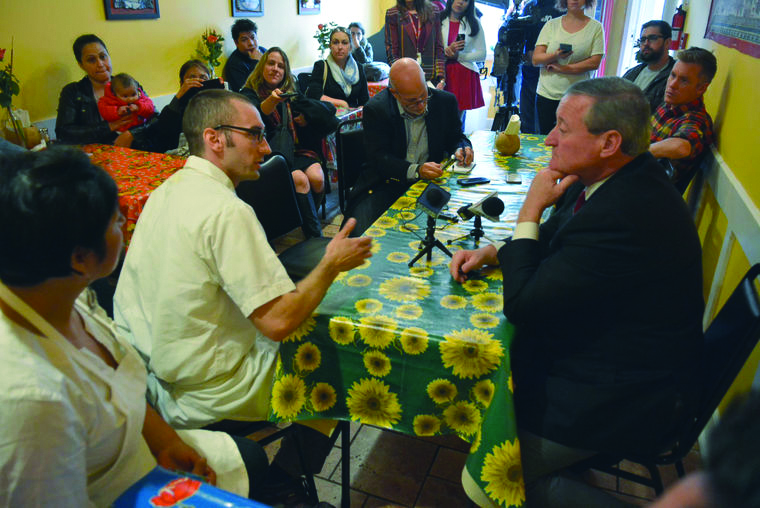 South Philly Barbacoa co-owner Ben Miller talks with Philadelphia Mayor Jim Kenney during an event at the restaurant. Photo courtesy Ben Miller
Food and politics have long been intimately entwined. The Founding Fathers probably made more decisions while drinking and eating at The City Tavern and its ilk than they did in Independence Hall. The National Restaurant Association, representing more than 500,000 restaurant owners and operators, is often compared with that other influential lobbying group with the same acronym as it successfully fights efforts to raise the minimum wage or change overtime compensation laws. And when the owner or founder of a high-profile food organization gives to one political group over the other or makes statements that reveal distinct political leanings, consumers respond with support or disdain.
In 2012, after Chick-fil-A President Dan Cathy talked about opposing same-sex marriage while his company's charitable foundation donated millions to anti-LGBT rights politicians, the fallout at the more than 1,600 Chick-fil-A locations across the country was swift and varied. Protesters marched on a Washington, D.C., franchise with signs like "I used to like Chick-fil-A… But I love my gay friends more." A California store was vandalized with the words "Tastes like Hate." Elected officials in cities like Boston and Chicago pledged to fight efforts to bring or expand the chain in their towns. 
But the franchise had its share of supporters, too, like former Arkansas Gov. Mike Huckabee, who called on customers to show support for Cathy and "the godly values we espouse by simply showing up and eating at Chick-fil-A" on a Wednesday in August. The privately and family-held company later said it set a sales record on the the so-called "Chick-fil-A Appreciation Day," but declined to release any figures. 
Judy Wicks, who owned and operated West Philadelphia's White Dog Cafe from 1983 to 2009, said she was initially discreet about promoting her social concerns through her business. She would host speakers to address issues like climate change or the war on drugs, but in a separate dining room. If she needed more space, she'd hold the talk on a night when business was typically slow. 
"People could come in and eat, drink and be merry without being confronted the problems of the day," Wicks said. "The whole restaurant wasn't about politics. You could have easily not known what was going on. … It wasn't like a hippie cafe where we did poetry readings while you
sipped coffee."
Wicks changed her strategy over time. After a customer complained about the anti-war message she'd had printed on diners' checks – "You make me feel that by paying my bill I'm agreeing with your politics," the man complained – Wicks made her supportive statements more neutral. Who could argue with having the phrase "blessed are the peacemakers" on their bill?
"The beauty of it was that I had the respect of conservatives because I was a successful businessperson with a well-run business; they appreciated that," Wicks said. "It makes sense to use your business to advance your thinking. This is where we're spending our time. It's the center of our energy and our power and where we can have a voice and affect change."
Miller, too, holds that businesses have an obligation to promote positive social reform because of the platform they've been given, "whether it's immigrant rights or Black Lives Matter or environmental justice, you have so much more reach in business than a civilian."
"When I was growing up, the rock stars were the guitar players," Miller said. "Now these chefs have thousands of Twitter followers and their own line of knives and books, and this huge cultural platform. But they're not radicalized. It's very neutral. You mostly see the chefs use (these platforms) for self-promotion."
Jonathan Deutsch, a professor in the Department of Culinary Arts, Food Science and Hospitality Management at Drexel University, understands why some in the food industry choose to put business first. "My job is to provide great food and hospitality. I'll serve anyone. I'm not political," Deutsch said. Car dealerships, he noted, don't promote vehicles as conservative or liberal.
Still, he believes that there's something very intimate about the hospitality industry that encourages self-expression.
"Feeding people is a very intimate act – you're inviting someone into your place and you're nourishing them," Deutsch said. "Our whole social structure is based around having meals together. That can be wonderful and healing, and there are numerous examples of people finding comfort in togetherness around food after Hurricane Katrina or 9/11."
In his 2014 book, "Barbecue: A Global History," Deutsch writes how barbecues have long been backdrops for political rallies, with food being used to curry favor and get people to listen to a particular candidate.
What is served is as important as who serves it – and where. The popular menu items in New York City may not gain traction in Dallas. It's important to know who
is eating.
"That's a common trope: I eat your food, therefore I respect you," Deutsch said.
Food can showcase our common humanity. Pittsburgh's Conflict Kitchen has brought that point home for the last six years, offering specialities from countries that have been in conflict with the United States like Iran, North Korea and Afghanistan. The nonprofit eatery, co-directed by artists Dawn Weleski and Jon Rubin, is also a socially engaged art project that aims to build community by sharing the "unique perspective from people in our community we don't usually get to hear from,"
Weleski said.
Weleski said there hasn't been any negative feedback directed at the restaurant. Conflict Kitchen is currently featuring the food of the Haudenosaunee Confederacy, a collective of six indigenous North American nations also referred to as the Iroquois Confederacy. That means dishes created with venison, quail and "the three sisters": corn, beans and squash. 
"People think of Native American culture as something of the past, something that's been erased, an invisible people," Weleski said. "What we're offering is an outlet to remind people that there are contemporary Native Americans and … the opportunity to showcase the great diversity between us
as Americans."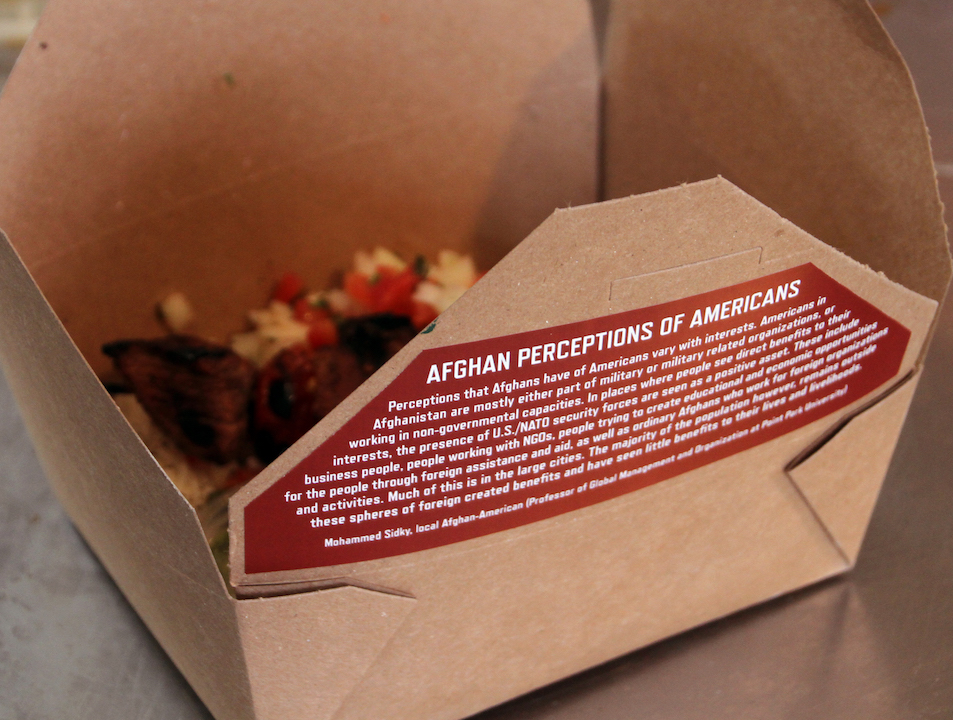 Conflict Kitchen provides a little knowledge to take home with diners' take-out. Photo courtesy Conflict Kitchen
Of course, the sharing of food can still go horribly awry. Think back to when Democratic Presidential candidate John Kerry visited Philadelphia, one of the bluest of blue cities, in 2003. It was nothing but love – until he ordered a cheesesteak with Swiss.
Kerry still took Pennsylvania in the general election, but how much newspaper ink and TV time focused on Kerry being out of touch, instead of focusing on his policies?
More recently, in May, Donald Trump also had a food-related misstep. In celebration of Cinco de Mayo, Trump tweeted a photo of himself and his lunch: a fried tortilla shell filled with meat, cheese and salad fixings. His message read, "The best taco bowls are made in Trump Tower Grill. I
love Hispanics!"
Critics called that condescending. His supporters seemed nonplussed. 
And it's not just presidential candidates who make food-related missteps: When he entered the political arena, Pennsylvania Republican Sen. Pat Toomey often referred to the Allentown restaurant and bar he ran with his brothers as a way to showcase his business acumen. That was later used against him, with opponents calling the establishment an out-of-control trouble spot under the Toomey family's ownership.
Business owners, too, have to be careful. In 2015, the owners of The Out NYC, a hotel that promoted its LGBT-friendly politics, hosted a fundraiser for Republican presidential candidate Ted Cruz. The fallout was immediate, said Mike Sheridan, assistant professor at Temple University's School of Sport, Tourism and Hospitality Management. Groups like the New York Gay Men's Chorus and AIDS Walk cancelled planned events. The social media shaming
was constant.
"It caused so much strife the owners actually had to sell the property. They knew there was no way for them to get beyond that," said Sheridan. 
Sheridan said the public politics of a restaurant owner or chef do affect a diner's decision-making, his included. He won't eat at Red Lobster, for example, because he doesn't support the way its parent company harvests lobster. He's also chosen to go out of his way to eat and drink at an establishment supporting a cause he believes in, as he did this summer when many Gayborhood businesses donated a portion of their sales to help victims of the Pulse nightclub shooting in Orlando.
But politics aside, the food on offer at these restaurants remains at the heart of it all. 
"I used good food to lure innocent customers into social activism," Wicks recalled. "I didn't publicize it, but that's what I would tell my friends."
South Philly Barbacoa has a limited menu featuring the titular offering – lamb cooked overnight in custom-built steamers and served with fresh toppings and corn tortillas – and consommé made from the drippings. Bon Appetit described the tacos as "unimaginably delicious."
"If I had a bad product, I couldn't really stand on a soap box," Miller said. ■