Environment
PA House bill sacks ability of municipalities to regulate plastic bags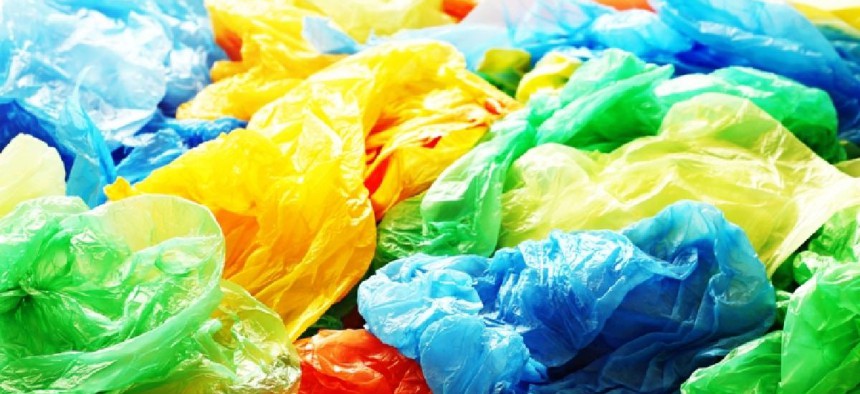 A bill that would prohibit Pennsylvania's political subdivisions from regulating or charging a fee for the use of recyclable plastic bags typically used at grocery stores and other retail establishments passed the Pennsylvania House of Representatives this week.
The bill, which has bipartisan sponsorship by Rep. Frank Farry (R-Bucks) and House Minority Whip Mike Hanna (D-Clinton), was presented by supporters as a preemptory strike against municipalities that might be inclined to enact such regulations or fees and potentially hurt the statewide economy.
Currently, there are 14 plastic bag manufacturing locations in Pennsylvania.
"This proposal works to protect the 1,500 Pennsylvania residents whose jobs depend on the plastic bag recycling and manufacturing industry," said Hanna in response to the bill's passage on Tuesday. "This bill is about jobs and consumer choice. It promotes good, family-sustaining careers for hard-working Pennsylvanians."
One of the manufacturers, Novolex, has a large plant within Rep. Hanna's district.
Others, however, were not so supportive
According to Rep. Maria Donatucci (D-Philadelphia), who chairs the Philadelphia Delegation in the state legislature, the legislation will remove the ability of Pennsylvania municipalities to regulate or charge a fee for the bags, something already exercised by 165 municipalities throughout the country.
"All Pennsylvania municipalities should have that option," she said. "In Philadelphia (charging a fee or banning the bags) would reduce litter and fund initiatives to improve air and water quality and waste removal. All Pennsylvania municipalities should have these options and others."
In fact, Philadelphia City Council has repeatedly looked at a fee on the use of plastic bags as a potential revenue source.
In that vein, Philadelphia City Council sent a letter to all House members asking them to withhold support of House Bill 1071, arguing that it would be a mechanism to further handcuff local governments in their ability to find sources of revenue not already covered by the commonwealth.
"By prohibiting a potential revenue source to fund worthy initiatives such as waste removal, House Bill 1071 further ties municipalities' hands and places a greater burden on individuals and businesses that pay property taxes," the letter stated.
"In Philadelphia, residents have requested and City Council has considered plastic bag fee legislation to reduce litter and fund initiatives to improve air and water quality. If House Bill 1071 is enacted, our constituents will not have the opportunity to press their case for a fee before their local legislative body. City Council would be forced to search elsewhere for revenue streams to fund worthy services such as street cleaning."
The Philadelphia Mayor's Office also noted its opposition to the legislation specifically, and the concept of the state Legislature working to preempt possible city action generally.
"This bill severely infringes on Pennsylvania municipalities' rights to decrease the detrimental waste and litter resulting from plastic bags that negatively impact our landscapes and streets, and the bill offers no solutions to mitigate this impact," said spokesperson Mike Dunn.
Dunn noted that some of the information proffered by supporters of the legislation in terms of the rate of plastic bag recycling has been inflated or inapplicable to Pennsylvania and the United States. He also went on to detail the detrimental impact plastic bag waste has had on Philadelphia.
"Last year, more than 900 million plastic bags were distributed to our 1.5 million residents and 41 million visitors. The Philadelphia Water Department reports that 17 percent of floatable waste in our waterways and water treatment infrastructure is plastic bags.  Our local single stream recycling plant must shut down multiple times each day, spending 12,240 staff hours annually cleaning plastic bag debris from their equipment, which is not designed to handle plastic bags," he said.
"Single stream recycling has been extremely successful for Philadelphia, increasing curbside recycling rates from 5 percent before single stream, to 22 percent today. With Philadelphia's recent pledge to become a Zero Waste city by 2035 and divert 90 percent of all waste from landfills, we need to increase the single stream recycling rate as well as decrease our waste stream. Having the option to reduce plastic bag waste through legislation is an option that our residents, as well as our City's landscapes and labor force, will need at their disposal to create the equitable and sustainable City envisioned by the Kenney Administration."
Other major cities across the country, including New York, Washington, DC, San Francisco and Los Angeles, rank among the 165 local governments that have put a fee on the use of plastic bags.
Others, in opposition to the legislation, were more concerned with the negative environmental impact that the bags have that could be reduced by municipal bans or through a disincentivizing fee.
"Plastic bags also cause significant environmental problems," said Rep. Greg Vitali (D-Delaware), a leading environmental advocate in the House. "They pollute waterways and cause damage to wildlife that ingests them. House Bill 1071 also is opposed by many environmental groups such as the Sierra Club, Penn Future and Penn Environment."
Last session, a similar bill was defeated on final passage late in the term.
According to sponsors, the current bill has been limited in scope from previous versions – namely, applying the restriction to recyclable bags – and is supported by those creating jobs related to the plastic bag and bag recycling industry.
With the bill now moved over to the Senate, the proposal will be reviewed by the appropriate oversight committee before any decision on whether to move the bill is made.
"We are interested in reviewing the House proposal," said Senate Republican caucus spokesperson Jenn Kocher. "It will be referred to the appropriate committee and our hope is that the Chair will then examine the bill and we will work from their recommendations."
While no similar bill has been introduced or yet considered in the Pennsylvania Senate, Sen. Daylin Leach (D-Montgomery) and Rep. Brian Sims (D-Philadelphia) have introduced legislation in their respective chambers requiring a two-cent per bag fee at retail establishments with gross annual revenues in excess of $1 million.
According to the legislation, half of the proceeds would go back to retailers to help them improve recycling operations and the other half would go to statewide recycling programs.
Neither bill has been scheduled for a committee vote.
Jason Gottesman is the Harrisburg bureau chief for The PLS Reporter, a non-partisan, online news site devoted to covering Pennsylvania government.