Ethics
Sims learned of probe into speaking gigs – while at a speaking gig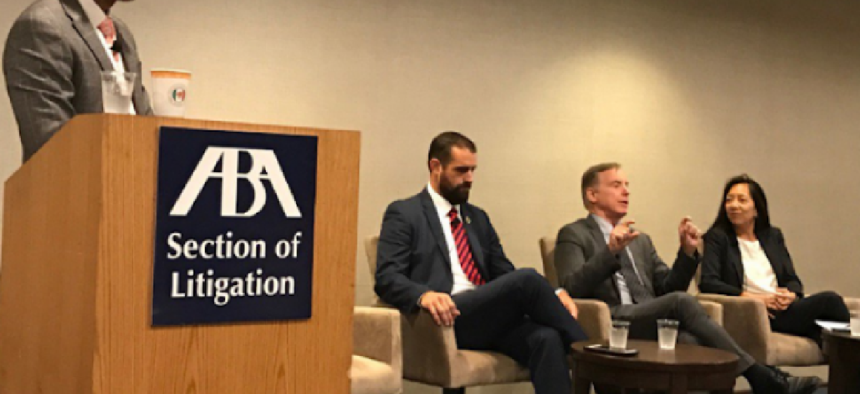 One of the worst places for a politician to learn about an ethics probe into questions raised by their travel and speaking gigs is, undoubtedly, while on the road at a speaking engagement. On Wednesday, that's exactly what happened to state Rep. Brian Sims.
As the Philadelphia Gay News broke a story outlining a state Board of Ethics investigation into dubious speaking fees and undisclosed travel reimbursements received by the Philadelphia legislator, Sims had just finished attending a panel at the American Bar Association Section of Litigation's Inaugural LGBT Forum in San Francisco.
According to leaked documents obtained by PGN, the board is currently exploring allegations that the paid travel and honoraria Sims received may have violated the state ethics code. These actions were documented in a City&State PA special investigation last year. 
That story resulted in Sims' revising his 2015 statements of financial interest to include thousands of dollars worth of previously unreported travel reimbursements. But Sims has consistently maintained that his speaking fees hew to state ethics guidelines – this despite a provision explicitly barring legislators from collecting honoraria.
Sims has continued to make appearances throughout 2017 and repeatedly argued that he does not appear at paid speaking engagements as an elected official, but as a prominent LGBT advocate – even though some advertisements prominently feature his official title.
"All of my appearances are consistent with state law and the express guidance of the State Ethics Commission, and will be reported as required by law," Sims wrote in a prepared statement to City&State PA today. "My legislative work always comes first, and I will continue to meet with audiences to discuss the issues of tolerance and inclusion."
Siegel has also said in the past that Sims received authorization "from the Counsel of the House Democratic Caucus" about the activity when he was first elected. However, he refused to disclose how much Sims had collected in speaking fees for events Sims attended this year or in 2016 – although he insisted the recent event in San Francisco was unpaid "because (Sims) is speaking in his legislative capacity." 
Nevertheless, a description of that event describes the legislator as "state Rep. Brian Sims."
In February, the rep made a paid appearance at Old Dominion University's LGBTQ safe space. The Philadelphia Daily News, which first broke the news about Sims' speaking fees, reported that Sims received $2,750 for the event. A flyer for that event describes Sims as "a Democratic member of the Pennsylvania House of Representatives."
In March, Sims was a "special guest" at the "Pride Ride," a benefit hosted on the Napa Valley Wine Train, a tourist rail line in northern California. In April, Sims was the keynote speaker at the Red Dinner II at the University of Houston, a charity event that raises money for LGBTQ students. Later that month, Sims was the featured guest at the Tom Homann LGBT Law Association Dinner, a fundraiser in San Diego. All of these events principally describe Sims as a PA state legislator.
Siegel also declined to answer questions about how Sims paid for his travel to events in Texas, California and elsewhere. Sims' statement of financial interest last year notably lists $1,400 worth of "transportation, lodging or hospitality" received from megadonor Mel Heifetz.
A recently released statement of financial interest shows that Sims reported income from at least six universities in 2016. Although the forms do not require disclosure of the amount received, ethics guidelines require that all payments received by elected officials exceeding $500 are listed.