Economic Development
Fumo-connected nonprofit hoards millions skimmed from PECO customers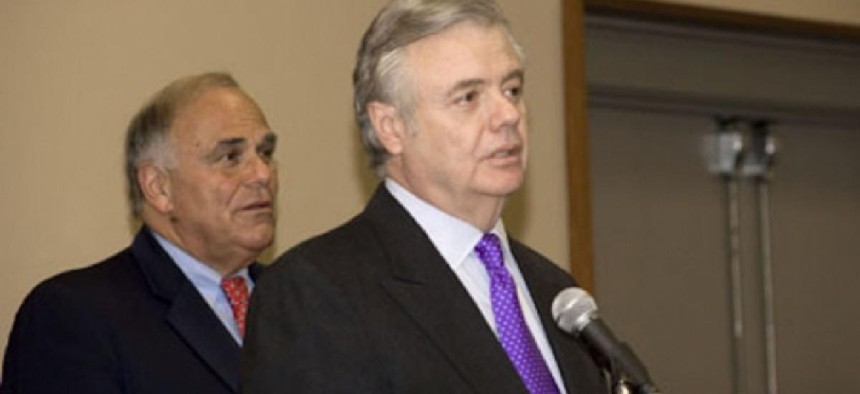 On paper, the Delaware Valley Regional Economic Development Fund is an impressive organization. The nonprofit, which provides startup capital to worthy causes – according to its website, the organization "provides financing to eligible businesses and nonprofits for projects that relate to the promotion of economic development and tourism with a job impact" – controls some $23 million and rakes in another $1.4 million a year off of its various investments. By any measure, it's one of the most well-funded of dozens of groups in Philadelphia charged with channeling grants and loans to development projects with some nominal civic aim.
The vast majority of this liquidity came not from donors eager to support DVREDF's mission, but from unwitting PECO customers, thanks to a deal worked out 18 years ago by since-disgraced former state Senator Vince Fumo to skim cash off electric bills. 
Other than those impressive financials, what the group does, besides throw money at consultants and other dubious expenses, is a mystery. Its website hasn't been updated in six years. The phone number listed goes to an answering service inside a property manager's office downtown. And its executive director and board members – all Fumo cronies – dodged multiple press inquiries. 
In the wake of Fumo's blockbuster corruption trial and conviction in 2009 – which homed in on misspending at a related nonprofit – the Pennsylvania Public Utility Commission, a state regulatory board, had sought to restructure the DVREDF. But that oversight deal ended years ago. 
Today, no one in Philadelphia's civic realm, seemingly, wants to take responsibility for the group – City Hall, which helps coordinate nearly all economic development activity in Philadelphia, was barely aware of the organization's existence.
"It's an orphaned nonprofit. Its political sponsor is out of the picture and its main source of funding has been removed," said David Thornburgh, director of the Committee of Seventy, a government watchdog. "To the extent that PUC had some responsibility, they've removed themselves. I can't think of any kind of corollary."
The nonprofit's origins can be traced back to Fumo's Harrisburg heyday, in late 1998, when he agreed to drop his opposition to a plan to deregulate PECO's energy monopoly and, as a reward, invited himself to help divvy up an $11 million settlement that emerged from deregulation efforts.
"Sen. Fumo put a lot of time and energy into getting billions of dollars of savings for PECO customers," spokesperson Gary Tuma said at the time. "As part of that, he gets some say into how $11 million is spent to create jobs in the Philadelphia region.'' 
The settlement deal helped spawn groups like DVREDF and the Citizens Alliance, a neighborhood improvement fund which would later become central to Fumo's downfall. Unlike the Alliance, which eventually got a $17 million lump sum payout as part of a secretive settlement arrangement, the DVREDF was built around a deal to skim one-tenth of one percent of every PECO payment into a 501(c)4 – a nonprofit classification often used for "social welfare" groups like civic associations or, more controversially, political funds that channel money to so-called "super PACs."
Conveniently, the boards of both groups were stacked with Fumo allies: friendly ward leaders and former trustees of PSB Bancorp – a successor to Pennsylvania Savings Bank, which was founded by Fumo's grandfather and which Fumo ran until he sold it off in 2005.
Nearly two decades and 137 federal charges later, Fumo's political allies still dominate DVREDF, according to the most recent nonprofit filings available. Former PSB staff, like Anthony DiSandro and Rose Pauciello – one of the ward leaders Fumo appointed way back in 1999 – still serve. 
Another board member, Jonathan Ireland, was also a partner in the Valley Forge Investment Corporation, along with his father, Richard Ireland, and business associate Brian McElwee. The latter two men were recently embroiled in allegations that Fumo helped steer state treasury contracts to a related entity, the Valley Forge Asset Management Corp. These charges, which did not involve Jonathan Ireland, were later dismissed.
Other DVREDF board members include Fumo disciple (and former Pennsylvania Convention Center chief) Al Mezzaroba and board chair Lauri Kavulich, a Clark Hill lawyer whose husband was once Fumo's wife's accountant. 
None of these individuals were willing to answer even basic questions about DVREDF, dodging numerous press inquiries.
But nonprofit tax forms detail a wide array of spending that seems to stem from the group's vague mandate.
DVREDF has disbursed revenue taken from ratepayers to charities like the Veterans Multi-Service Center and regional events, doling out some $100,000 to the Mummers parade. Other deals include a $1.25 million partnership to finance other nonprofits, a bid to install solar panels on highway sound barriers and even a sponsorship package for a fencing tournament.
The nonprofit's last publicized activities include loaning money to the Charter High School for Architecture and Design and a not-for-profit supermarket in Chester – both nearly five years ago. 
Amid the fallout from Fumo's trial and conviction, Citizens Alliance was broken up and put into court-appointed receivership – but DVREDF escaped without being tied to Fumo's corrupt spending. In 2010, PUC made an effort to normalize the organization – cutting off its PECO revenue during a renegotiation of the energy giant's electric rates. 
That renegotiation also introduced new grant and lending guidelines, and a requirement that the group submit regular reports on its activities. But a PUC spokesperson said those monitoring efforts ended in 2012, around the same time the group's activities became more clandestine.
Yet since then, the group has continued to spend – it logged $317,000 in expenses on its last financial disclosure form, which covers 2014, and $869,000 the year prior.
In 2014, the group logged around $183,000 in office expenses and investment, accounting and legal services. But it also spent big on questionable items, like $25,000 for advertising and $12,000 on travel, meals and entertainment. Coffman, the group's executive director, made $81,000 that year, although it was not immediately apparent what services he performs on a day-to-day basis. 
An office address listed on the group's financial statements was abandoned. A listed phone number for the organization led to an answering service operated by Regus Property Management, who said Coffman leased a personal office inside Centre Square, a downtown office building. 
Coffman had worked with Mezzaroba at Lower Bucks Hospital until Mezzaroba, in his role as the hospital's CEO, had the institution file for bankruptcy in 2010. 
Coffman did not return a call for comment.
However, reached at his law office, Mezzaroba, a Genova Burns lawyer, confirmed that the group was still active – but refused to say anything else.
"I'm not a spokesperson for the organization," said Mezzaroba. "You can send us an email."
The group did not respond to an emailed press inquiry.
A spokesperson for Philadelphia Mayor Jim Kenney's administration said the group was unknown to the Commerce Department and the Planning Commission – municipal agencies that work with nearly every other development agency in Philadelphia. Kenney – himself a former ally of Fumo and PSB Bancorp trustee along with Pauciello and DiSandro – disavowed involvement with the DVREDF, through spokesperson Lauren Hitt.
Hitt said that City Hall did not have authority over the nonprofit – but it's not clear if anyone else does.
"We're a 501(c)4. So, we're not really in the public domain," Mezzaroba said, before hanging up.
Thornburgh said the group's funding and mysterious operations were, at the very least, a huge missed opportunity for regional investment.
"These are not technically public dollars, but they are derived from a public negotiation and there's a responsibility to be transparent and put those dollars to work," he said. "There's no shortage of need for that kind of funding in the region."