Elections
Rep. Taylor to retire, sparking Dems to line up for his seat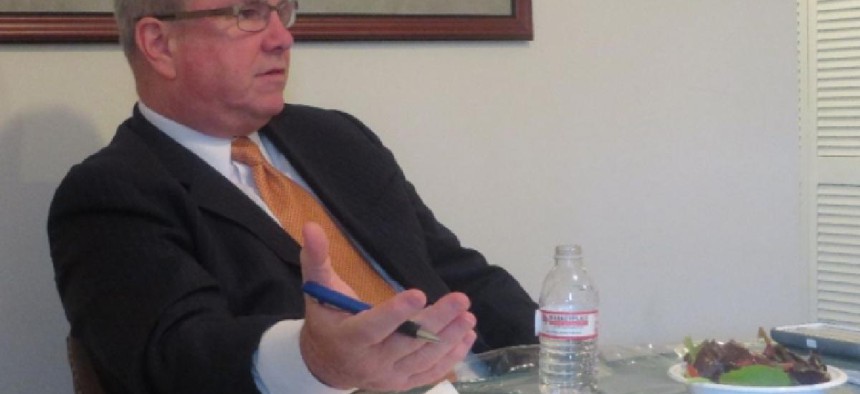 Longtime GOP state Rep. John Taylor will not seek reelection, a surprise announcement that is already leading a number of Philadelphia Democrats to voice their interest in running for office in the increasingly blue district.
The Republican has hung on to Northeast Philadelphia's 177th District – which includes neighborhoods like Bridesburg, Northwood, Mayfair and parts of Port Richmond, Fishtown, Lawncrest and Tacony – for decades, despite a plurality of registered Democrats. His success was often linked to relatively moderate political stances and a reputation for constituent service. 
Even before his announcement, several Democrats had signaled their readiness to pounce on what some view as an easy win.
Sources close to Democrat Joe Hohenstein, who ran against Taylor last year, said he will make a formal announcement soon to officially declare his candidacy for the seat. Hohenstein hinted at a second run just weeks ago, as did Iraq War vet Sean Patrick Wayland. Justin Salmasi, a political unknown, also recently registered a CrowdPAC page stating his interest in the seat.
But with today's announcement, more names  emerged – like Sean McMonagle, a top staffer for Philadelphia City Councilman Mark Squilla. The legislative aide happens to be the cousin of former state Rep. Gerald McMonagle, whom Taylor beat in 1984 to take office.
Further, labor sources said that 23rd Ward leader Danny Savage, a short-lived city councilmember whose family has been a longtime fixture in Northeast Philadelphia politics, was also contemplating a run.
"We've heard that former city councilman Dan Savage is interested and he's well-qualified, and there are other Democrats who have interest," said Frank Keel, a spokesman for powerful union leader John Dougherty. "John Taylor's retirement is a big loss. He is a fine man who did good things for the Building Trades and the City of Philadelphia."
Still other sources pointed to 45th Ward leader Harry L. Enggasser. Enggasser could not be immediately reached for comment.
Although Taylor has been rumored for well over a year to be stepping down, the sudden announcement reportedly caught some ward-level Republicans by surprise. Several GOP sources said that there was no clear successor for the seat within the local party.
Asked for comment today, Taylor did not point to any particular Republican candidates but noted that his own run for the seat, over thirty years ago, was itself something of a surprise. The then-29-year-old law clerk and lifelong Democrat switched parties to run and beat a sitting incumbent.
Now 62, in Taylor's long career in the statehouse he has often been characterized as a bridge-builder – a link between right-leaning Harrisburg legislators and the state's largest city, a Democratic stronghold. 
The PA House Democratic Campaign Committee praised Taylor's record in a statement today, even as Executive Director Nathan Davidson vowed to retake the district.
"Politics aside, Rep. Taylor's decades-long record of public service will not be forgotten in the halls of our State Capitol," he said, in an email. "But the fact is that for too long the representative from the 177th District has supported Republican leadership that does not share the values of Philadelphians. Rep. Taylor's decision to not seek reelection creates a real opportunity for House Democrats to add a seat to their ranks, and the HDCC will be fully invested."
This article has been updated to reflect comments from Frank Keel. An earlier version of this story contained a quote attributed to Sean McMonagle which has since been disputed. This story will be updated as more information becomes available.