Infrastructure
Lawmakers press their priorities in advance of Wolf budget address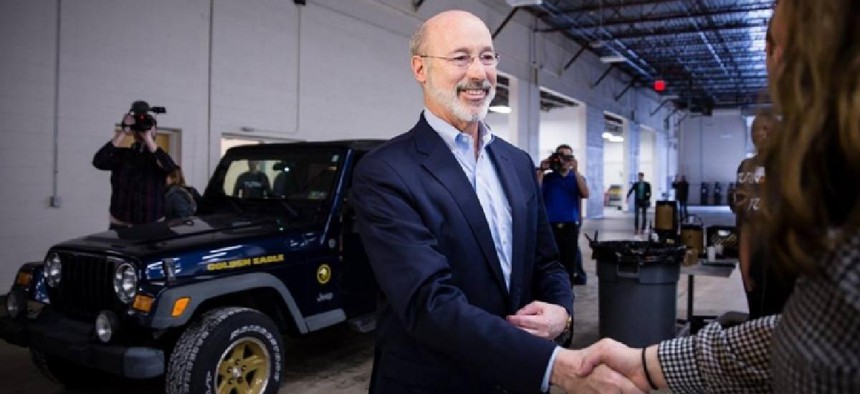 While budget address week is a time traditionally reserved for governors to set their budget priorities and legislative agenda for the year, lawmakers from both sides of the aisle in the House and Senate are making their priorities known in advance of the governor's budget address, scheduled for tomorrow morning.
In looking ahead to the budget address, House Majority Leader Dave Reed (R-Indiana) said that since the state is not grappling this year with continued deficits ranging in the billions of dollars, it's possible to look at how money is being spent and whether the government is spending taxpayer dollars effectively.
"I think it gives us a better opportunity to not just focus on getting a budget done, but focus on the items that we are going to be spending money on and whether those dollars are being used in the best manner possible and maybe think outside the box a little bit," he said. "Certainly, to see revenue collections through the first seven months come in as they have, it's encouraging. We still have five months to go, but the IFO (Independent Fiscal Office) estimates and the potential positive impacts from the federal tax reductions could potentially put Pennsylvania in a very good position by the end of this year and certainly next year as well."
Just a few days prior, members of the "Common Sense Caucus" – a voting bloc of conservative members within the House Republican Caucus prioritizing lower state spending, regulatory and welfare reform, and economic growth – outlined their own budget priorities, putting a ceiling on a state spending number at $32.1 billion.
They hoped to achieve that spending level through regulatory and welfare reform measures currently making their way through the General Assembly that they believe will achieve state spending reductions and spur economic growth.
Reed indicated such priorities are core Republican principles that should continue to be articulated.
"I think responsible spending for us means not asking the taxpayers for additional dollars, keeping any potential spending increase below the rate of inflation, and spending the dollars that we have and are going to be spending in the most effective manner possible," he said. "Whether it's lower, whether it's higher, we want those dollars to be put to good use."
Senate Majority Leader Jake Corman (R-Centre) commented briefly on the upcoming budget address, noting he would like to see increases in higher education spending.
Recently, Democrats in the Senate sent a series of joint letters to Gov. Wolf outlining what they hope to see prioritized in his proposed budget, including job creation initiatives, a push to increase the minimum wage, and prioritizing education.
On the last point, Democrats are seeking more in the way of early childhood education access, a focus on STEM education, after-school programs, mentoring, a push toward trauma-informed education, and increases in education funding.
"Together, we have restored the devastating education cuts made by your predecessor and have made historic investments in Pennsylvania's students," they said about their education-related asks. "As you finalize your 2018-19 budget proposal, we ask that you continue to invest in educational programs to put students on the path to future success."
While little is known about the specifics of what the governor will lay out on Tuesday, he did announce last week that he would be seeking a $185 million increase in education funding.
That amount includes $100 million more for basic education, $40 million more for Pre-K Counts and Head Start, $20 million more for special education, $15 million more for the State System of Higher Education, and $10 million more for career and technical education.
Today, the governor also announced a $50 million investment in job training programs will be part of his budget proposal.
"As a business owner, I know that companies only want to locate and grow in a state that has strong schools and makes the commitment to ensuring our workforce has 21st-century skills," Gov. Wolf said. "I have made it my mission to restore the cuts made to public education before I became governor; now we can further support our kids and our economy by making continued progress. By driving more funding through our fair funding formula, we also further address the inequities in our local school funding system."
House Democrats jumped on board with the governor's education funding plan. House Minority Leader Frank Dermody (D-Allegheny) stated the move is directly in line with the House Democrats' legislative agenda for 2018, entitled "Plan for PA," that prioritizes tax fairness, retirement security, increases in education spending, career assistance, and raising the minimum wage.
"A budget is a statement of priorities. It's how the elected representatives of the people make clear what we value most," Dermody said. "The governor's seeking $120 million more for school districts across the state as well as higher investment in pre-kindergarten and Head Start programs, state universities, and career and technical education. Beyond better schools and targeted job training, the money for districts also helps us control local property tax increases."
The governor also said he will be seeking $2.5 million in funding for more employees within the state Department of Environmental Protection to help fulfill its mission while also streamlining the permitting process.
Much else is little known, though it has been reported that the governor's spending number will likely ring in near $33 billion and, while it will not include any broad-based tax increases, it will seek a natural gas severance tax. In addition, increases in older adult services funding, seeking a municipal fee for off-setting State Police funding, and a renewed push for human services-related agency consolidations will be part of the likely spending plan.
As to a severance tax, Reed indicated that such a pursuit is going to be a tough row to hoe in the House.
"I don't think anyone has a really good handle on what a final severance tax would look like," he said. "Certainly, from me, I'm opposed – and I'm pretty sure the Speaker is, too."
Jason Gottesman is the Harrisburg Bureau Chief of The PLS Reporter, a news website dedicated to covering Pennsylvania's government