Elections
Wolf outlines election reform package, backs anti-gerrymandering bill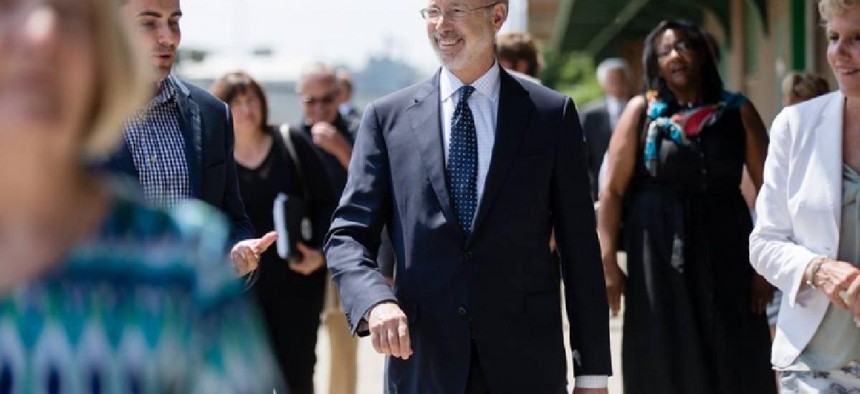 On the eve of a public hearing to vet redistricting bills, Gov. Tom Wolf Monday afternoon threw his weight behind a host of electoral reforms, including a bipartisan redistricting commission.
Referring to the state Supreme Court ruling that threw out the 2011 congressional map as partisan gerrymanders and forced a redraw, Wolf said the drafting of fair maps now needs to be institutionalized.
"We can't count on people coming forward every election cycle or even every 10 years and saying, 'come on, this is not a fair map,'" Wolf said.
Flanked by self-described reformer Sen. Lisa Boscola (D-Lehigh), Wolf backed her bill, SB 22, which is currently in the State Government Committee, chaired by Sen. Mike Folmer (R-Lebanon).
The measure, along with three other redistricting bills, is scheduled for a committee meeting Tuesday at 9 a.m.
Wolf had previously expressed support for redistricting reform in his response to two federal courts striking down the last Republican challenges to the congressional map.
Boscola's bill, which has co-sponsors from both parties, would amend the state Constitution and make redistricting both state and congressional maps the purview of an 11-member bipartisan panel, split between four Republican, four Democrats and three independents. 
She painted her legislation as part of a groundswell of support from citizens who want changes to how political maps are drawn. 
"I am convinced that this is people-driven," Boscola said.
An Economist/YouGov poll from last fall said that 52 percent of American want courts to strike down gerrymandered maps, while 9 percent wanted the maps upheld. 39 percent were unsure. 
Along partisan lines, 65 percent of Democrats supported court rulings, along with 46 percent of independents and 45 percent of Republicans.
Responding to the press conference, Republican House Caucus spokesperson Steve Miskin painted the reforms as a partisan maneuver blossoming from the state Supreme Court's ruling.
"One person drew the map, and four Philadelphia and Pittsburgh residents approved it for the entire state," Miskin said after the conference. "And they are calling that a fair process because they like it better."
Besides redistricting, Wolf called for legislative action to implement same-day and automatic voter registration, as well as no-excuse absentee ballots.
Currently, under Pennsylvania law, a citizen can only use an absentee ballot if they have a valid excuse, such as a student away at college or someone who is hospitalized. 
The governor has already implemented some voting reform via executive action to allow for online voter registration.
Bills that would implement many of these changes already exist in both chambers of the General Assembly, including Rep. Ed Gainey's HB 193, which would register Pennsylvanians to vote when they get a driver's license or other state ID. Two bills, both from Democrats – HB 101 and HB 945 – could implement same-day registration.
Victoria Shineman, a University of Pittsburgh professor of political science who studies elections, said the proposed changes would mostly help young and busy voters.
Automatic voter registration helps sign up 18-year-olds as they get their first IDs, while the state's high bar for absentee voting could keep away someone with employment or child care responsibilities on Election Day.
As for same-day registration, Shineman said, "It means people who are not following politics day in and day out can go vote." That could prove especially big in local races, she added, where campaigns are shorter.
Wolf's plan also endorsed campaign finance reform. He previously came out in favor of such reforms in an ethics package earlier this month.
Stephen Caruso is a staff writer for The PLS Reporter, a news website dedicated to covering Pennsylvania's government