Former Philly ADA: Larry Krasner should be 'put down'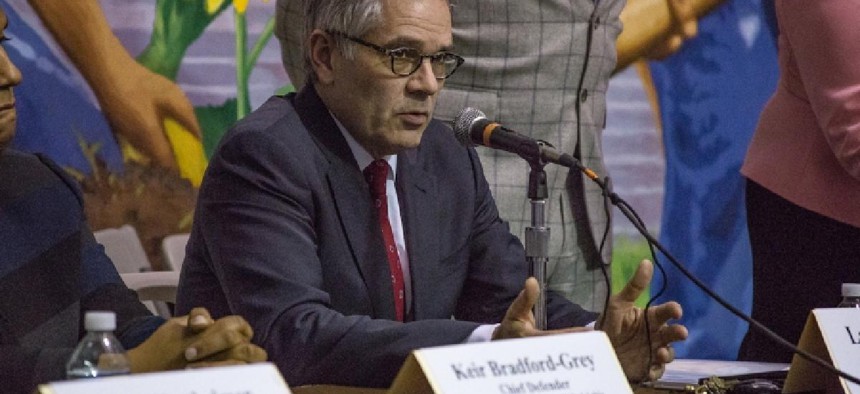 Supporters of Philadelphia DA Larry Krasner are crying foul over a Facebook post from a 28-year veteran of the Philadelphia District Attorney's Office that they say reads like a veiled threat against the city's top prosecutor.
The uproar emerged from an exchange between former assistant district attorneys Richard Sax and George Shotzbarger criticizing Krasner's administration. Shotzbarger makes an allusion to a scene in Harper Lee's classic 1960 novel, "To Kill a Mockingbird," in which the protagonist Atticus Finch shoots a rabid dog.
"The incumbent is a menace to public safety. Like the rabid dog in TO KILL A MOCKINGBIRD he might need to be 'put down'," Shotzbarger wrote, one week ago.
The former ADA, who left the office in 2007, now says his comment was merely "a play on words."
"The same way that Atticus Finch takes a rifle and puts down the rabid dog that's endangering the children in the neighborhood, Krasner is a danger to public safety," he said. "But 'put down' means knocked a few pegs lower, ignored, removed from office...His policies need to be put down."
Krasner, a longtime defense attorney, has earned the ire of a number of current and former ADAs for introducing an intensive regimen of reforms to the office – moving on reducing certain forms of cash bail, reduced sentencing and a focus on combating police misconduct – that some view as being "soft on crime." Sax, who left the office in 2017, has been one of Krasner's most publicly vocal critics.
In Shotzbarger's words, Krasner's policies are "antithetical to law enforcement."
"It's not responsible to crime victims – if you're feeling sorry for the guy who robs the Wawa instead of the customers and cashier…It's not responsible," he added.
However, Krasner's supporters did not appreciate the subtleties of Shotzbarger's Facebook comment.
Johndi Harrell, the executive director of the Center for Returning Citizens and a member of the Coalition for a Just DA, a pro-Krasner group, feels threats against Krasner should be taken seriously by the criminal justice system.
"There's a limit to what you can say in public and, as a former ADA, he should know the proper language to use to hold a civil conversation," Harrell said.
The longtime Krasner supporter said he works with people who are incarcerated over offenses that stemmed from social media disputes – which is why he does not take online threats lightly.
"What happens on social media has real impact on our lives. What if somebody who is not mentally stable were to read that comment and take it to heart?" he wondered aloud.
A spokesperson for the DAO said they were "aware of the post" but did not offer further comment. However, there is a history of city prosecutors taking apparent online threats seriously, whether credible or not. Former DA Seth Williams notably advocated for the PA Attorney General's prosecution of blogger Joshua Scott Albert for apparently advocating for his assassination in a Facebook group, which Albert has said was satire. Albert was jailed for eight months and eventually took a plea deal over the charges. (Krasner coincidentally represented Albert in that case.)
"I guess you can only joke about killing people if you like cops," Albert said, of Shotzbarger's comment.
Online discourse around Krasner's tenure has generally ratcheted up as the DA has garnered more nationwide attention. A string of anonymous Twitter accounts with apparent connections to the DAO have sprung up to lob criticisms at Krasner. Other opponents have taken issue with defense attorney and Krasner transition team member Michael Coard's controversial statements about police officers.
Shotzbarger added that while he had clarified the intent of his comment after being admonished by Sax a week later, he was now considering deleting the post altogether.
"I did not mean for him to be shot in the street like a rabid dog. I didn't see the need to explain that," he said. "If people can't understand the subtlety then perhaps I should remove the post."
Correction: An earlier version of this story incorrectly stated that DA Seth Williams prosecuted Albert.