Republican
MontCo GOP chair candidate quits race amid harassment, abuse inquiries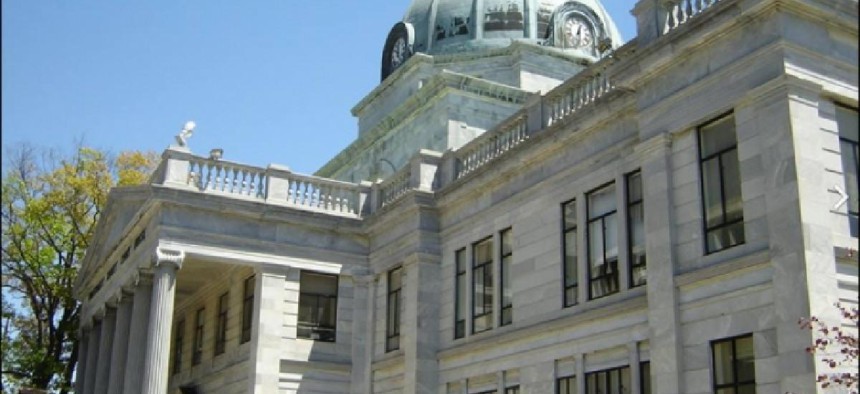 Duane Morris attorney Tom Ellis was a leading candidate in the upcoming election for chair of the Montgomery County Republican Committee. But just hours after City & State PA asked him about past allegations that he had abused his ex-fiancée and sexually harassed a subordinate while county treasurer, he sent this news organization a letter stating that he would withdraw his candidacy for the GOP chairmanship.
Ellis would have faced a female candidate in the chairmanship contest – Dilworth Paxson lawyer Elizabeth Havey, the daughter of former state Attorney General Ernie Preate, Jr. – who, sources say, was urged to run against Ellis specifically because of his past history. She jumped into the race Wednesday morning, hours before a reporter contacted Ellis about the prior misconduct allegations. 
On Wednesday afternoon, Ellis dispatched a rambling, vitriolic letter that stated he would instead throw his weight behind J. Egan & Associates lawyer and former 2016 Republican National Convention delegate Lauren Casper for the chair.
"Those aligned against me and my candidacy will not stop in their efforts to damage my candidacy," he wrote in his letter. "I only wanted to restore the party to its glory days...Casper, a new face with new ideas and new energy, is the right person at the right time for this task."
A one-time Montgomery County Commissioner with links to prominent GOP fundraiser Bob Asher, Ellis had been accused by two former romantic partners of threatening or harassing them. His letter elides those accusations, stating only that Casper would be a candidate free of "baggage."
In 2010, county employee Marina Bradley filed a formal human resources complaint, stating that Ellis had repeatedly harassed her through phone calls and emails. The pair had dated, but Bradley said that Ellis, who was Montgomery County treasurer at the time, had threatened her job with the county government once their relationship ended.
"At the end of my relationship with Mr. Ellis, his behavior became extremely possessive and erratic," Bradley said in a statement at the time. "My job was repeatedly threatened by him and I took steps to block harassing phone calls and emails from him."
Ellis was later censured for violating an agreement prohibiting him from visiting Bradley's workplace at an office building outside the county courthouse. Then-Democratic Commissioner Joe Hoeffel demanded Ellis' resignation over the incident. Ellis refused, stating that "the matter has been closed amicably."
It wasn't his first brush with the type of incident that has taken on new urgency and relevance in the #MeToo era. In 2004, Ellis' ex-fiancée, Lisa Ann Whalen, stated that the attorney had subjected her to a campaign of physical and emotional abuse, at one point threatening her with a golf club at a miniature golf course. "Do you know what I want to do with this?" Ellis reportedly asked her.
In a separate incident, she stated that Ellis had backed over her with his vehicle in an attempt to regain custody of their then-10-month-old child.
Ellis similarly stated that the matter was resolved privately.
"This is a personal and private custody issue and I ask that people keep (Whalen) and I in their prayers," he said in an interview at the time.
However, years later, he delivered a public apology to Whalen at a commissioners meeting.
Current MontCo GOP chair Bill Donnelly, who is not seeking another term, described Ellis' difficult path to victory in stark terms.
"It's difficult – even if it's alleged, it's difficult – to have all that baggage," he told City & State PA. "He hasn't had a good record winning elections with that on him."
Donnelly said that he intends to back Havey. Perhaps because of this support, Ellis' missive is unsparing in his description of Donnelly and Havey: he accuses both of shirking GOP fundraising duties and party backbiting.
"The 'heir apparent' to Bill Donnelly being foisted upon you is (Liz Havey)," he writes. "Be certain that Miss Havey is steeped in the pettiness that has brought our party to this point."
In an email to City & State PA, Havey addressed neither Ellis departing the race nor the allegations against him, only refuting his letter's accusations of her faulty attention to party business. "As Chairman, Liz along with her team, raised over $300k in the last four years for her local committee and school board candidates -  leading all area and municipal parties in the county in fundraising efforts. Liz also assisted township commissioner candidates and county candidates raise money."

County committeemembers will meet to select a new chair next week.