Economic Development
New state budget includes millions in economic development grants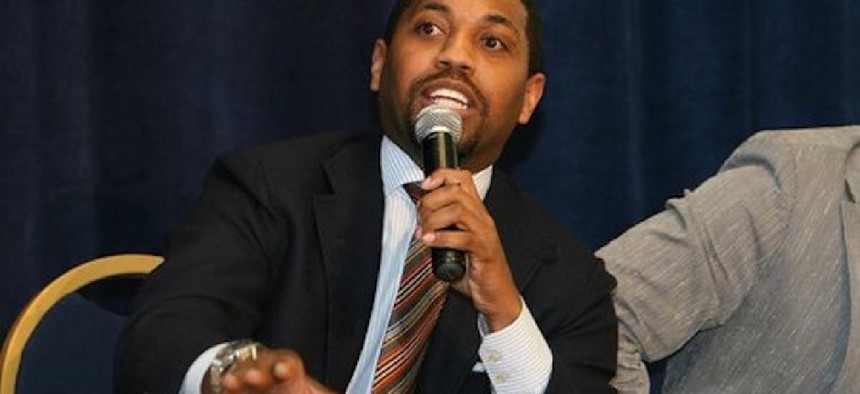 The state budget headlines this year were short and sweet. It was an election year, which meant no new taxes and little new spending except for a few uncontroversial line items, like $60 million for school security and millions more for law enforcement. Many in Harrisburg and across the state publicly praised the speedy, bipartisan passage of the budget.
But even with pols eager to begin their summer getaways, legislators still found time to slip in millions in discretionary spending.
About $1.75 million in new grants from the Department of Community and Economic Development made its way into the compromise budget, covering everything from pork for industrial parks to anti-violence programs to a funding boost for a Special Olympics event in House Majority Leader Jake Corman's district.
$1.15 million more was shaved off to support new agricultural programs, including an organics research center.
While these grants represent just a fraction of the $32 billion budget, the exact purpose of some of the new spending was not immediately clear even to DCED.
"We do not have any more information on the projects those allocations will fund beyond what is in the fiscal code at this time," said DCED spokesman Michael Gerber.
One grant, for a $150,000 engineering study, appeared to describe a troubled industrial park in Perry County, in Republican state Sen. John DiSanto's district. Another $600,000 was earmarked for "manufacturing technology" improvement efforts in Republican state Sen. Wayne Langerholc's Cambria County district. Corman appears to have secured an additional $200,000 for a Special Olympics event in his home county, for a total of $500,000 in annual DCED funding.
Democratic sources said many of the grants came at the request of Republican legislators during the budget negotiations. But neither Langerholc, DiSanto or Jen Kocher, a spokesperson for state Senate President Joe Scarnati, would discuss the projects in greater detail.
The good government group Common Cause is currently preparing a report on the state budget, due in mid-August. That group's director, Micah Sims, said his group regarded much of the grant language written into the fiscal code as old-fashioned political horse-trading.
"But there's seemingly always 'pet projects' that find their way into the budget, that weren't there when the budget was first sent to the legislature," he said. "We view these as being created through negotiations in order to get the budget passed."
Other dollars were secured in counterintuitive ways.
For example, DCED carved out $500,000 for an additional year of funding for the Delaware County DA's Anti-Violence Task Force from the Keystone Communities Program, which typically supports small business development and homebuying programs. 
Mike Rader, chief of staff for Delco Sen. Thomas McGarrigle, helped draft the language behind the grants. He said the program mimicked similar anti-gun violence programs in Philadelphia and defended the use of the funds for crime-fighting efforts.
"Safe streets and gun violence have a lot to do with the betterment of communities," he said. "The idea was that Chester and other areas would join the Philly anti-violence task force. There was no appetite for it at that time, but there was an appetite for increasing resources for Delco to do it on its own."
The authorizing legislation also indicates that the program would be operated in conjunction with AG Josh Shapiro's office – but a spokesperson for Shapiro said his office was not aware of the initiative.
"It is our intention to expand the Philadelphia task force into Delaware County," said AG spokesperson Joe Grace. "But we don't know anything $500,000 from DCED."
Rader acknowledged that there may have some miscommunication about the program.
"I don't know to what level the DA and Delaware County have actually consulted with the AG," he said.
Sims said that even if some of the discretionary grants were bound for worthy causes, the lack of transparency involved in funding a wide variety of initiatives through little-debated budget amendments is still a bad look. He also questioned the wisdom of some funding priorities while the state struggled to fund more elementary services.
"I don't want to put a question mark on, say, an anti-violence program. And it's nice to see that the legislature and executive branch could pass a budget on time. Kudos for that," said Sims. "But we need to look at our bigger priorities...One thing missing this year was funding for voting modernization, for example."